Jacoby Brissett 'Prayed' He Wouldn't Join Tom Brady and the Patriots
When Jacoby Brissett entered the NFL in 2016, he naturally preferred landing with certain teams than he did others.
Despite still having Tom Brady and Jimmy Garoppolo on the roster, New England used a third-round pick on Brissett, a standout quarterback at NC State.
In a recent interview, Brissett — now entering his fourth season with the Indianapolis Colts — admitted he "prayed" the Patriots wouldn't draft him. Here's why.
Jacoby Brissett has had a wild and busy NFL career
RELATED: Jacoby Brissett Has Unfairly Become Odd Man Out in Colts' Quarterback Room
Jacoby Brissett has gone under the radar as one of the NFL's top rising young quarterbacks. A former elite high school quarterback in Florida who later played at UF and NC State, Brissett has spent the last three years in Indianapolis.
Brissett completed 59.8% of his passes for 6,042 yards, 31 touchdowns, and 13 interceptions across 35 games with the Colts. Thirty of those games have been as a starter and he's played far better than his 11-19 record would indicate.
Brissett completed 60.9% of his passes last year for 2,942 yards, 18 touchdowns, and six interceptions. The former third-round pick ran for another four scores in 15 games.
Indianapolis nonetheless signed Chargers legend Philip Rivers in free agency and selected Washington's Jacob Eason in the NFL draft.
The Patriots drafted Brissett to back up Tom Brady in 2016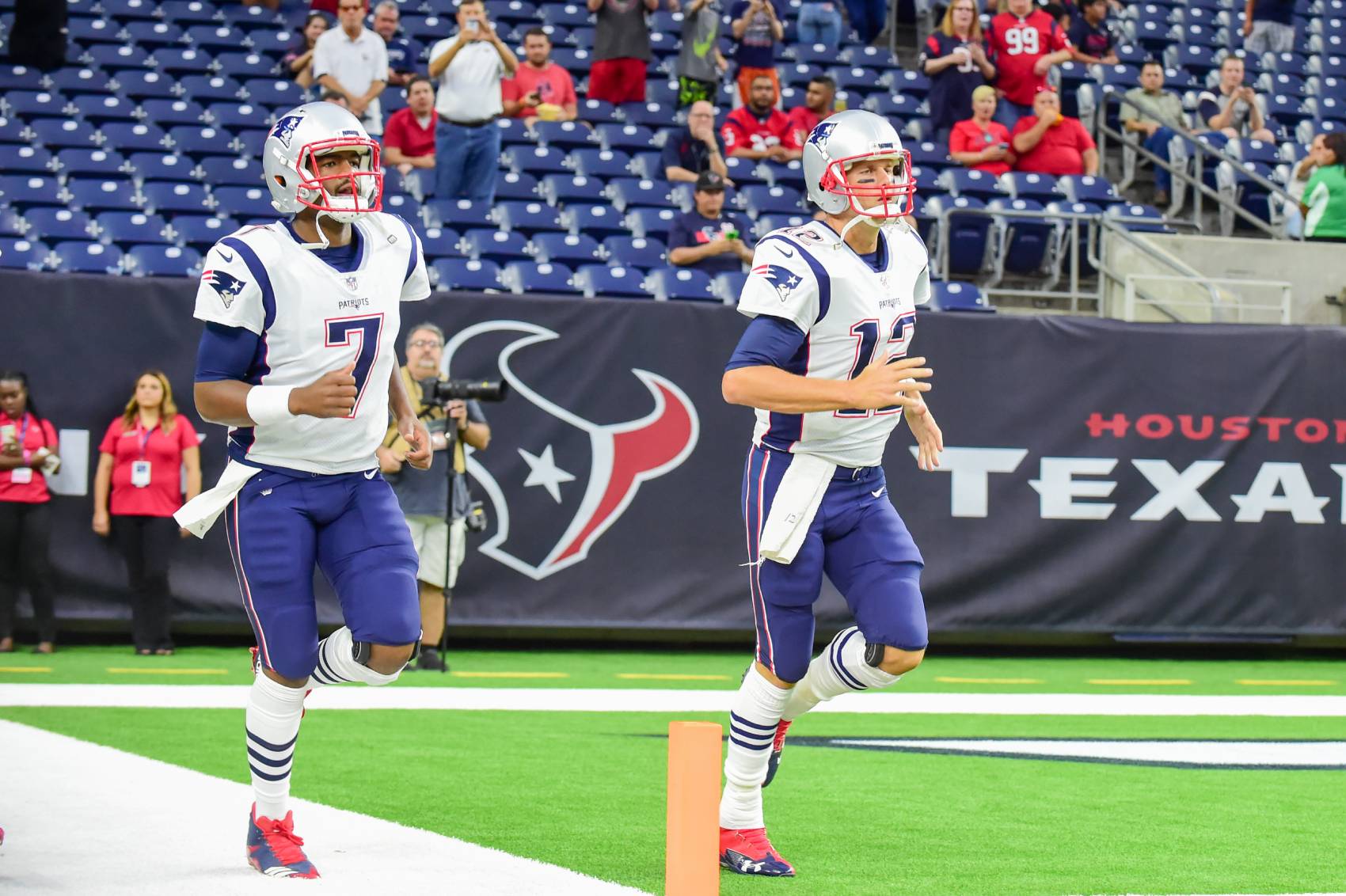 RELATED: Bill Belichick Just Stole Tom Brady's Replacement For $1 Million
Originally, Jacoby Brissett wasn't supposed to be Andrew Luck's successor in Indianapolis.
Instead, it appeared Brissett would replace Tom Brady in New England. The Patriots invested the 91st overall pick on Brissett in the spring of 2016.
Brissett played in three games with the Patriots and started two as a rookie. He completed 34 of his 55 passes (nearly 62%) for 300 yards, no touchdowns, and no interceptions. Brissett averaged 5.2 yards per carry and scored a touchdown.
Brissett's first and only year in New England ended with a Super Bowl victory over Atlanta. New England traded him to Indianapolis in August 2017 for receiver Phillip Dorsett.
Jacoby Brissett "prayed" the Patriots wouldn't draft him
RELATED: Cam Newton is Succeeding Tom Brady as the Patriots Starting QB
By all accounts, Jacoby Brissett's one year in New England was a success. He impressed in his brief playing time and left Foxborough with a Super Bowl.
All of that came after Brissett hoped he'd wind up with one of the NFL's other 31 teams. In a recent podcast, Brissett admitted he'd "prayed" the Patriots wouldn't draft him.
"I honestly did not want to be there. When I took my visit there — my pre-draft visit — I was like, 'Hell no. If one team drafts me, it better not be them."
Brissett revealed he didn't even have Patriots offensive coordinator Josh McDaniels' phone number saved. McDaniels was who called Brissett on draft night.
All ended well for Brissett, though. He described his time in New England as "fun" and thanked cornerback Devin McCourty, one of the podcast's hosts, for taking the rookie quarterback under his wing.
Brissett lost his first game against Tom Brady and the Patriots in 2017. Brady is now in Tampa Bay and the Buccaneers don't play the Colts until 2023, barring a Super Bowl matchup.