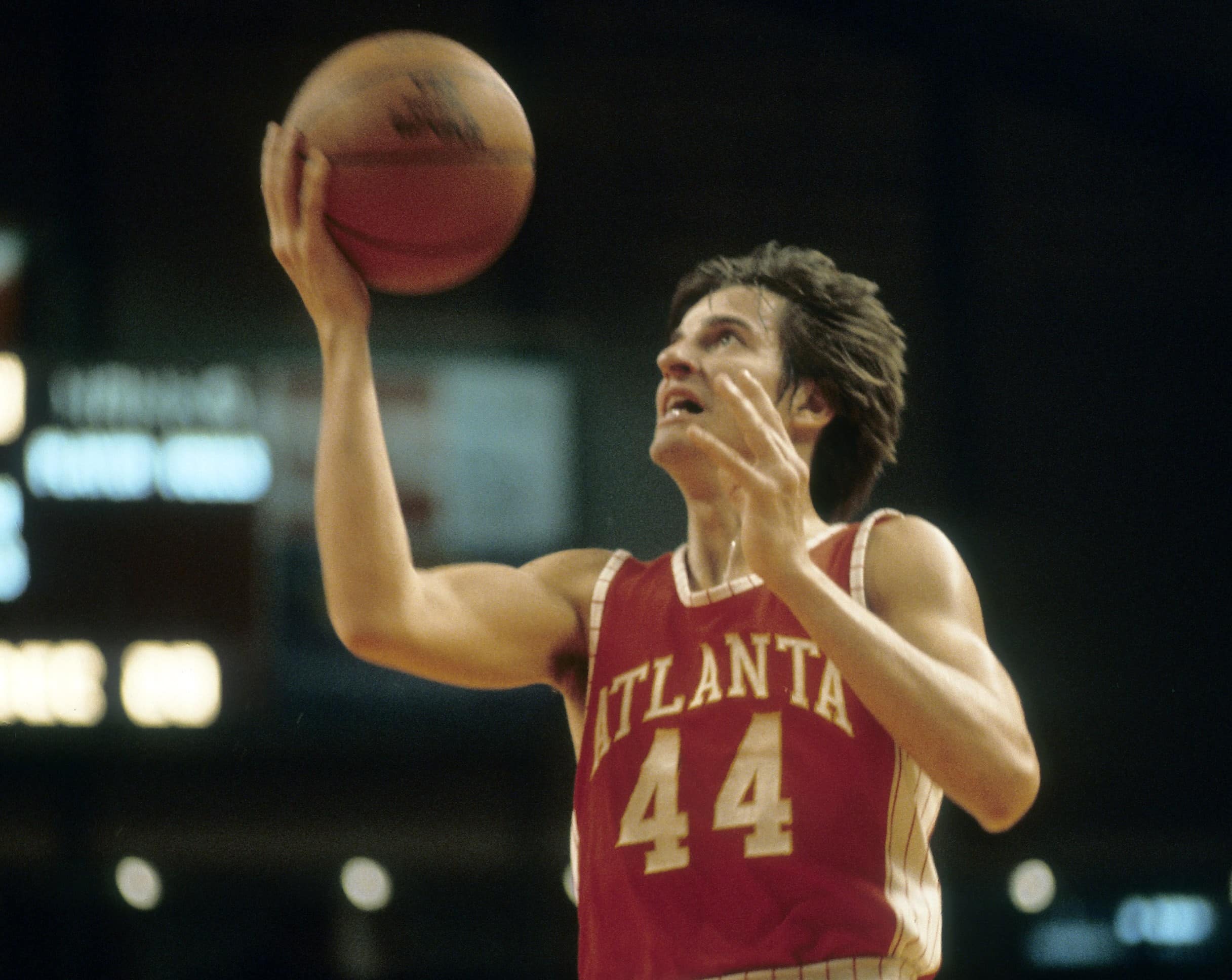 Jaeson Maravich Weighs In on His Father, Pete Maravich, Still Putting Up Big Numbers
Pete Maravich's rookie card recently sold for $552,000, a number that even surprised his son, Jaeson.
Pete Maravich is the most prolific scorer in college basketball history, and his record of 3,667 career points has stood for 53 years. The man known as "Pistol Pete" averaged — yes, averaged — 44.2 points in his three years at LSU.
Maravich took his talents into the NBA, where he was a five-time All-Star and led the league in scoring during the 1976-77 season. He played his last NBA game with the Boston Celtics during the 1979-80 season. Recently, his rookie card sold for $552,000, setting a record for the highest piece of Maravich memorabilia ever sold. Even Jaeson Maravich was surprised at how much his father's card fetched.
Nobody put up numbers like Pete Maravich
The statistics Pete Maravich put up at LSU seem unreal. Back then, freshmen weren't allowed to play at the varsity level, so Maravich didn't begin racking up big numbers at LSU until his sophomore season. Playing under his father, Press, Maravich helped turn around an LSU team that won three games the previous season. In his first year running the show, the Tigers went
As a sophomore, Maravich collected 1,138 points while grabbing 7.5 rebounds per game. From there, his scoring numbers only got better. As a junior, Maravich bumped his scoring average to 44.2 points. He averaged 44.5 points as a senior.
The Atlanta Hawks made Maravich the third overall pick in the 1970 NBA Draft. He spent four seasons with the Hawks before they traded him to the expansion New Orleans Jazz. Maravich averaged an NBA-best 31.1 points during the 1976-77 season. He was also tops in the NBA in minutes played that season (41.7).
Maravich ended his career as a five-time All-Star and was named All-NBA in four seasons. He averaged 24.2 points and 5.4 assists in his 11 NBA seasons. He retired after the 1979-80 season.
Maravich was inducted into the Naismith Memorial Basketball Hall of Fame in 1987. He's a member of the NBA's 75th Anniversary Team. He died on Jan. 5, 1988, while playing a game of pickup basketball. He was 40.
Jaeson Maravich surprised by how much his father's rookie card recently sold for at an auction
Pete Maravich's 1970 "tall boy" rookie card sold for $552,000 in an auction Thursday night. According to ESPN, it was a record for any "Pistol Pete" item, sports card, or memorabilia. It's one of two cards from the 1970 Topps set to receive a Gem Mint 10 grade from PSA. Maravich has put up big numbers in his career, but even these figures surprised his son, Jaeson.
"My friend told me about it, and then I got a few texts," Jaeson told Sportscasting on Tuesday. "Wow, I wasn't expecting that. I have every one of his cards, but I wish I had that PSA 10 one."
Jaeson admitted he was heavy into card collecting as a kid, but he said it was a friend of his who gave him the cards of his father.
"My friend's father had them all," he said. "When his father passed away, he gave them to me and said, 'You should have them.'
"I was into it huge as a kid. Wish I still had those. I was always trying to get Michael Jordan, and I was a huge fan of John Stockton and Karl Malone. I was also a fan of Shawn Kemp, and I remember Skybox came out with a set, and I got his rookie card and lost my mind."