The Jaguars' Brainless Refusal to Fire Urban Meyer Could Ruin Trevor Lawrence
The Jacksonville Jaguars are finding themselves involved in one controversy after the next, thanks to the hiring of Urban Meyer.
The list is far too long to discuss in detail properly, but one common theme has emerged following his latest Ohio bar incident.
The Jaguars need to fire Meyer. The longer they wait to do so, the more damage is done to franchise quarterback Trevor Lawrence.
The Jaguars' current scheme is a bad one
Without even mentioning the multiple off-the-field incidents that Meyer finds himself wrapped in, the football-related reason the Jaguars need to let him go is fairly simple. His scheme isn't working in the NFL, and it's hindering Lawrence's ability to develop.
Meyer is winless through his first four NFL games, and his quarterback is taking the brunt of the punishment out there week in and week out. Lawrence's completion rate sits at a measly 57%, he's already thrown seven interceptions, and his quarterback rating is barely above a 36.
Lawrence was supposed to be a slam dunk, generational type talent. Right now, he's struggling to make simple reads.
Granted, the Jaguars don't have the greatest roster in the world (in fact, it's one of the NFL's worst). However, the expectation was that Meyer would come in and elevate the team's offense, not hold it back.
An offense built around Lawrence, James Robinson, DJ Chark, and Laviska Shenault should be better.
Why waste Trevor Lawrence's rookie season?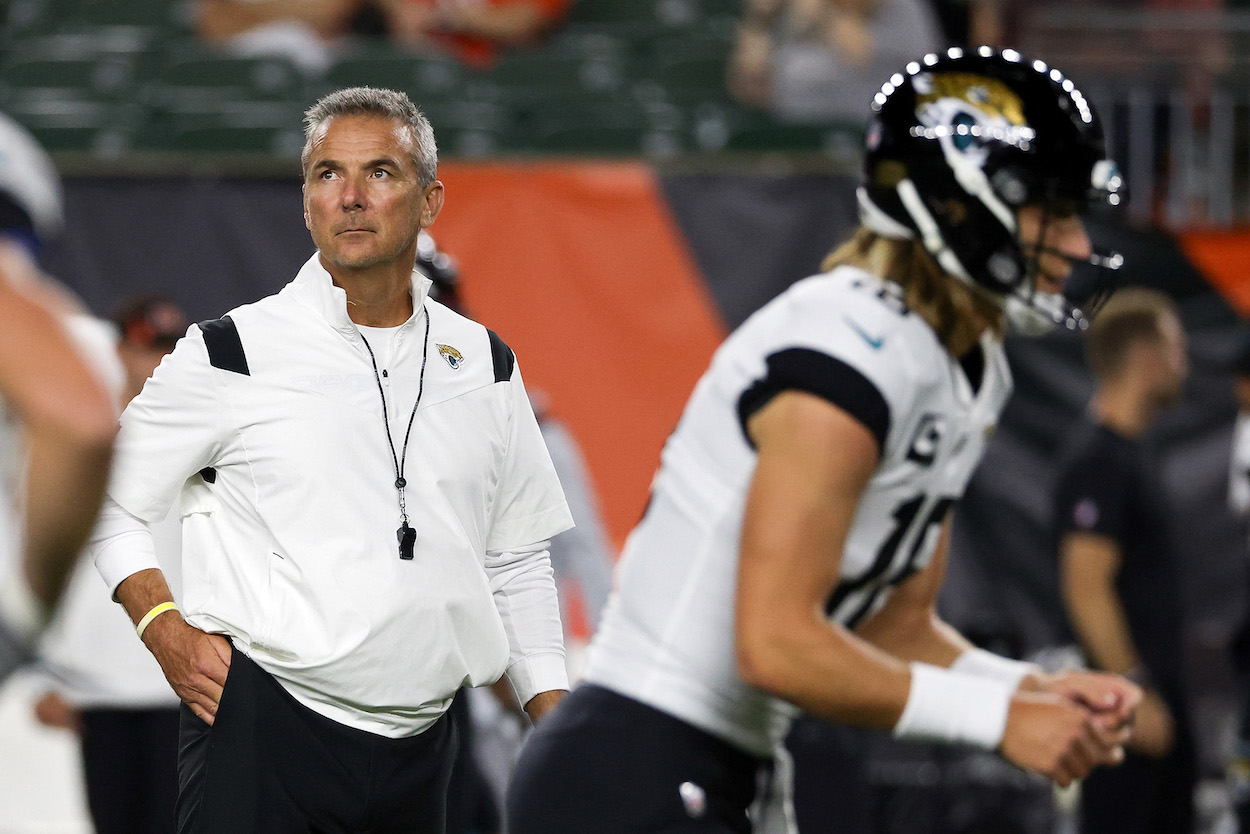 We've seen it happen on more than one occasion, a promising young quarterback having their development stunted by a bad head coach. Sam Darnold is a perfect example of this scenario playing out. He looked like a complete bust under Adam Gase with the New York Jets. Now, he looks like a legitimate star playing for Matt Rhule and the Carolina Panthers.
Obviously, the Jaguars don't want to see Lawrence's career take a similar trajectory to Darnold's.
We're only four games into the Meyer experience in Jacksonville, yet it's abundantly clear he's not the best voice to have in Lawrence's ear right now. The sooner the Jaguars move off of him, the better.
In the meantime, Lawrence is going to be coached up by a college voice who's in way over his head. It's a recipe for disaster, one that could do permanent damage to Lawrence.
Why won't the Jaguars just fire Meyer?
The Jaguars front office isn't deaf or blind. They've seen the criticism surrounding Meyer since he was hired.
So, why won't they simply cut ties?
First, Jaguars ownership doesn't want to pay Meyer a salary if he's not coaching the team. Meyer would have to quit for the team's owner to get out of that mess. Second, the Jaguars are likely scared of admitting defeat. The media heavily criticized them upon initially hiring Meyer — firing him this early would be an admission of failure.
However, the Jaguars need to consider the long-term pros and cons. Sure, firing a head coach a few weeks into the job is highly embarrassing. However, the alternative is allowing a bad coach to ruin your No. 1 overall pick who you tanked so hard to get. The correct choice feels pretty obvious.
All stats courtesy of Pro Football Reference.
RELATED: Trevor Lawrence Joins Tim Tebow in Embarrassing Territory