The Jaguars' Brutal Struggles With Time to Prepare Is a Direct Reflection of Urban Meyer's Inability to Adjust to NFL Life
Urban Meyer and the Jacksonville Jaguars have recently slithered their way out of the national spotlight, which is fantastic news for the organization. For a moment there, it looked like Meyer would be fired just a few months into the job due to how many controversies he was being tied up in.
With that said, life in Jacksonville is by no means perfect. In fact, it's not even close. The Jaguars are coming off another ugly loss in Week 8, and more and more attention is being shifted back toward Meyer's faulty coaching practices.
The Jaguars looked completely lost against the Seahawks
Coming off their first win of the 2021 season (sorry, Miami Dolphins), Meyer and the Jaguars were looking to stack momentum against a hobbled Seattle Seahawks team. Star quarterback Russell Wilson was still nursing a hand injury, meaning backup Geno Smith would be the man under center for Seattle.
Between the Seahawks' lackluster defense and a Geno Smith-led offense, the Jaguars had a half-decent chance of winning back-to-back games.
Alas, such a reality didn't even come close to materializing. The Seahawks massacred Meyer and the Jaguars, winning by a score of 31-7. Trevor Lawrence threw his ninth interception of the season, and Smith went 20-for-24 with two touchdowns.
Following the loss, Meyer's inability to prepare on long rest rose to the top of a long list of issues in Jacksonville right now.
Urban Meyer is struggling with time to prepare
Typically speaking, extra time to prepare in the NFL is a valuable weapon. Whether it's coming off a bye or getting a few additional days here or there due to Thursday/Monday night scheduling, NFL coaches hyper-value every last moment leading up to game day.
For Meyer and the Jaguars in 2021, this has not been the case. Not only are the Jaguars 0-3 when afforded extra time to prepare, but they've been blown out all three times.
They lost 37-21 to the Houston Texans during the season opener (whole offseason to prepare). They lost 37-19 to the Tennessee Titans coming off a Thursday Night Football game (10 days to prepare). Lastly, they lost to the before-mentioned Seahawks coming out of their bye week (14 whole days to prepare).
That's three straight instances of Meyer being afforded an abundance of prep time, only to be utterly embarrassed on Sunday.
Obviously, the Jaguars aren't a competitive football team in their current state. However, this inability to take advantage of a crucial aspect of NFL life directly reflects Meyer's constant failures as a professional head coach.
Urban Meyer and the Jaguars keep trending in the wrong direction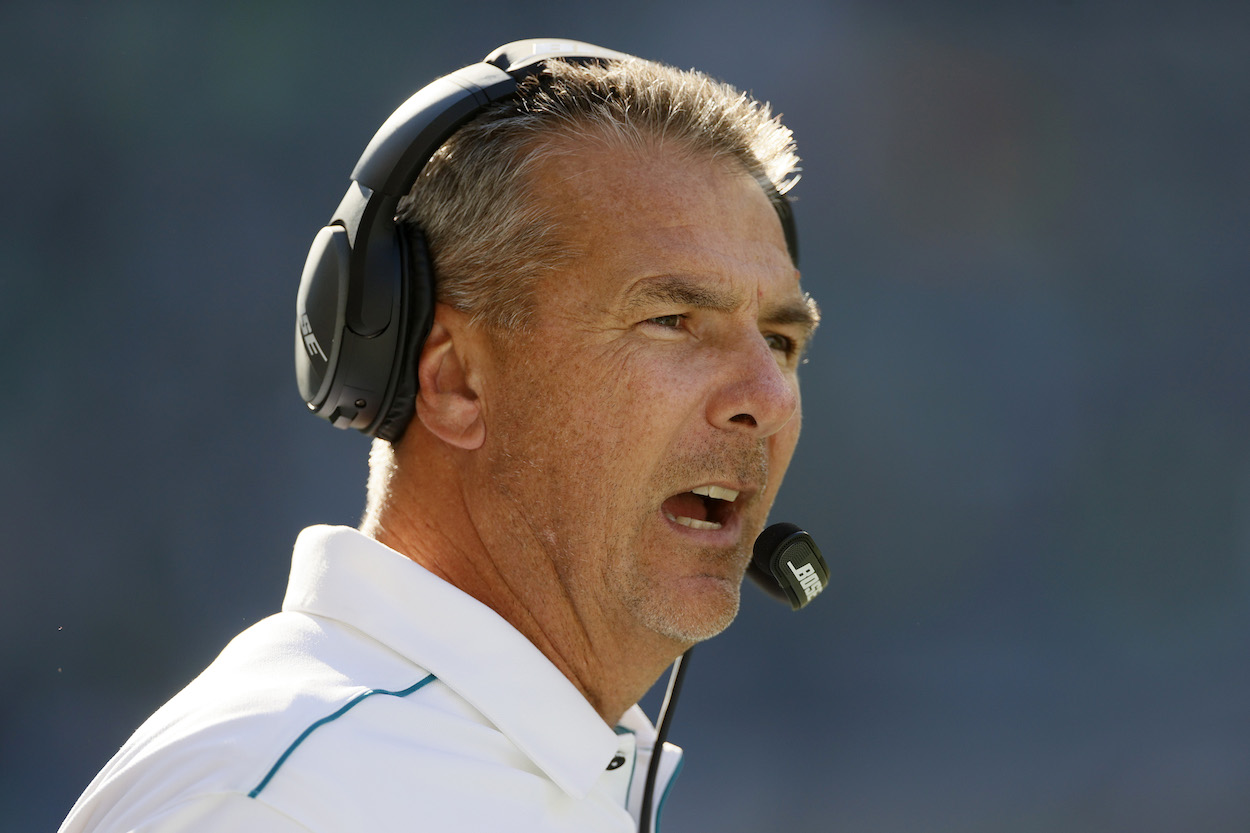 The Jaguars are still rebuilding. However, the concerning part about the direction of their franchise is the consistent lack of competence Meyer continues to show.
His play-calling is bland and vanilla, his players don't respect him (due to off-the-field issues), and his preparation skills are embarrassingly poor. This is not a coach who the Jaguars should trust to guide them to the promised land.
His blunders aren't as glaring now as they were a few weeks ago. However, the Jaguars should still consider axing Meyer at the end of the season. He's done nothing to prove he isn't "one-and-done" material.
All stats courtesy of Pro Football Reference.
RELATED: The Washington Football Team Suffered a Crushing Loss to Their D-Line, and It Places Intense Pressure on Chase Young to Wake up