Jaguars Coach Doug Marrone Reveals his Gardner Minshew-Nick Foles Thought Process
When the Jacksonville Jaguars signed Nick Foles this offseason, they weren't sure if they would get the Super Bowl-winning quarterback or the one who wasn't quite as capable in his first stint with Philadelphia and Los Angeles. But they never got to find out, as Foles injured his shoulder in the early part of 2019. His replacement, Gardner Minshew, has been a pleasant surprise for the Jags, keeping them in contention late into the season.

With Foles able to return in just a few weeks, it leaves head coach Doug Marrone with a difficult decision. He recently shed some light on his thought process.

Jacksonville's 2019 season so far
The Jaguars haven't been great so far, but they have been respectable. They're sitting at 4-5 heading into their Week 10 bye. Here's how they've fared thus far:
Chiefs 40, Jaguars 26
Texans 13, Jaguars 12
Jaguars 20, Titans 7
Jaguars 26, Broncos 24
Panthers 34, Jaguars 26
Saints 13, Jaguars 6
Jaguars 27, Bengals 17
Jaguars 29, Jets 15
Texans 26, Jaguars 3
The Jaguars are hovering around .500. They haven't been outstanding, but they've shown they can compete as well.

Gardner Minshew's emergence as Jaguars quarterback
Minshew has been a revelation for Jacksonville, leading to headlines throughout the league based on both his play and his mustache. Here are his numbers through eight games:
161 completions on 260 attempts
1,976 yards passing
13 touchdowns
Two interceptions
98.8 quarterback rating
Despite outperforming expectations, Minshew's last start wasn't great. He completed 27 passes on 47 attempts, threw for no touchdowns and two interceptions, and was sacked three times in the loss to Houston.

Minshew has the benefit of the doubt since he's played well this season more often than he's played poorly. His personal win-loss record is 4-3. With Nick Foles on track to return from his collarbone injury soon, Jaguars' head coach Doug Marrone will have to make a choice: Ride with Garnder Minshew, or put Foles back under center?

Doug Marrone's thought process on Gardner Minshew vs. Nick Foles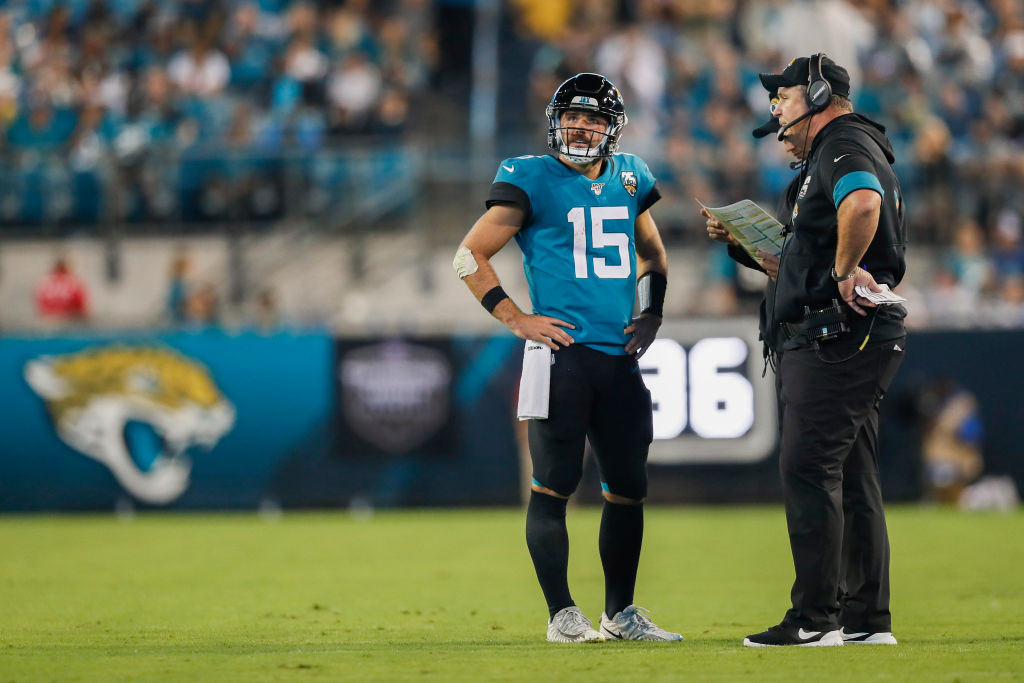 When asked about his brewing quarterback controversy, Jaguars head coach Doug Marrone was non-committal.

"Since we have the bye, there's so many things that can happen between now and then," Marrone said, via Jacksonville.com. "Whether injuries come into play with either quarterback or whatever may happen, so for me, I'm not going to waste my time. And that's probably my strength and my weakness.


My strength is I can focus on something, but my weakness might be down the road, if you don't see this [quarterback] thing coming. To answer your question, I really haven't thought about it. The reason why is because I don't have to, and I don't want to. I'll deal with it when it happens. And that's the truth."

So there you have it: Marrone is putting off a decision until he has to make it. It's a good call: there's no reason to commit one way or another until he's 100% sure both players are available. It will no doubt be a difficult decision, but the Jaguars coach has so much to worry about no one can blame him for procrastinating.

As for the rest of the Jaguars' season: after the bye, they face the following teams to close out 2019:
Indianapolis Colts
Tennessee Titans
Tampa Bay Buccaneers
L.A. Chargers
Oakland Raiders
Atlanta Falcons
Indianapolis Colts
The Jaguars have a decent chance at the playoffs if they finish the season strong. With three divisional games in the mix and a couple of other winnable ones thrown in for good measure, they could get to 9-7. If they are in playoff contention down the stretch thanks to Minshew's play, it will make Marrone's decision even harder.