Jaguars Coach Doug Pederson Is Excited to Work With Trevor Lawrence
Article Highlights:
Jacksonville Jaguars head coach Doug Pederson made it clear he's excited to work with young quarterback Trevor Lawrence
The two-time Super Bowl champion recently promised a "really good dynamic" between him and his franchise quarterback
Pederson is saying all of the right things ahead of the 2022 season, and Jaguars fans should be excited about what the future holds
Perhaps the most important thing working in new Jacksonville Jaguars head coach Doug Pederson's favor ahead of the 2022 season is that he is not Urban Meyer.
Pederson, who reached the postseason three times in five seasons with the Philadelphia Eagles from 2016-20, is tasked with cleaning the mess that Meyer left before his dismissal in December 2021. The veteran offensive mind is already trying to inspire hope in Jacksonville — and no, that isn't an oxymoron — by promising a productive relationship between himself and young quarterback Trevor Lawrence.
Doug Pederson promises to have a 'really good dynamic' with Trevor Lawrence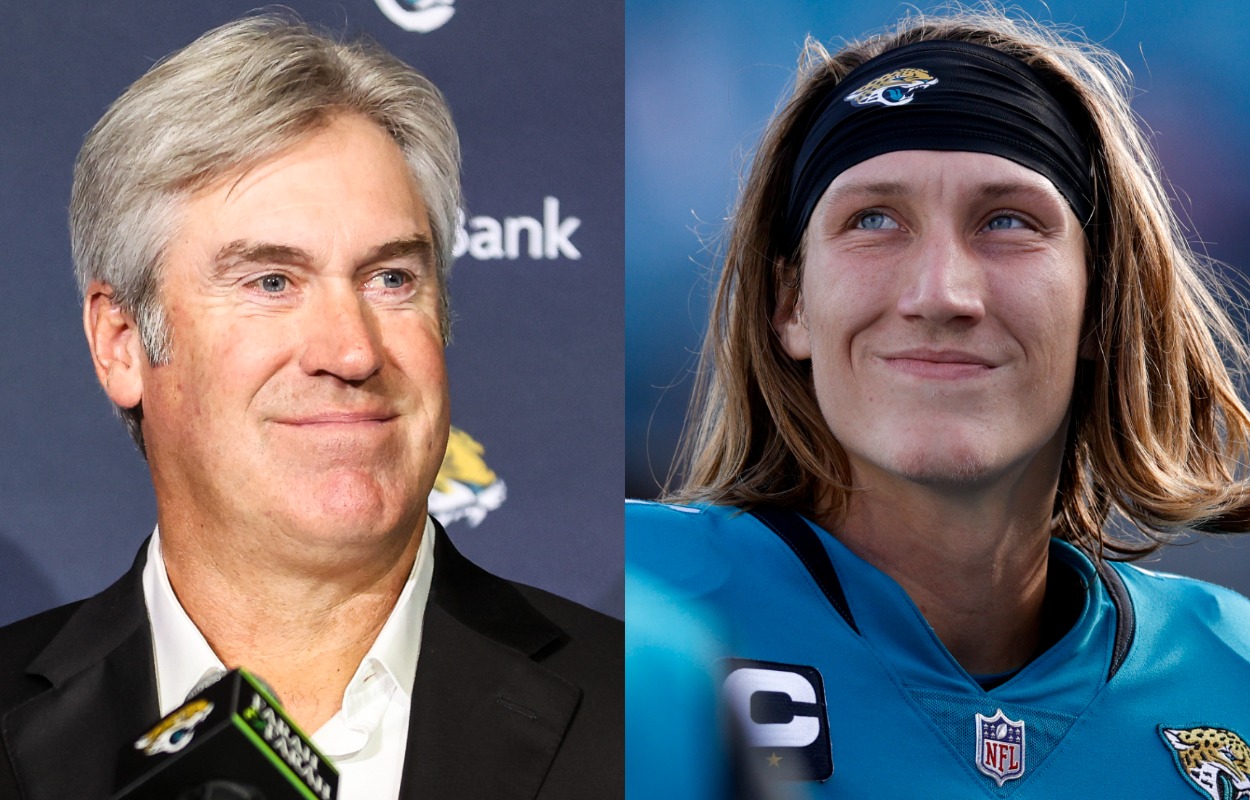 The good news for the Jaguars came when they secured the first overall pick in the 2021 NFL Draft and guaranteed themselves a shot at Lawrence, a supposed generational prospect who thrived in three seasons at Clemson.
Unfortunately for Lawrence, the Jaguars did seemingly everything in their power to ruin him from the getgo. Jacksonville hired Meyer, a retired legendary college football coach who'd never held any type of NFL role, and tasked him with turning the long-haired gunslinger into the league's next star quarterback.
When he wasn't making poor off-field decisions or blaming assistant coaches for game-planning, Meyer didn't exactly help Lawrence resemble a competent starting quarterback. Enter Pederson, who played professionally from 1991-2004 and knows what it means to be an NFL quarterback.
According to ProFootballTalk, Pederson recently shared his plans for how he'll work to ensure Lawrence reaches his lofty pro potential.
"It's going to be a really good dynamic because what I understand about Trevor is his mindset; how he thinks. He's eager to learn. He wants to grow. And I've got great teachers in the room who can help him and help him be successful. And that's not only on the field but off the field as well."

Doug Pederson
Pederson added that the process would truly begin when players report to voluntary workouts in early April. Jacksonville can start its offseason workouts as early as Monday, April 4, because the Jaguars have a new head coach.
Pederson admitted he's still analyzing Lawrence's strengths as a player
In fairness to Meyer, Lawrence's rookie struggles weren't entirely on the oft-criticized head coach. The Clemson product completed 59.6% of his passes for 3,641 yards, 12 touchdowns, and an NFL-high 17 interceptions. He also rushed for 334 yards and two touchdowns on 4.6 yards per attempt in 17 starts. For all of Meyer's flaws, he wasn't the one throwing the interceptions.
Despite the 22-year-old's storied resume at Clemson, he still remains slightly unfamiliar for Pederson. The ex-Eagles head coach admitted he didn't study the 6-foot-6, 213-pound gunslinger in college — Philadelphia almost certainly would not have been in a position to select Lawrence had Pederson returned in 2021 — and watched games last season more as a fan than an analyst or a coach.
"As things got closer and you start talking to people outside of Jacksonville who did know him a little bit, you kind of get into the mind and how he thinks, and [he's] a guy that kind of thinks the way we do. And that's encouraging."

Doug Pederson
Pederson also made it clear that the relationship between him and his young quarterback won't be the coach's way or the highway.
"And then, of course, we have to think like he thinks, too. It's a two-way street," Pederson said. "So, I'm excited about that."
Pederson is saying everything Jaguars fans should want to hear ahead of the 2022 season
If Jaguars fans had a nickel every time a new head coach or staff member tried winning fans over with press conference statements, they'd almost have enough money to buy a beer at TIAA Bank Field.
Nonetheless, the Jacksonville faithful should be excited about everything Pederson has said thus far, if only because he's not Meyer. The 54-year-old is embracing analytics, speaking glowingly of the collaboration process between himself and his staff, and perhaps most importantly, he's done this before. Pederson won a Super Bowl ring as a player and led the Eagles to victory in Super Bowl 52.
With respect to Tampa Bay Buccaneers offensive coordinator Byron Leftwich, Pederson checked off every box the Jaguars should have had following the Meyer debacle. He's an experienced head coach who likely has a chip on his shoulder after how poorly things ended in Philadelphia.
For the Jaguars to finally turn things around and re-establish themselves as a perennial playoff threat, Lawrence and Pederson must work together and discover the road to success. So far, it sounds like both are willing to do their part, and that alone should be enough to raise the optimism in north Florida.
Like Sportscasting on Facebook. Follow us on Twitter @sportscasting19.
RELATED: Even After His Disastrous Stint in Jacksonville, Urban Meyer Happily Approves of the Jaguars' Doug Pederson Hire