Jaguars Draft Bust Matt Jones' Substance-Abuse Problems Tragically Ended His Career
Matt Jones was the latest quarterback to explore a position change when the Jacksonville Jaguars called his name in 2005.
Much like the conversations that surrounded Louisville quarterback and future Ravens star Lamar Jackson in 2018, some thought Jones — a star quarterback at Arkansas — would benefit from a position change.
The Jaguars made a few errors along the way, though. Mostly, the team invested a first-round pick in a quarterback who would switch positions and had never been a full-time receiver before.
A few years later, when Jones flamed out because of performance and personal issues, the Jacksonville Jaguars had to be kicking themselves.
Matt Jones was a star quarterback at Arkansas
RELATED: Jaguars QB Joshua Dobbs Works as a Rocket Scientist for NASA in His Spare Time
A top high school prospect, Matt Jones grew into a dangerous 6-foot-6, 242-pound dual-threat quarterback.
In four seasons at Arkansas, Jones completed 55.2% of his passes for 5,857 yards, 53 touchdowns, and 30 interceptions.
Arkansas reached bowl games in 2002 and 2003. Jones especially impressed on the ground, where he totaled 2,535 yards and 24 touchdowns on 6.6 yards per carry.
Jones left Arkansas as the SEC's all-time leader in rushing yards. Florida Gators legend Tim Tebow and Mississippi State's Nick Fitzgerald each passed Jones after he reached the NFL.
The Jacksonville Jaguars took a risk drafting Jones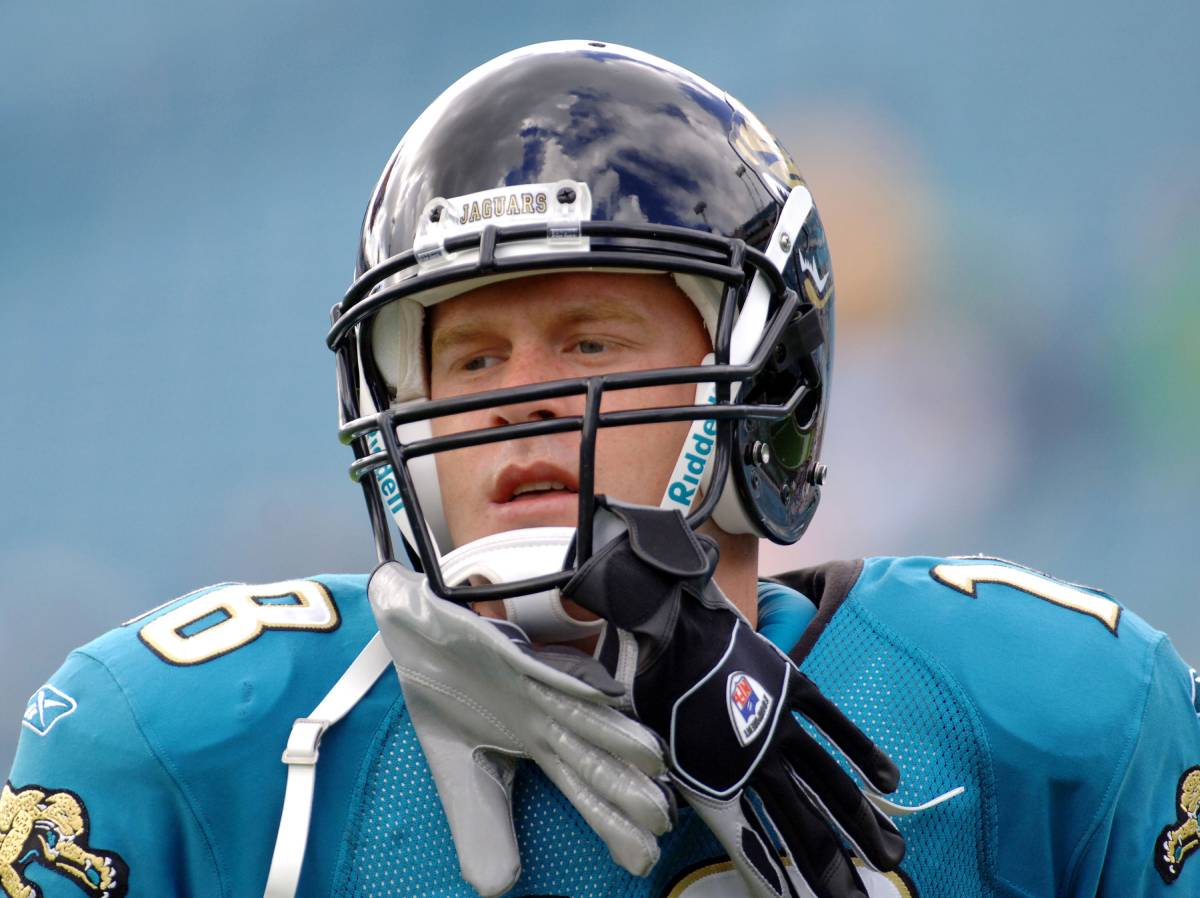 RELATED: D.J. Hayden Cheated Death on the Football Field Before Making $27 Million in the NFL
There have been plenty of success stories involving college quarterbacks switching positions upon entering the NFL. Patriots receiver Julian Edelman is still going strong a decade after moving from quarterback.
Terrelle Pryor posted a 1,000-yard receiving season for the Browns in 2016, a year after he moved full-time to receiver. Hines Ward split his college career between quarterback and receiver but focused on the latter when he reached the league.
The Jacksonville Jaguars wanted to try something similar with Matt Jones. Jacksonville drafted the uber-athletic quarterback and moved him to receiver, although he'd still play quarterback in some formations.
Jones flashed at times in his four seasons with the Jaguars. He recorded 166 catches for 2,153 yards and 15 touchdowns in four seasons, which is far better than what other first-round busts have done.
Jones didn't crack the starting lineup on a regular basis until 2008, when he posted career-highs in receptions (65) and receiving yards (761).
Jones also caught nine passes for 142 yards and a touchdown in three career playoff games. Most of that damage came when Jones totaled six catches and 94 yards in a loss to the Patriots during the 2005 postseason.
Matt Jones battled substance abuse problems before he retired
RELATED: NBA Player Roy Tarpley Another Example of the Greatest Threat to Pro Athletes: Substance Abuse
Compared to other first-round receiving busts, Matt Jones didn't have the worst stats. So what went wrong?
Jones had various legal and personal problems during his career. Arkansas police charged him with felony possession of a controller substance — the police found a plastic bag containing six grams of cocaine — in the summer of 2008, according to ESPN.
He served a three-game suspension to end the 2008 season. A few months later, police arrested Jones after he failed a drug test; the Jaguars released him five days after the arrest.
Jones never played again. He spent a few years doing sports radio in Arkansas but his career ended when he was only 25.