Jaguars Fans Praise Running Back James Robinson's Classy Announcement as He Switches Jersey Numbers
The NFL decided to change its rules regarding jersey numbers, which became a taking point for players and fans. The sight of a defensive back wearing No. 9 at the pro level will certainly take some getting used to, but some pundits are legitimately annoyed by the change. Jacksonville Jaguars running back James Robinson didn't change his number to anything particularly daring. But his conduct surrounding the situation drew acclaim from fans who grew to like him even more.
Why did the NFL change its jersey rules?
Previously, every position on the field had a strict limit on what numbers they could use. But that rule was softened over the offseason. There are still some restrictions depending on your role, but linebackers, defensive backs, tight ends, wide receivers, and running backs can now all wear single-digit uniform numbers. 
Any player who changed their number for the current season was willing to pay up for the threads. Under the NFL's standing jersey manufacturing rules, players must buy out their remaining allotment of jerseys with their old number before changing to their new one. For the 2022 season, they don't have to buy any uniforms, but they do have to give the league notice beforehand. 
Approximately 46 players took advantage of the new rules to change their numbers, including stars like Jalen Ramsey, Patrick Patterson, and James Connor, and first-round rookies like Ja'Marr Chase, Micah Parsons, and Kyle Pitts. (CBS Sports has the complete list.) 
James Robinson changed his number and gave his fans a surprise gift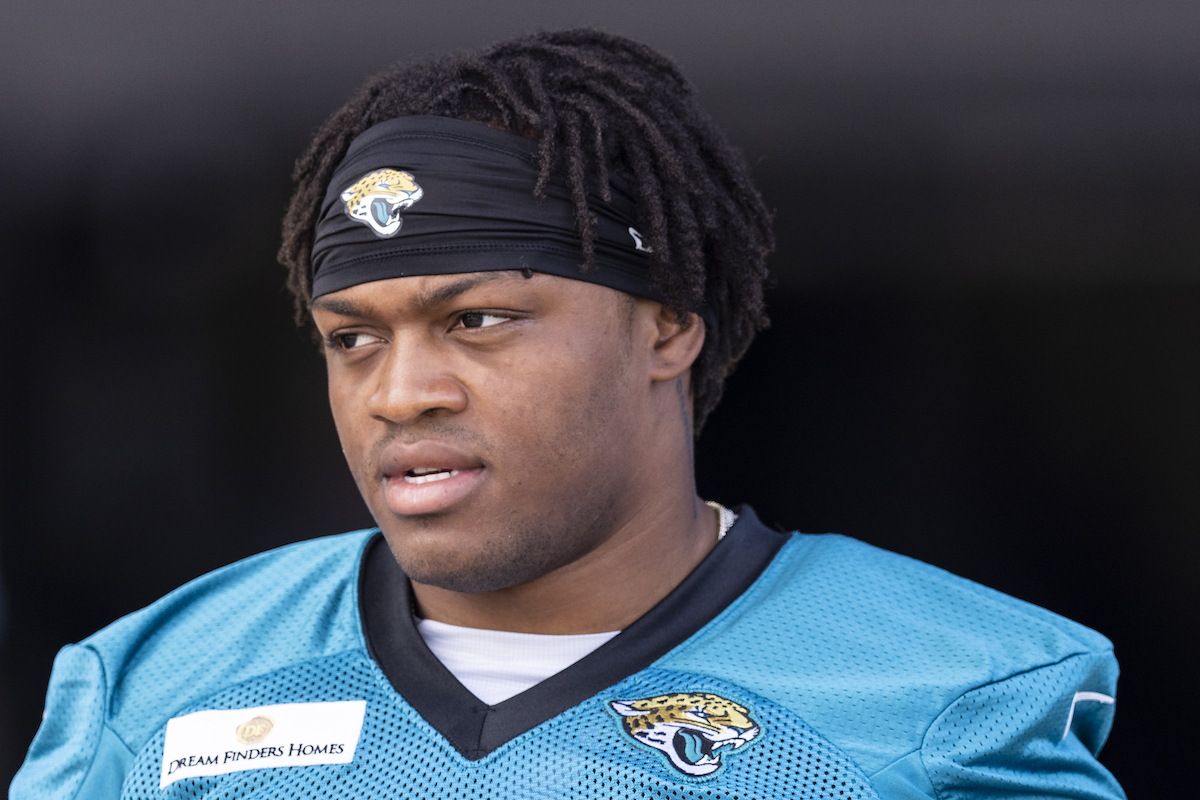 Deciding to change your number this year took some amount of forethought, but James Robinson took it further than most players and received understandable acclaim for his efforts. The running back entered the NFL with as little fanfare as possible. Despite finishing his college career with the second most rushing yards in Illinois State history, he went undrafted in 2020.
Robinson signed with Jacksonville as a free agent and instantly showed the NFL that it was a mistake not to select him. He won the starting job in training camp and became the fourth undrafted back in NFL history to start an opening game. Robinson was also the fourth undrafted player ever to rush for over 1,000 yards in his rookie season and set the record for the most scrimmage yards of any rookie free agent ever. 
Robinson wore No. 30 in his debut season, but changed to his old college No. 25 when the opportunity arose. Buying a jersey that immediately becomes out of date can be annoying. Once he got the uniform he wanted, Robinson made a point to reward fans who bought his uniform during his breakout season.
To the shock of no one, the move was met with praise. "Pretty classy move. Haven't heard of many players doing something like this," reads a top-rated comment on a Reddit thread about Robinson's switchup. Most of the other comments share a similar sentiment. Given his path to the league, it's easy to see why the running back is so grateful.
What do other players think of the rule change?
As The Game Haus reports, most players expressed excitement about the new jersey options, even if most didn't make the change. Jalen Ramsey and teammate Robert Woods had an argument over who would get No. 2. (Woods eventually claimed the digit.)
But one of the biggest names in the sport has made it clear he is not a fan. Tom Brady thinks the new number rule represents a disadvantage for offensive linemen who are apparently incapable of keeping track of who wears what uniform. 
Brady's been playing in the NFL longer than some rookies have been alive.But given his expertise and calmness under pressure, his reaction to the new normal is more than a bit silly. It certainly didn't affect him much in Week 1. 
RELATED: Dak Prescott and Tom Brady Impressively and Quietly Just Slung Their Way Into NFL History Yet Again