The Jaguars Finally Cutting Ties With Urban Meyer Is Fantastic News for Recently-Benched RB James Robinson
It took them long enough, but the Jacksonville Jaguars finally cut ties with Urban Meyer. Following reports of Meyer physically kicking one of his players earlier in the season, Jaguars owner Shad Khan deemed enough was enough. Khan is known around the NFL for his incredible patience. However, even he couldn't justify continuing to let Meyer coach his football team after the countless controversies.
Moving forward, the Jaguars have a plethora of issues to sort through
Can the Jaguars finish 2021 with some momentum?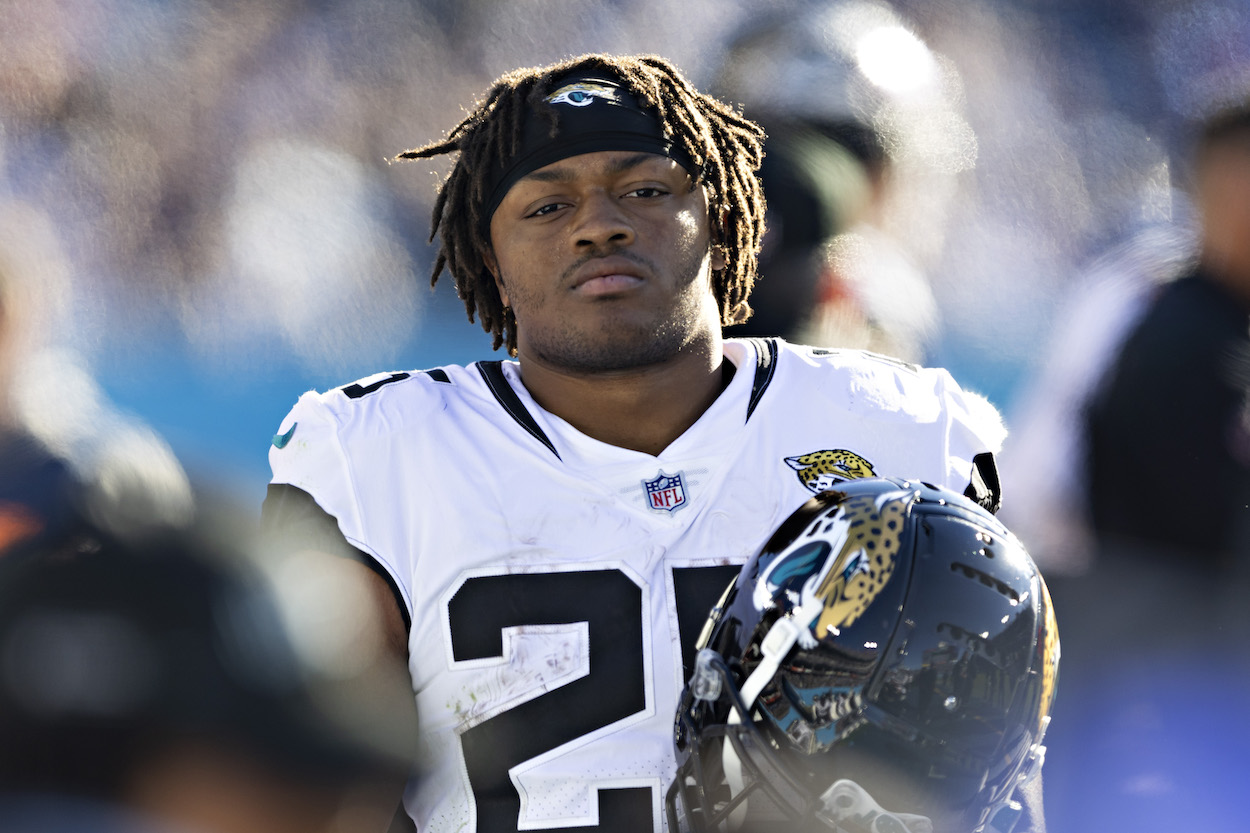 The Jaguars' upcoming offseason projects to be a busy one. They obviously need to hire a head coach, they have a ton of cap space, and they could easily end up with the No. 1 overall pick for the second year in a row. However, before the organization can start cementing offseason plans, they need to first get through the final few weeks of the 2021 season.
Thus far, the Jaguars have few positives that they can actually hang their hats on this year. The offense has been bad. The defense has been bad. The special teams have been lackluster. Trevor Lawrence hasn't lived up to his first overall pick status, etc. The list goes on and on.
Most of this can be attributed to Meyer and his brainless coaching tactics. With him and all his controversies now out of the building, the hope in Jacksonville is that they'll be able to finish the year out with just a smidge of momentum, something they can build off of moving into the before-mentioned 2022 offseason.
The Jaguars need to feed James Robinson the ball
If the Jaguars were to construct a physical list of things they can do to finish the year in a positive light, giving the football to running back James Robinson would rank at the top. Someone who burst onto the scene with 1,000 rushing yards during his rookie season last year, Meyer took a perplexing stance of refusing to make him an integral part of the offense this season.
Robinson's attempts per game dropped from 17.1 to 11.9, with Meyer seemingly benching him during the Jaguars' last two games.
The highly confusing part of all of this is that Robinson is outperforming his rookie self from a pure yards-per-touch perspective. His yards per carry is up from 4.5 to 4.8, and his yards per touch is up from 4.9 to 5.2.
This is a player who gains positive yardage every time he touches the ball. Yet, Meyer failed to lean on him as a critical piece of the offense, instead opting toward placing unnecessary pressure on Lawrence in the passing game.
James Robinson has been named the starter once again
Robinson received a combined total of 14 rushing attempts the past two weeks. With Meyer gone and dusted, this should never happen again.
Jaguars interim head coach Darrell Bevell has already named Robinson the clear starter after just one day of coaching the team, which is fantastic news for both Robinson and the direction of the Jags in general.
The Jaguars have a ways to go before getting back to NFL relevancy. However, bringing Robinson back into the loop is a significant first step. Young QBs need a strong ground game to lean on if they want to be successful, and getting Lawrence back on track is obviously a pretty important piece to the Jags' rebuilding efforts.
All stats courtesy of Pro Football Reference.