The Jaguars Need to Pay Former Eagles HC Doug Pederson Whatever He Wants to Replace Urban Meyer
Urban Meyer managed to keep his name out of the spotlight for several weeks the past 1-2 months. Thanks to added controversies from Aaron Rodgers, Antonio Brown, and Jon Gruden, the first-year Jacksonville Jaguars coach had seemingly found a quiet corner to hide in.
Despite significant questions popping up regarding his job stability earlier in the year, rumors of Meyer being a one-and-done head coach were few and far between as the weeks went by. Meyer and the Jaguars won a few games, taking further pressure off the controversial coach.
However, fast forward to Week 14, and things look worse than ever in Jacksonville. In fact, they look so bad that Meyer lasting through to 2022 feels borderline impossible.
Urban Meyer is on his last legs
According to NFL.com's Tom Pelissero, the Jaguars' locker room is in worse shape than any of us expected. To go with his numerous off-field controversies, Meyer has reportedly been treating players and coaches alike with massive levels of disrespect.
This is obviously not ideal for a first-year head coach struggling to win games. It's the sign of a coach in entirely over their head, blaming everyone around him for his failures.
Months of tension surrounding Jaguars coach Urban Meyer has boiled over with multiple run-ins with players and other coaches in recent weeks, sources say, renewing questions in league circles about whether Meyer's stay in Jacksonville could end after just one tumultuous season…

But sources say Meyer's repeated public comments shifting blame to players and coaches amid the team's 2-10 season have exacerbated frustration in the building with his hard-charging and sometimes condescending approach — a style that many observers believed wouldn't work in the NFL even before the Jaguars hired him.

Tom Pelissero, NFL.com
There's still been nothing to suggest the Jaguars are seriously considering axing Meyer at the end of the season. However, the more reports like this that come to the surface, the more likely a divorce is. Not even the Jaguars should be OK with this level of dysfunction.
The Jaguars should fire Urban Meyer and target Doug Pederson
The Jaguars need to fire Meyer. That goes without saying at this point. Of course, the tricky part of firing a coach is finding a suitable replacement. The fear in Jacksonville is that a worse replacement would be hired, further setting their franchise back another few years.
However, the good news for Jacksonville is that a perfect replacement exists, and his name is Doug Pederson.
A Super Bowl-winning head coach who led the Philadelphia Eagles to the playoffs three times over the span of five years, hiring Pederson would be a dream come true for Jacksonville. He's a player's coach with deep ties into the Andy Reid coaching tree, and he already has an impressive resume coaching in one of the more challenging NFL cities.
Pederson also attended college in the state of Louisiana. He at least has a semblance of a connection to that area of the United States.
The Jaguars need to pay Doug Pederson whatever he wants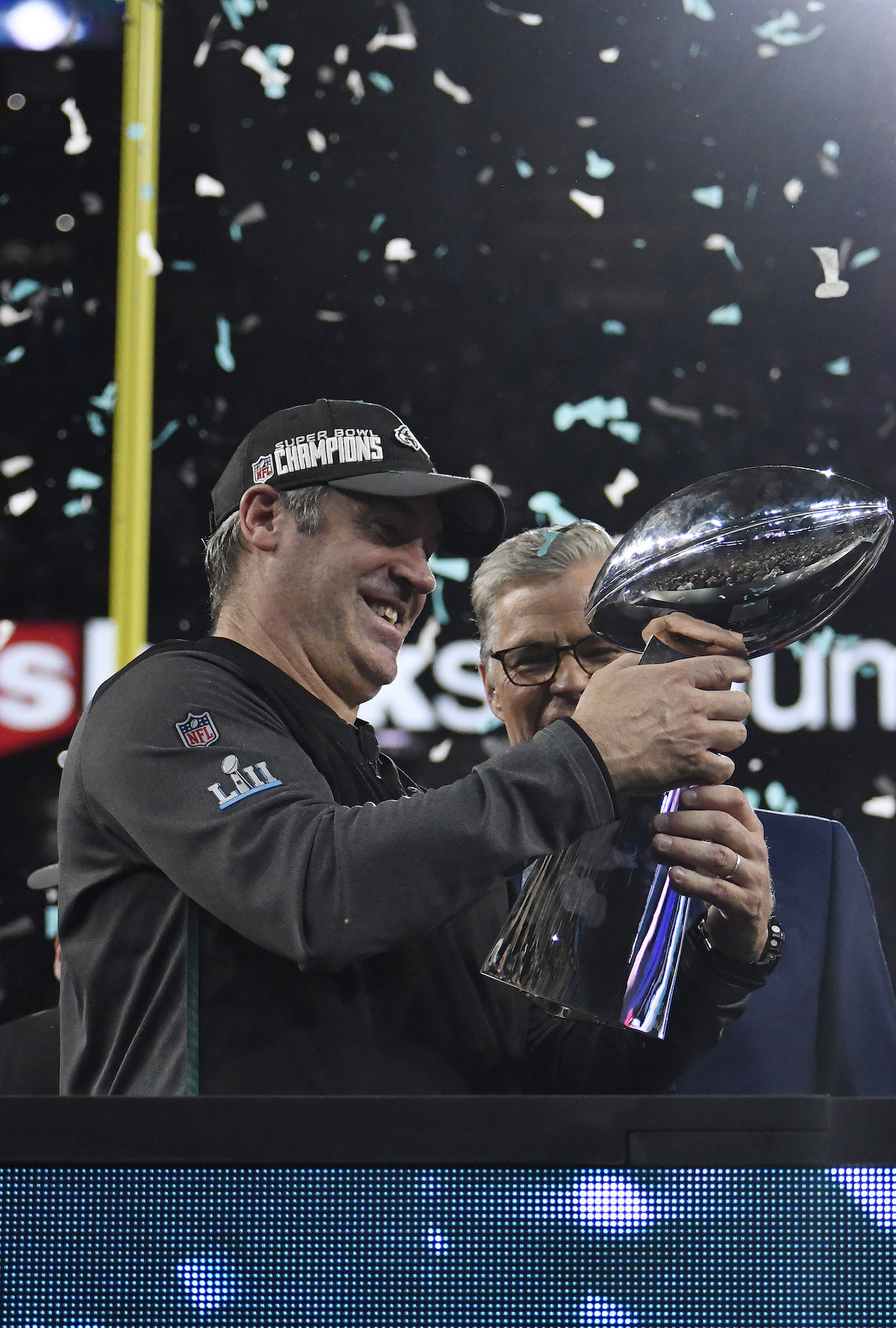 Admitting the Urban Meyer experiment was a failure after one season would be incredibly embarrassing for the Jaguars organization. However, it's the unfortunate reality of the situation. Meyer is a lousy head coach. The longer he stays in Jacksonville, the more damage he gets to do to No. 1 overall pick Trevor Lawrence as well.
With Pederson, the Jaguars are giving themselves a chance to regain the respect of their NFL peers. Pederson is wildly liked around the league, and his Lombardi Trophy speaks for himself.
Additionally, Pederson (a former NFL QB) has had a lot of success working with quarterbacks during his Eagles' coaching career. He developed Carson Wentz into an MVP-caliber talent in 2017. He won a Super Bowl with career backup Nick Foles under center. He even had a few good games working with Jalen Hurts before his departure this past offseason.
If there were ever a guy to pair up with someone like Trevor Lawrence, it would be Pederson.
Ultimately speaking, Pederson appears to be in zero rush to return to the rigors of NFL coaching. However, that shouldn't discourage the Jaguars. Owner Shahid Khan needs to pay the man whatever he wants to coach the Jags. It may be the only thing that can save his dying organization.
Like Sportscasting on Facebook. Follow us on Twitter @sportscasting19.