Jaguars Owner Shad Khan's Curious Attempt at Reassuring Urban Meyer Should Only Raise More Questions About His Future in Jacksonville
Article Highlights:
Jacksonville Jaguars owner Shad Khan praised his players amid an ugly 1-6 start
Khan also offered a curious vote of confidence for head coach Urban Meyer
Don't be surprised if Meyer cleans house, assuming he returns to the Jaguars in 2022
The Jacksonville Jaguars' upset victory over the Miami Dolphins in Week 6 and subsequent bye week allowed many of us to forget about Urban Meyer's disastrous first season as an NFL head coach. What was that whole thing about a video and a woman again?
Jaguars owner Shad Khan didn't forget, though. In an effort to commend his players for working through an ugly start to the 2021 campaign, the veteran owner attempted to give Meyer the dreaded vote of confidence … and failed miserably.
Jaguars owner Shad Khan praised his players in a curious vote of confidence about Urban Meyer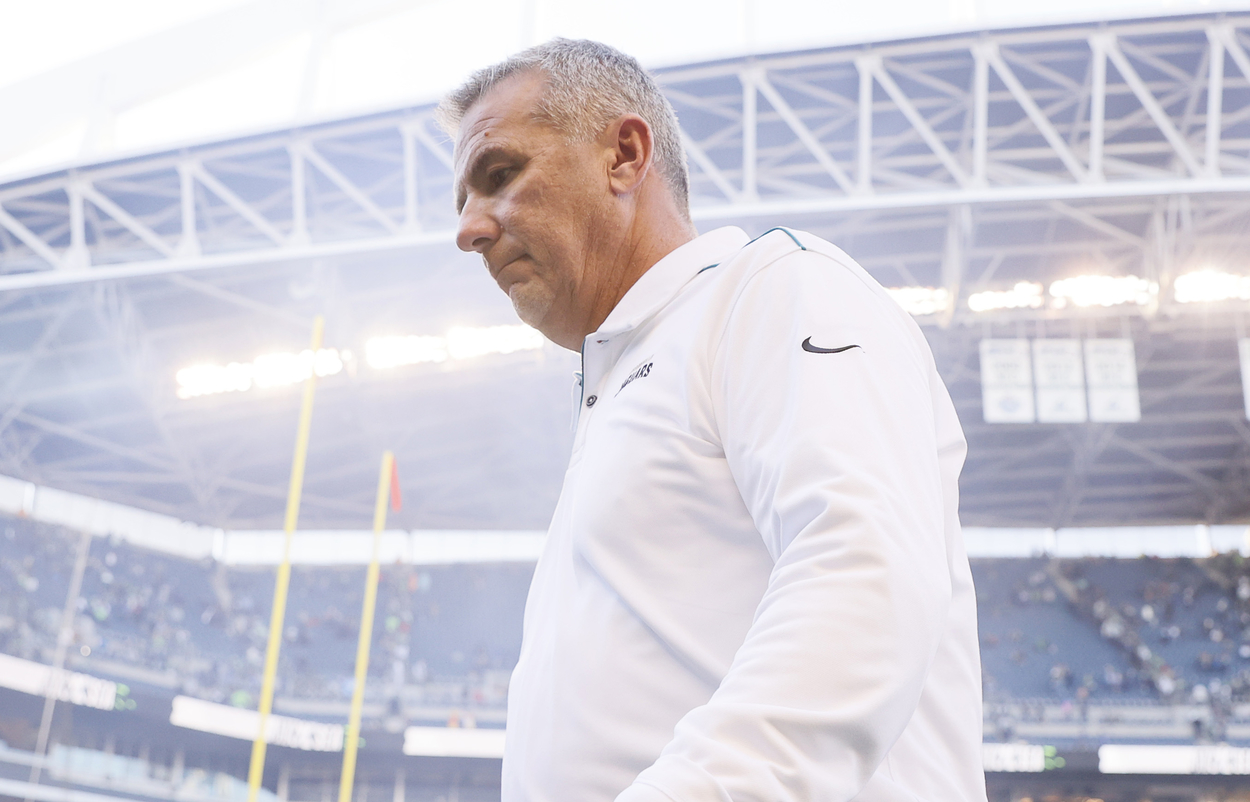 Depending on who you ask, all is getting better in Jacksonville. You know, once you look away from the on-field product and the team's -80 point differential.
The Jaguars, to their credit, kept things close throughout a difficult early-season stretch against three teams — the Arizona Cardinals, Cincinnati Bengals, and Tennessee Titans — that would be in the playoffs if the season ended today.
In a recent interview with NFL Media, Khan said he couldn't "ask for anything more" from his players. Considering how the team worked through the fallout of Meyer's scandal involving a video featuring him and an Ohio woman and avoided total disaster, it's hard to disagree.
"This is where the impression from the outside is very different from the inside … There are a lot of times, and I'm not just talking about football, in business situations, what you read is so different from what the reality is, and this is one of those cases. I wasn't surprised; I believe in us."

Shad Khan
NFL Media's Ian Rapaport shared that sources told him Khan is "all-in" on Meyer. But when the Jaguars owner spoke with Rapoport, he offered a different tune and tone.
"I think this is NFL football," Khan said. "You're on stage all the time, and you have to be absolutely self-aware. But I've gone over this so many times there's very little to add."
Although Khan later told Rapoport he "absolutely" has faith in Meyer, those comments speak for themselves.
Perhaps Khan would have been best off saying nothing at all, especially ahead of a humiliating loss in Week 8
Since taking over the Jaguars in 2012, Khan has watched four head coaches, ranging from Mike Mularkey through Meyer, try to turn his team into a consistent winner. The team's one winning season in that span says it all.
Khan isn't wrong in praising his players for how they handled the Meyer situation. The problem is the generic 'owner-speak' about how he believes in those players and the team collectively when, as a whole, they've played poorly over the season's first two months.
On the one hand, yes, the Jaguars have been competitive in their losses. But that only goes so far, especially when discussing a team that's been in a constant rebuilding state for over a decade. The fans, and likely the players and coaches, don't want to hear about how hard they're trying when the team's only victory is against a free-falling Dolphins team.
Khan made those comments at the league's owners meetings. Perhaps he should have waited until the end of the season, considering how outclassed the Jaguars looked in a 31-7 road loss to the Seattle Seahawks in Week 8. Jacksonville committed 12 penalties for 93 yards and needed a touchdown with 1:53 left to avoid being shut out for the first time since Oct. 11, 2009, also against the Seahawks.
The Seahawks summed up the Jaguars' existence by returning the ensuing onside kick for a 44-yard touchdown.
If Meyer controls his own destiny, he'll likely need to make significant changes this offseason
Given Khan's comments and the fact he didn't fire Meyer during the scandal, it doesn't appear as if the Jaguars will be the party to initiate any parting of ways in the coming months. If Meyer doesn't return in 2022, it will be because he steps down for one reason (a job in college football) or another (retirement, followed by a job in college football).
Assuming Meyer does return in 2022, don't be surprised to see the Jaguars force him to clean house. The early returns on his staff aren't promising in the slightest. First-year defensive coordinator Joe Cullen's unit is averaging 29 points per game and had two issues of 12 men on the field in Week 8.
If offensive coordinator Darrell Bevell is still the play-caller, Meyer might want to know why three players — receiver Jamal Agnew, tight end Dan Arnold, and backup running back Carlos Hyde — represented 30 of Lawrence's 54 targets against the Seahawks.
We can't forget about Meyer hiring former Iowa strength coach Chris Doyle, who reached a separation agreement with the university in 2020 after accusations of bullying and racism, to fill the same role in February. Doyle resigned a day later amid public outrage.
At least Khan can sleep soundly knowing Forbes still values the Jaguars as being worth over $2 billion. That should help matters.
Like Sportscasting on Facebook. Follow us on Twitter @sportscasting19.
RELATED: Bill O'Brien Is Quickly Emerging as a Potentially Massive Beneficiary of Urban Meyer's Disastrous Meltdown