Jaguars Owner Shad Khan Remains Impressed With Trevor Lawrence Despite the Rookie's Inconsistent Start: 'He's Even Better Than What You Think He Is'
Article Highlights:
Jacksonville Jaguars owner Shad Khan is a massive fan of rookie quarterback Trevor Lawrence
Khan praised Lawrence as a "leader" and a "great human being" in a recent interview
The Jaguars remain optimistic about the Clemson product's future after an inconsistent start
When considering all of the hype and praise, Jacksonville Jaguars fans may have felt underwhelmed watching rookie quarterback Trevor Lawrence work through his first two months as an NFL player.
Actually, considering that they're Jaguars fans, they might still be celebrating the fact he didn't fall into the Atlantic Ocean upon arrival.
Lawrence is seven games into an inconsistent rookie season, one that's seen the highs of an upset victory over the Miami Dolphins in London and the lows of throwing three interceptions against the lowly Houston Texans. Still, Jaguars owner Shad Khan is more than pleased with what he's seen thus far.
Jaguars owner Shad Khan praised rookie quarterback Trevor Lawrence in a recent interview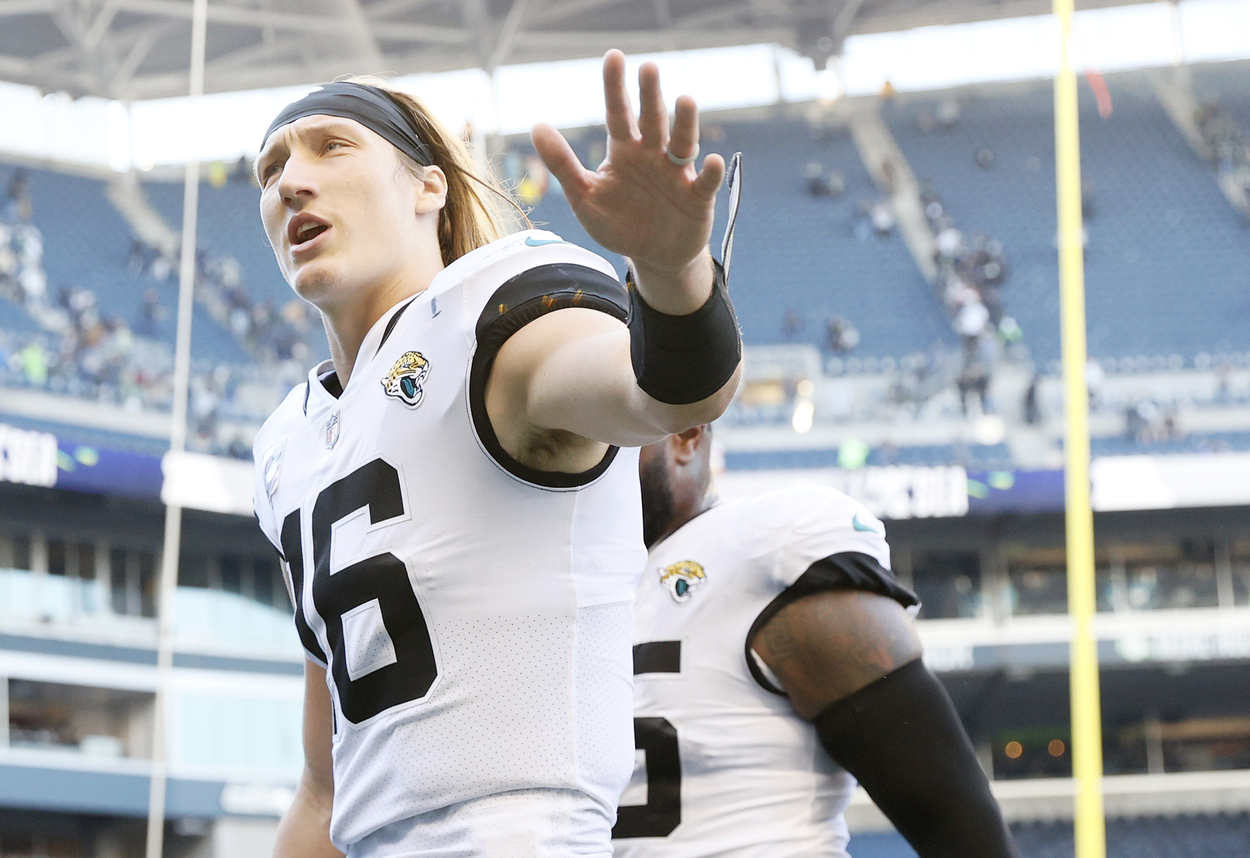 Khan may not hire the best coaches or approve the most logical draft choices, but he's certainly a patient man. As pundits and social media users openly wondered if Lawrence was destined for bust territory, the longtime Jaguars owner remained calm.
In a recent interview with NFL Media, Khan praised his rookie quarterback's attitude and personality. The 71-year-old said Lawrence is "even better than what you think he is" and knew during a pre-draft Zoom meeting that the Clemson product was the right player to select first overall.
"I got off the Zoom, and it's like, 'He's too good to be true.' I'm not just talking about the [athlete]. I mean him as a human being when you look at the whole collective package. I really feel good about the Jaguars, and for the city of Jacksonville, we have a football player, a leader, a great human being in Trevor."

Shad Khan
We'll see if being a great human being will eventually lead to the Jaguars posting only their second winning season since 2008. Lawrence turned nine years old that October
Lawrence hasn't had the rookie season that observers unrealistically expected
Because talking heads and draft analysts praised Lawrence as the best thing since a hybrid of Peyton Manning and sliced bread, it became easy to view him as the destined savior of a long-struggling Jaguars franchise.
Thus far, Lawrence has played like a rookie, which is fine considering he is indeed a rookie. He completed 59.6% of his passes through his first seven starts for 1,703 yards, eight touchdowns, and nine interceptions. He's had some great moments, including the London comeback against the Dolphins, and plenty of throws he wants back.
If you want to use the glass-half-full approach, he's only thrown two interceptions since Week 4. He's a rookie transitioning from life at Clemson, a perennial powerhouse (at least before this year) loaded with blue-chip prospects, to starting at quarterback for one of the NFL's longest-suffering franchises.
As for the glass-half-empty approach? No, the Jaguars are not drafting Matt Corral next spring.
Lawrence is showing plenty of room for a second-year jump, so long as the Jaguars do right by him
Forget having Lawrence as their quarterback for a decade. The Jaguars are in a situation where they'll happily take 20 years of the Clemson product slinging touchdowns and, ideally, keeping his trademark hair in the process.
Even with an early tendency to turn the ball over, Lawrence went first overall for a reason. He's shown enough, especially given the Jaguars' organizational issues and Urban Meyer's disastrous first season as a head coach, to keep spirits high about his future. Very few young quarterbacks, even a generational prospect like Manning, could have thrived as a rookie given the team's current situation.
As of publication, the Jaguars would have the fourth overall pick in the 2022 NFL Draft. If the franchise intends to do right by Lawrence, they'll prioritize the offensive line — perhaps selecting Alabama offensive tackle Evan Neal — even if it means trading down and accumulating more picks.
For now, the Jaguars need to continue taking things one game at a time. Lawrence still has ten games left in his rookie year, including three against teams that would reach the postseason if the season ended after Week 8. Which would be weird, but life is weird.
Like Sportscasting on Facebook. Follow us on Twitter @sportscasting19.
RELATED: Jaguars Owner Shad Khan's Curious Attempt at Reassuring Urban Meyer Should Only Raise More Questions About His Future in Jacksonville