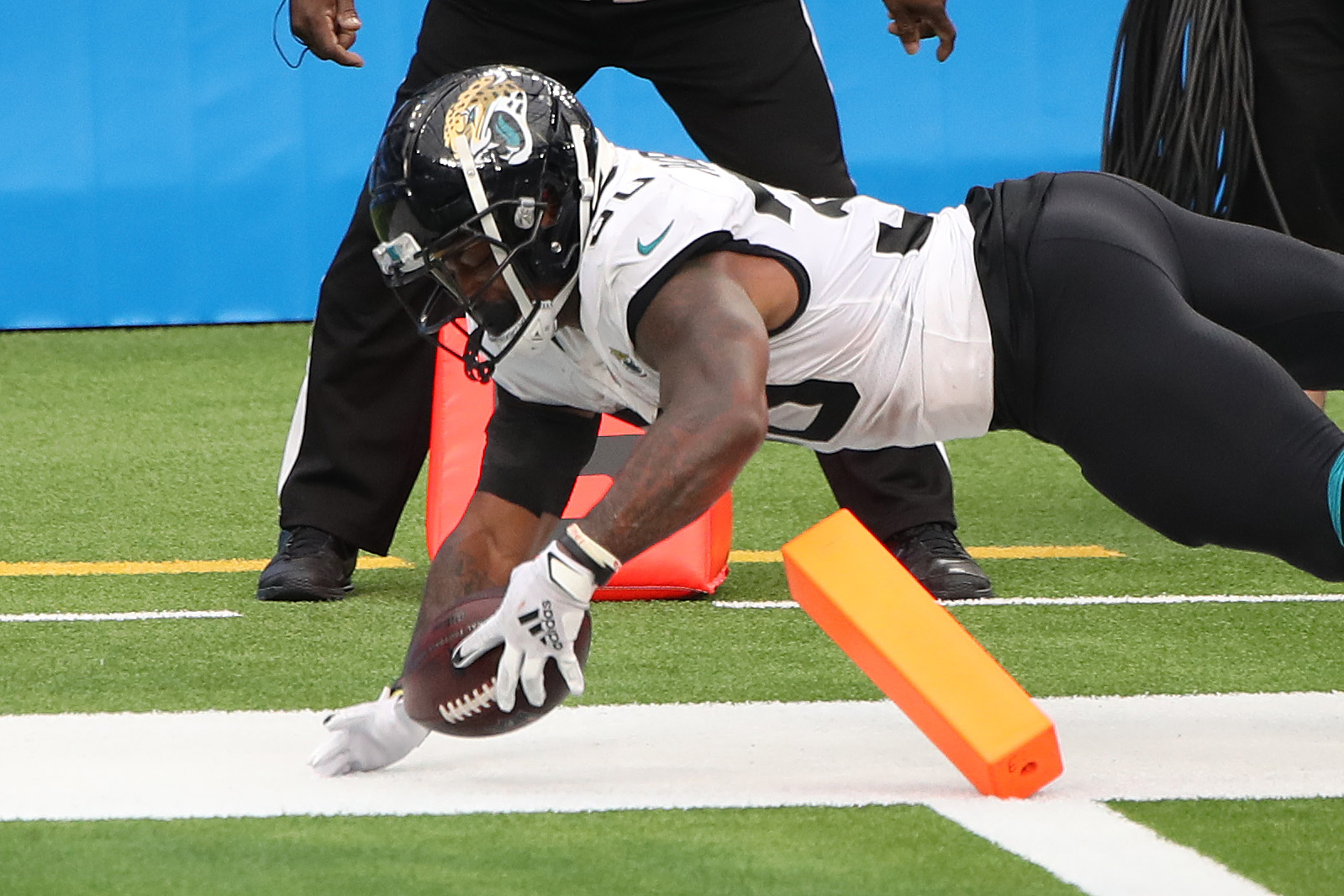 Jaguars RB James Robinson Is Having an Unprecedented Rookie Season
Jacksonville Jaguars running back James Robinson is having an unprecedented rookie season -- and his numbers deserve far more attention.
The Jacksonville Jaguars appear to have a rising star on their hands in James Robinson.
Robinson, a rookie running back from Illinois State, has been the Jaguars' lead ballcarrier all season. Despite going undrafted this spring, Robinson is having one of the most productive seasons by any rookie skill player in 2020.
Robinson is only seven games into his career, but he is already on his way to an unprecedented campaign for the Jacksonville Jaguars.
James Robinson is the Jaguars' rookie running back
The Jacksonville Jaguars signed James Robinson, a standout running back at Illinois State, following the 2020 NFL draft.
Although Robinson attended the NFL combine, the coronavirus pandemic prevented him from participating in personal workouts and other opportunities to boost his draft stock.
Robinson ran for 4,444 rushing yards and 44 touchdowns on 5.6 yards per carry at Illinois State. He also caught 58 passes for 428 yards and two touchdowns.
That bad luck worked out perfectly for the Jaguars. Originally slated to be Leonard Fournette's backup, Robinson earned the starting job out of training camp when Jacksonville cut Fournette over the summer.
Tom Brady and the Tampa Bay Buccaneers signed Fournette, a former first-round pick, in September.
Robinson is putting up big numbers for a bad Jaguars team
Although the Jacksonville Jaguars opened the 2020 season with a Week 1 home upset of Philip Rivers and the Indianapolis Colts, things have reverted back to business as usual in Duval County, Fla.
At least the Jaguars can't pin their 1-6 start on the play of rookie running back James Robinson. Drawing the start in all seven games, Robinson totaled 481 rushing yards and four touchdowns on 4.5 yards per carry in that span.
Robinson also turned 27 catches into 225 yards and two touchdowns.
Robinson, who doesn't turn 23 until August 2021, could have a bright future in Jacksonville. He has used his awareness to find holes and safely snag Gardner Minshew's passes.
Robinson's 481 rushing yards are second-most among rookies through Week 7, only behind Kansas Cty's Clyde Edwards-Helaire and his 551 rushing yards.
Robinson's 481 rushing yards are seventh-most in the league in that span.
James Robinson is having an unprecedented rookie season
In 1983, Eric Dickerson set the rookie rushing record with 1,808 yards for the Los Angeles Rams.
Ezekiel Elliott had 1,631 rushing yards across 15 games as a rookie in 2016, although Dallas sat him and other starters for the meaningless Week 17 finale.
James Robinson averaged 68.7 rushing yards per game in his first seven outings. Across a full 16-game season, that would amount to 1,099 yards, so Robinson isn't exactly on pace to catch Dickerson.
Still, Robinson is doing all of this as an undrafted rookie — and he's on pace to make history. Dominic Rhodes set the single-season rushing record by an undrafted rookie, when he picked up 1,104 rushing yards alongside Peyton Manning and the Indianapolis Colts.
Most recently, Denver Broncos standout Phillip Lindsay had 1,037 rushing yards as a rookie in 2018.
James Robinson needs to stay on his current pace and add one more big game to possibly pass Rhodes. Having a career like Rhodes, who ran for 3,286 yards and won a Super Bowl ring across his eight seasons, is also an excellent goal to set.
Like Sportscasting on Facebook. Follow us on Twitter @sportscasting19.