Jaguars RB James Robinson Is Starring in Jacksonville Thanks To a Scout's Significant Other
The 2020 NFL draft was completely different than most NFL drafts as teams had to select players from home due to COVID-19. They also had to look at some of the undrafted stars from home. The biggest undrafted star from the 2020 class so far is running back James Robinson, who has played really well for the Jacksonville Jaguars through the first three weeks of the 2020 NFL season. However, Robinson would maybe not even be on the Jags right now if it weren't for the teams doing things from home this year. In fact, a scout's significant other is a reason that Robinson is starring in Jacksonville.
James Robinson was a star in college at Illinois State
Not many people knew Robinson's name during his college career as he played for an FCS school in Illinois State. He dominated while he was there, though.
After he ran for 322 yards and two touchdowns in 2016, Robinson was a star for the rest of his career, per his bio on the Illinois State team site. He had 933 rushing yards and 12 touchdowns in 2017, and then just completely dominated during the 2018 and 2019 seasons. Robinson ran for 1,290 yards and 12 touchdowns in 2018, and then 1,899 yards and 18 touchdowns in 2019.
He ultimately finished his career second in school history in rushing yards with 4,444, and in rushing touchdowns with 44. Robinson then played well at the East-West Shrine Bowl, as he picked up 136 total yards, 80 rushing, and 56 passing. However, he ended up going undrafted in the 2020 NFL draft.
This led to the Jacksonville Jaguars signing him as an undrafted rookie.
A scout's significant other led to the Jaguars signing him
Drafting and reaching out to undrafted guys from home might have been weird for some teams. However, it worked out well for the Jaguars.
According to USA Today, NFL draft analyst Daniel Jeremiah revealed that the Jaguars reached out to Robinson after Jaguars scout Marty Miller's wife told him to.
"Marty was in charge of the running back position after the draft in terms of getting that coordinated work with the coach and getting that done," Jeremiah said, according to USA Today. "He recruited his kids and his wife to help him after the draft and make sure they were able to get phone calls out to these different kids."
Jeremiah went on to say that they had a makeshift board, and that there were some guys they thought they would be able to get, who ultimately fell through. Then Miller's wife gave her input.
"His wife goes, 'Well, what about James Robinson? You had him way up there,' and he's like, 'There is no chance he's still available, he would have gone really early in free agency and should've been drafted.' So she encouraged him to call him," Jeremiah said, per USA Today. "Sure enough, Marty calls him and the rest is history. [Robinson] ended up signing [with the Jags]. So it was an assist from Marty's wife at home."
So, what if Miller's wife had not said anything? Would Robinson still be on the Jaguars now? It's hard to say, but the move has worked out great for Jacksonville so far.
James Robinson has been excellent for the Jacksonville Jaguars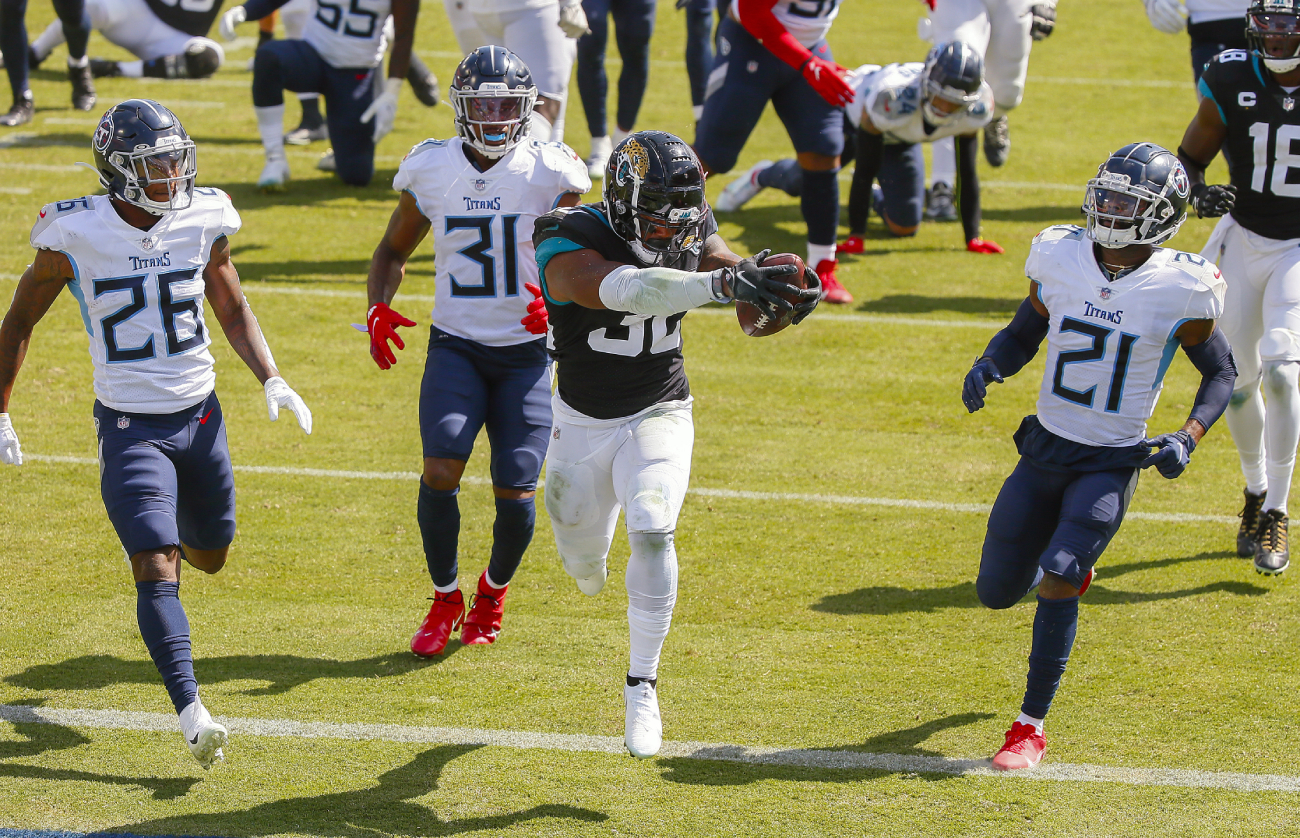 On Aug. 31, the Jaguars waived former No. 4 overall pick Leonard Fournette. This led to Robinson becoming the team's starting running back, and he has ultimately had a great start to his career. 
In the Jaguars' Week 1 game against the Indianapolis Colts, Robinson ran for 62 yards and had one reception for 28 yards. Then in their Week 2 game against the Tennessee Titans, he ran for 102 yards and a touchdown, and in Week 3 against the Miami Dolphins, he ran for 46 yards and two touchdowns on 11 carries, in addition to catching six passes for 83 yards.
Through three weeks in the 2020 season, Robinson has 210 rushing yards, and has gained 339 yards from scrimmage. According to CBS Sports, Robinson has the most yards from scrimmage in his first three career games out of any undrafted rookie in NFL history. He is also the only undrafted player in NFL history to record at least 300 yards from scrimmage and multiple touchdowns through his first three games in his career.
James Robinson is having an excellent start to his career with the Jacksonville Jaguars. He can thank Marty Miller's wife for it too.
Pro stats courtesy of Pro Football Reference