Jaire Alexander Being a 'Long Way Out' From Returning Is Not the Worst News Ever for the Green Bay Packers
The Green Bay Packers have undoubtedly missed superstar cornerback Jaire Alexander. Unfortunately, his absence will have to continue to make their collective hearts grow even fonder because it doesn't sound like "Ja" is coming back anytime soon.
Alexander has been missing from Green Bay's defense since a significant shoulder injury he suffered in Week 4 of the season.
The good news was that he didn't require shoulder surgery to fix the injured AC joint. The bad news? He's since missed five games.
Green Bay will have to continue to be patient because the latest message from head coach Matt LaFleur is that there's still some healing left to do.
Believe it or not, that's not the worst thing ever for the Packers.
Jaire Alexander is still a "long way out" from returning for the Green Bay Packers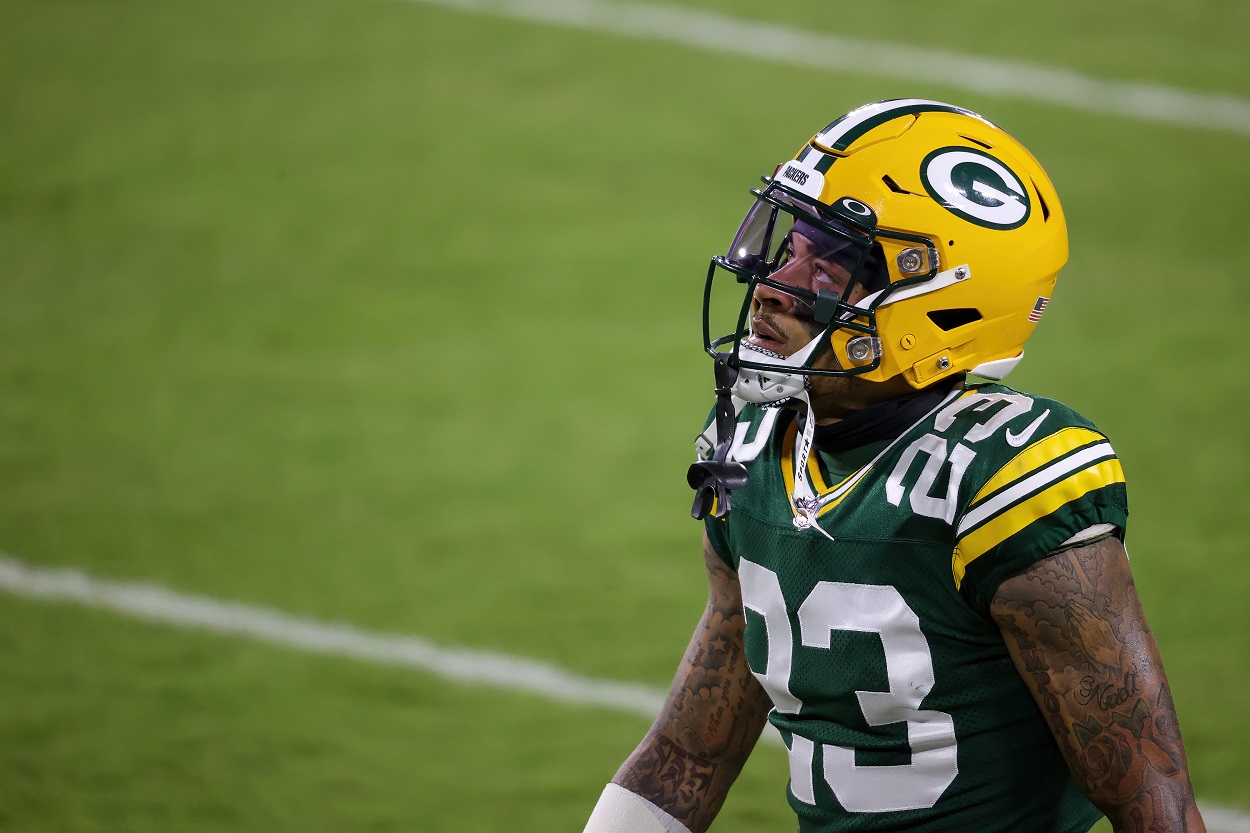 This week, the big news circulating in the Packers' corner of the internet has been a photo from practice showing Alexander on the sideline. It's the first time that we've publically seen the star cornerback, which prompted many to wonder when he'll be available to play for Green Bay.
Again, we're faced with a good news-bad news situation. The good news, according to LaFleur, is that Alexander's rehab is going well. Unfortunately, it's still going to be a while until he's ready to give it a go.
"It's going good, but it's still a long way out," LaFleur said, according to Zach Kruse.
Though he hasn't visibly been at practice, LaFluer did say that the cornerback has remained engaged with the team.
"No, Ja has been around, quite a bit. The plan is to continue to strengthen and allow his shoulder to heal. We'll see where he's at," LaFleur said.
There's an optimistic way to look at the latest update on Alexander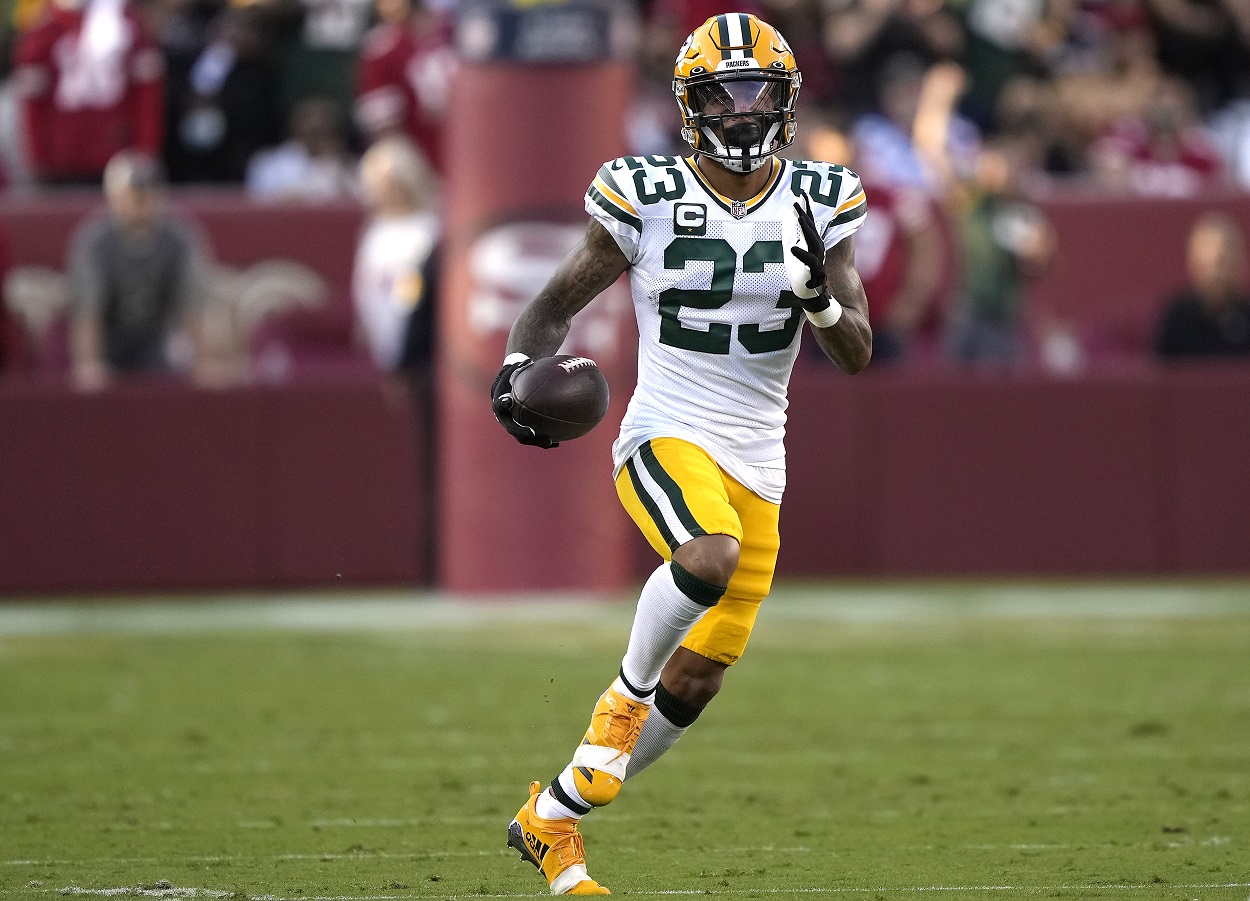 While the Packers would prefer to have Alexander on the field rather than dealing with an injury, there are some positive ripple effects from this latest update.
The first is the fact that Alexander still hasn't been ruled out. A shoulder surgery would have wholly stolen his season, but the fact that he's been rehabbing and improving without having to go down that road is huge.
It feels like it's flying by, but we're only at the halfway point of the season, mind you. Green Bay still has eight games to play, which doesn't include the playoffs, which are a given for this squad. It doesn't sound like a November return is realistic, but there's still a pathway to him playing in the regular season. At the very least, a postseason return seems hopeful.
The other hidden positive in this news is the fact that Green Bay's cornerback depth will continue to gain experience.
Rookie Eric Stokes has lived up to his hype as a cover man despite typical ups and downs expected in a young corner. He got his chance to see the field with Alexander out, and his growth has been a big reason why Joe Barry's defense has been outperforming expectations in 2021.
Rasul Douglas has also been a revelation for Green Bay's secondary. He was claimed off Arizona's practice squad and ultimately was the one to put the nail in the coffin for the Cardinals' undefeated season. He's played good football for the Packers and wouldn't have been on the team if Green Bay didn't go out looking for help in the wake of Alexander's injury.
Green Bay's defense has benefited from adversity all season long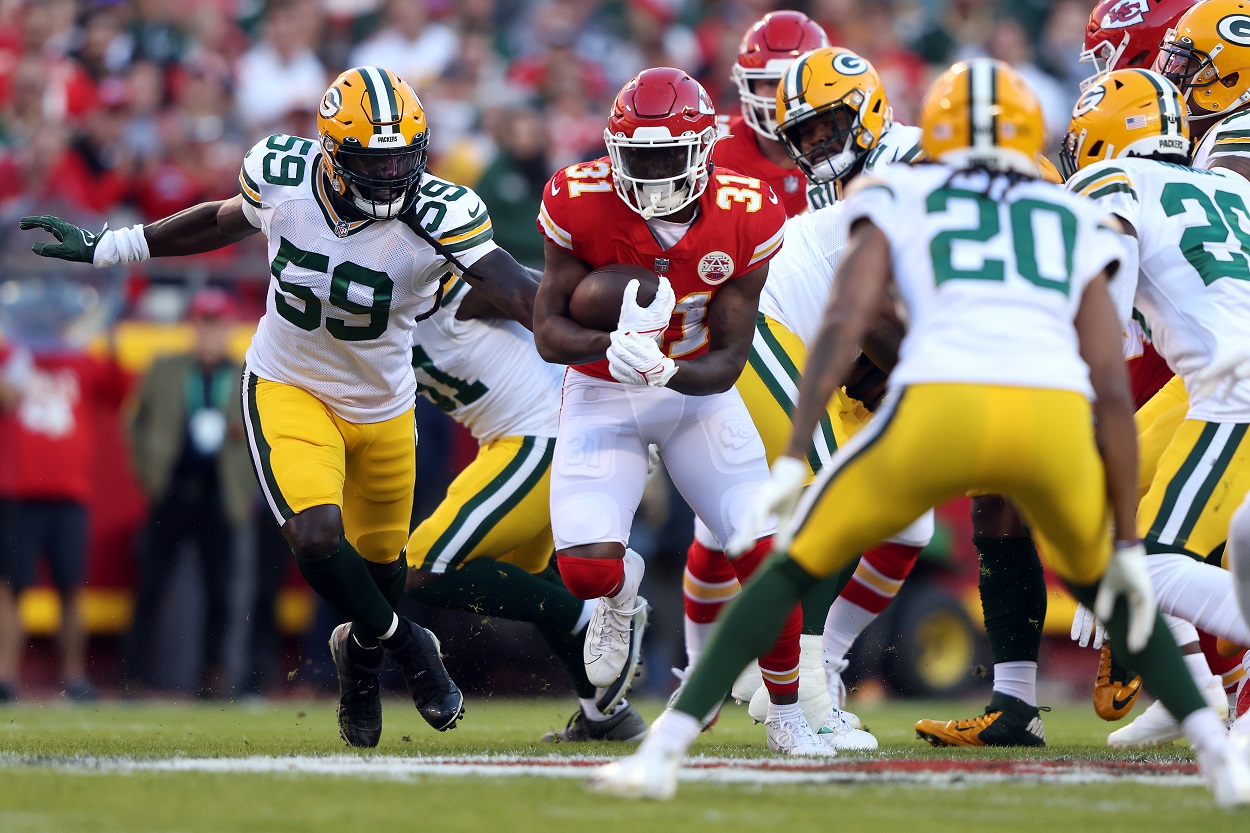 The Packers have been decimated by injuries this season, but one of the great things about this team is that they've adopted a "next man up" approach and have seen multiple players step up.
Star pass rusher Za'Darius Smith has missed all but one game with a back injury. In his stead, Rashan Gary has become a consistent play-maker for Green Bay, and defensive end Dean Lowry has stepped up to provide three sacks for the team.
With Alexander out, it was Stokes and Douglas who upped their level of play in the secondary.
The unintended but positive consequence of the injuries Green Bay has been dealing with in 2021 is that the team's depth has been tested, and the Packers have proven to be quite resilient. Especially with a long playoff run being an expectation for the Packers, being able to trust the second and third-string to make plays in big spots is a luxury that most teams don't have.
Green Bay is also looking like a team that could get healthy at the right time.
Pro Bowl left tackle David Bakhtiari has been activated off the injured reserve and should be returning soon, and Za'Darius Smith seems closer to a return than not. If Green Bay can get Alexander back from injury in time for a playoff run, the Packers may ultimately boast one of the NFL's deepest and most intimidating cornerback rooms. Alexander is a star. Stokes is emerging. Douglas is dependable. Kevin King is good enough to start, so having him as a backup or nickleback would become a luxury.
With Alexander out for a little longer, that secondary has a chance to continue to mature and develop. He's talented enough to hit the ground running when he returns, and at that point, the sky is the limit for the Packers.
Stats courtesy of ESPN and Pro Football Reference.