Jaire Alexander's Injury Puts Pressure on the Green Bay Packers' Young Guns and Veterans Alike
Green Bay Packers star cornerback Jaire Alexander is hurt. That much we know. How severe his injury is and how long he'll be off the field is still up in the air. No matter if he's out for a week or for months, though, the often embattled Green Bay defense finds itself with a likely hole to fill and a ton of players who need to step up.
Alexander is one of the top cornerbacks in the league, though he's often overlooked, and he's the steadying force on a Green Bay defense that has struggled at times under first-year defensive coordinator Joe Barry. Getting Alexander back and healthy is going to be priority one for the Packers, but they are notoriously conservative in that regard.
It's a safe bet to assume that the star corner will miss time. A shuffling of the defensive deck will ensue in Green Bay as a result, but the Super Bowl expectations are going to remain the same.
The Packers need rookie cornerback Eric Stokes to play like he's been in the league for years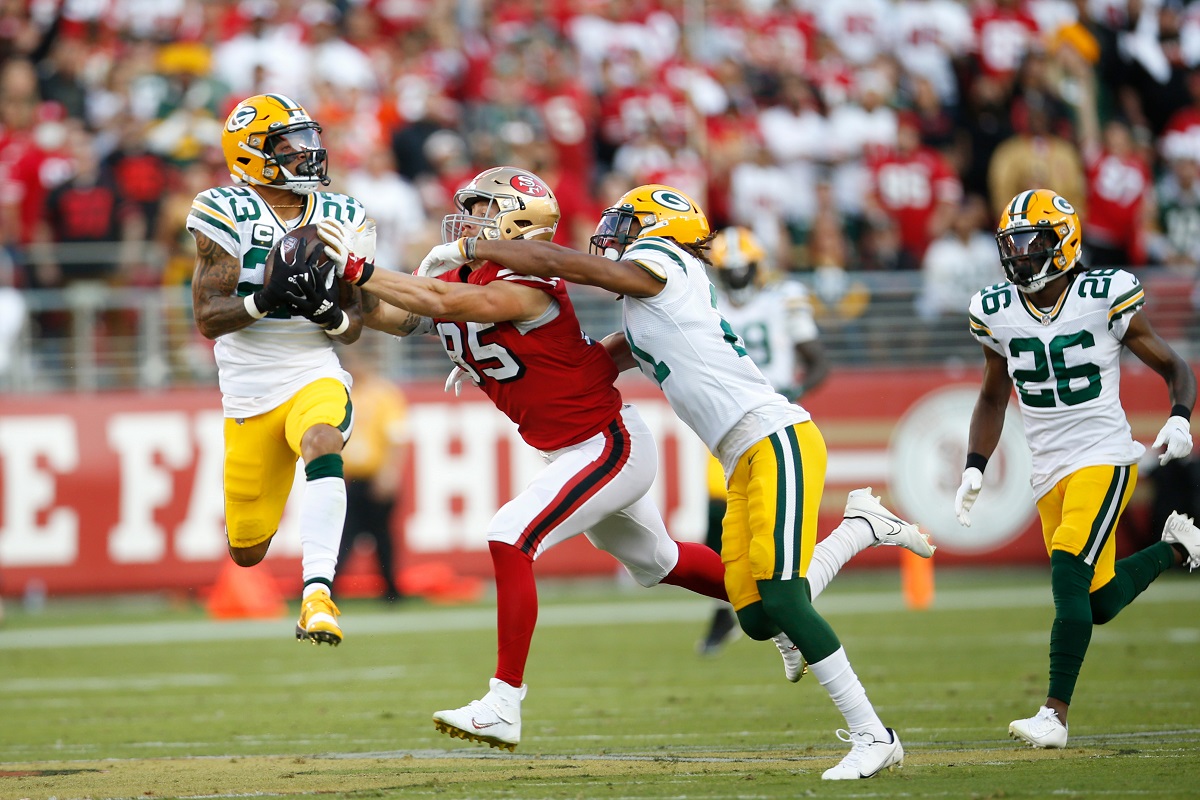 If you've been following the Packers at all in 2021, you already know of Eric Stokes. For the uninitiated though, there's a reason he's being mentioned here. He's not just a huge part of Green Bay's defensive plan moving forward, but he's also just been thrust into the spotlight.
Stokes was Green Bay's first-round pick in the 2021 NFL Draft (taken No. 29 overall out of Georgia), and the Packers drafted him for his length, speed, and general potential. He ran a 4.2-second 40-yard dash at his combine workout, and while not known as a major ballhawk, he did notch four interceptions in his final year with the Bulldogs.
For the duration of the preseason and through Green Bay's first two games, the Packers were content to let Stokes slow-play his development. He didn't see the field much at first, behind Alexander and Kevin King on the depth chart, but an injury to King forced him into the starting lineup in Green Bay's last-second win against the San Francisco 49ers. The rookie also started this past weekend in a win against the Pittsburgh Steelers.
The results have been varied for Stokes in his two starts. On one hand, he did have a game-sealing interception against the Steelers — the first of his career. He also has made a handful of nice plays by using his long arms and speed to simply just be in the way for opposing receivers. He's been lauded for his "sticky" coverage over the past few weeks, and that's something the Packers have to feel great about.
On the other hand, Stokes has had some rookie ups and downs. If Ben Roethlisberger was even half the quarterback he used to be, Stokes would have likely been burnt for two touchdowns in Green Bay's 27-17 win this past weekend. The rookie corner has also been a bit handsy at times, which has led to multiple pass interference calls.
Overall, early returns on Stokes are positive considering the fact that he's only a few games into his NFL career. There's reason to be optimistic if you're the Packers.
But is he ready to be the team's No. 1 cover corner with Alexander on the bench?
Being a No. 1 cornerback in the NFL is tough enough, but that's likely going to be the task for the rookie — especially with King coming off an injury and already being inconsistent, at best, this season.
The Packers will need Stokes to play well above his experience level.
Veterans in Green Bay's secondary need to step up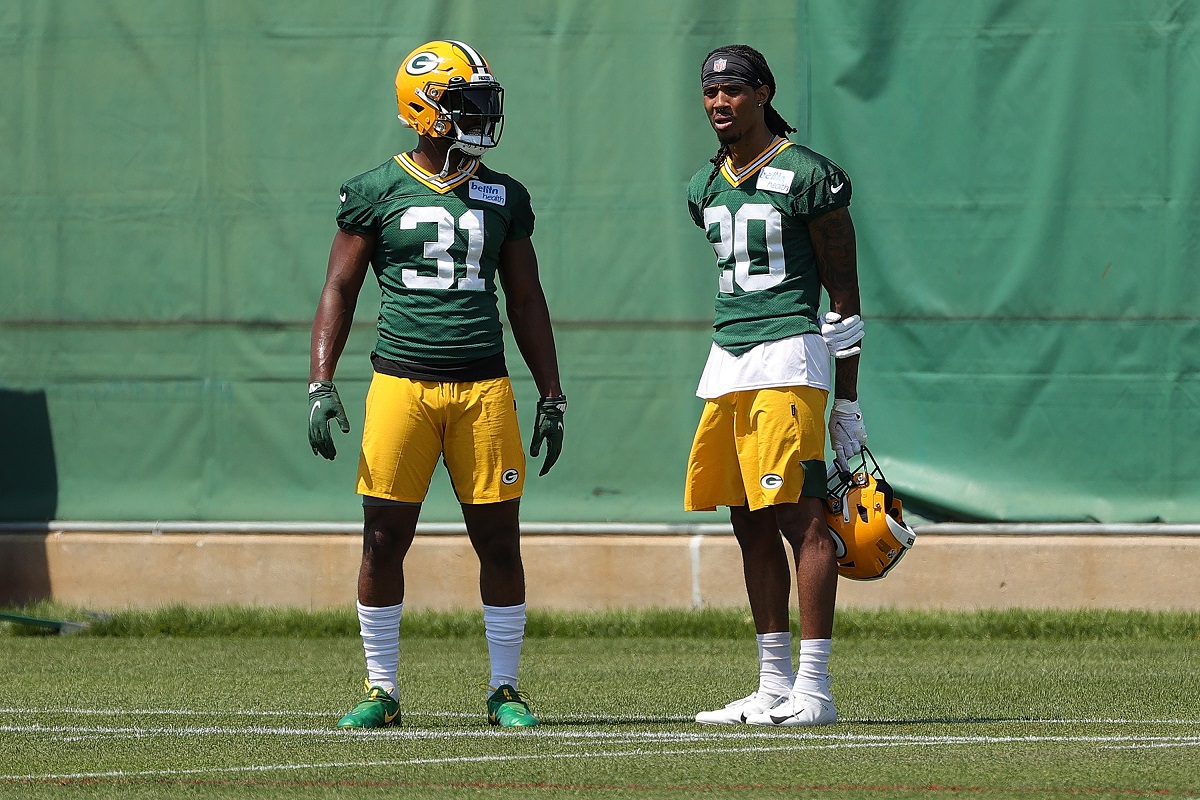 The Packers are lucky in that outside of Stokes, their secondary is actually experienced.
Chandon Sullivan has been the slot corner for the Packers when they're at full strength, and he's playing in his fourth season. In the defensive backfield, the Packers are anchored by veteran safety Adrian Amos, in his seventh season as a pro, and Darnell Savage. Even though Savage is only in his third NFL season, he plays with the awareness and game-speed of a veteran player.
Alexander is easily the most talented player of the bunch, and he's arguably the Packers' best defender overall, but an argument can be made that Amos has been the steadiest player on Green Bay's defense since coming over from the Chicago Bears as a free agent in 2019.
In Savage, the Packers have a player who, at times, can live up to his name. He's supremely athletic, fills the gap admirably in the run game, and can be a ball hawk. Sullivan can be hit-or-miss as a pass defender, but he has had an interception in each of Green Bay's last two seasons.
The problem for the aforementioned three amigos has been consistency in the play-making department. That's not even touching on King's woes this season. He's been in a constant decline ever since his infamous meltdown against the Tampa Bay Buccaneers in the 2020 NFC Championship Game.
Savage did have an interception in Green Bay's Week 1 loss to the New Orleans Saints, but that was wiped out by a ticky-tack roughing-the-passer call. In terms of interceptions that count, he has none. He also has only one pass breakup to his name. Amos has been steady against the run but basically non-existent as a pass defender. Sullivan has been more "miss" than "hit."
Teams have consistently beaten the Packers deep this season, and with Alexander likely missing playing time, things could get worse if the secondary as a whole doesn't step up.
Meet the X-factor: Rashan Gary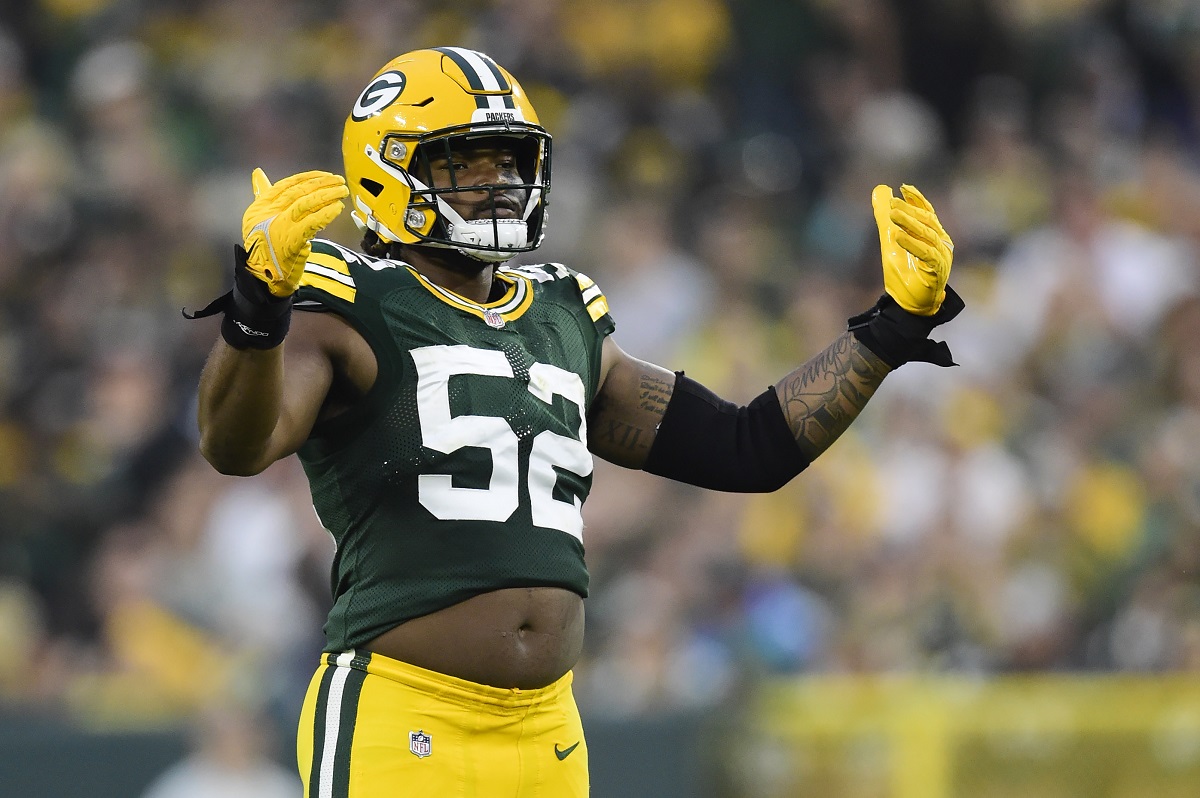 Green Bay's secondary has been exposed at times, but that doesn't mean all the blame must be placed on that unit.
A strong pass rush makes life easier for a secondary. That's Football 101.
Unfortunately for Green Bay, the pass rush has been inconsistent at best. The interior of the defensive line has sometimes gotten pressure, and there's no doubt that nose tackle Kenny Clark has been incredible through four games, but Green Bay's defense has notched just seven sacks as a unit so far.
That's just not going to cut it. It's especially not going to cut it with Alexander on the sideline. Compounding the issue is the fact that Pro Bowl outside linebacker Za'Darius Smith could be out of the rest of the season with a back injury. Smith notched 26 sacks in his first two seasons as a Packer.
Fortunately, Green Bay has the potential to fix its sack problem in third-year outside linebacker Rashan Gary.
Gary, formerly the No. 1 high school football recruit in America, per 247Sports, was drafted in the first round by Green Bay because of his pass-rushing potential. He never reached his potential as a Michigan Wolverine — where he played on the defensive line as an end — but general manager Brian Gutekunst saw his 6-foot-5, 277-pound frame combined with his amazing athleticism and envisioned a stand-up pass rusher in a 3-4 defensive scheme.
Gary has been slow to pick up the ins and outs of being an outside linebacker in the NFL, but he's flashed bits and pieces of his potential over the past two seasons, and he seems to be putting it all together in 2021.
He's strong and extremely fast and has almost perfected the head-on bull-rush that makes offensive tackles sweat in their sleep.
He's an adept run defender and is getting better at setting the edge, but what Green Bay really needs him to do is to start closing on quarterbacks rather than just getting pressure.
The good news is that over the past two games, Gary has recorded 1.5 sacks and four quarterback hits. He also should be credited for notching a "team sack" in Green Bay's win against the Detroit Lions, having jumped on Lions quarterback Jared Goff after a fumble. That ultimately ended in a tackle for loss for Gary and a sack credited to the defense.
If Gary continues to string together strong games, Green Bay's secondary could be the direct beneficiary. He has superstar potential if he can put it all together, and at the very least, he has the potential to rush opposing quarterbacks into bad throws.
That alone should be enough to help out Green Bay's secondary until Alexander is able to return to full strength.
Stats courtesy of Pro Football Reference.
RELATED: Aaron Rodgers' Subtle Physical Acknowledgement of Mike Tomlin Gone Viral Creates Panic for Packers Fans