Jake Paul Was Challenged to Fight His Hardest UFC Opponent to Date: 'I'm Gonna Beat Up All the Pauls'
Jorge Masvidal, the 36-year-old welterweight, is looking for his next UFC fight, and the Paul brothers made their way into his crosshairs. While Logan and Jake Paul have limited ring experience, they do have a gift for smack talk. Masvidal, who's been stepping into the octagon since 2003, wanted to shut down the Paul brothers for good. Here's what happened with Jorge Masvidal's challenge to the Paul brothers and where he currently stands in the UFC.
Jorge Masvidal had it out for the Paul Brothers
Masvidal has stepped into the octagon 50 times since his UFC debut in 2003. Nearly two decades into his MMA career, he's hungrier than ever for another title shot. To get the nod for Dana White, Masvidal's recent plan of attack was to have a go at the Paul brothers. There is certainly no love lost, especially after Jake Paul's verbal attacks against White and the UFC organization.
However, White hasn't been keen on the Paul brother's desires to take on UFC fighters in the past. Both of the Paul brothers have billed themselves as boxers after all. During an interview earlier this year, White learned Jake had called on retired UFC champion Daniel Cormier to meet him inside the ring. White was fuming, telling the interviewer, "What the f*** do these guys keep talking to UFC guys for? I'm going to have to slap them with another f***ing legal letter. Idiots. Go talk to f***ing boxers. What are you doing?"
Could Jake Paul handle Masvidal?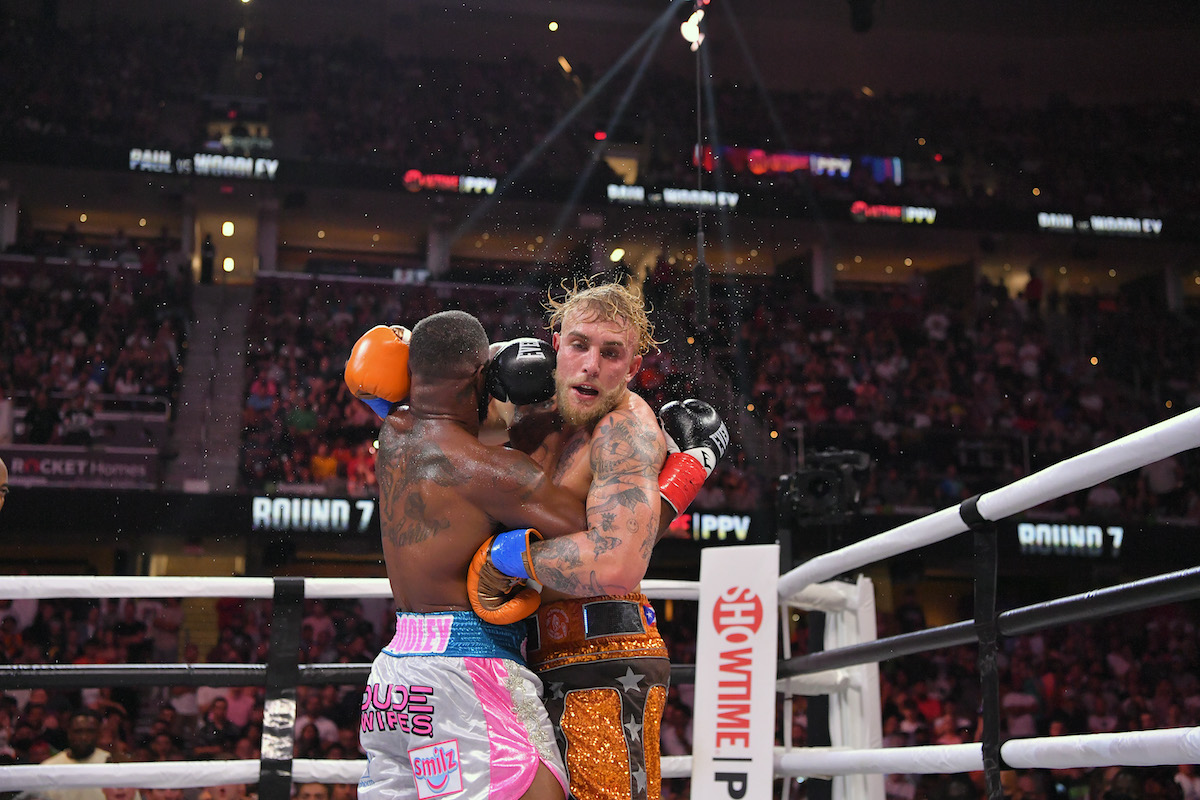 While Masvidal knew White doesn't want the Paul brothers anywhere near the UFC, he revealed that he believed White could give him the blessing to take care of the Paul brothers in the boxing ring. Masvidal told ESPN, "UFC would have to sign off, but nothing is impossible. Dana doesn't like those guys, and Dana knows I'll go in there and put a hurting on those kids. Maybe he does send in the f***ing assassin."
Masvidal wasn't just ready to take on the Pauls for White either. He's sick of hearing the Paul brothers run their mouths. Jake went after Masvidal on social media after Masvidal predicted Paul would lose his August 2021 boxing match against former UFC welterweight champion Tyron Woodley. Paul ultimately defeated Woodley by a split decision.
Despite his victory, Paul was still upset that Masvidal doubted his abilities in the ring. Ultimately, Paul's anger means nothing to Masvidal, who said, "Who the f*** is this Paul kid? He thinks we're friends because I gave him some advice in the Ben Askren fight. Get the f*** out of here, bro. I'll slap you and whoever the f*** you want, bro. I'm a fighter. Of course, you're gonna get offended."
Jake Paul's hardest UFC opponent to date
Ultimately, White nixed the possibility of Masvidal fighting Jake, who would've faced his hardest UFC opponent to date. Jake's first match came in January 2020, where he faced AnEsonGib, a British YouTuber. Paul won the match as well as his next three, coming up against Nate Robinson, Ben Askren, and Woodley. Jake's professional boxing record is 4-0, but that doesn't mean he's ready to take on a UFC fighter with a record of Masvidal's caliber.
Since his UFC debut in 2003, Masvidal has stepped into the octagon 50 times and has achieved a record of 35-15. His last two fights have been against the reigning UFC welterweight champion Kamaru Usman. Both of these fights have ended in defeat for Masvidal. However, these last two losses seem to be fueling the fire when it comes to his intense desire to reclaim the welterweight championship.
Masvidal is a man on a mission. We suspect he'll take on a new challenger soon.
RELATED: Jake Paul Reveals Absurd 'Hit List,' Prompting Gervonta Davis to Issue a Warning