Jake Paul Trolls Tyron Woodley and Makes Insane $1 Million Promise Ahead of Their Pay-Per-View Boxing Match
Jake Paul makes his living by being an entertainer. He loves to troll people and have a good time. His showmanship makes him a massive pay-per-view draw for the sport, but he believes he can defeat Tyron Woodley convincingly.
He's out to prove he belongs in the boxing ring, even if no one else is buying in. Both boxers could leave the fight with $1 million each, depending on the pay-per-view numbers. Paul made an insane declaration about the outcome of his battle with Woodley.
Jake Paul signed a multi-fight deal with Showtime Boxing
Paul is legitimately making the transition from social media to the boxing ring. He inked a deal with Showtime Boxing in early 2021. The official contract figures are unclear, but it should be lucrative given the 24-year-old's popularity and track record.
Triller broadcasted the YouTuber's first two fights. He's proven an ability to rake in ratings and viewership in his young career so far, so it's no surprise Showtime wants him.
"They're the best in the business," Paul told Matt Barnes and Stephen Jackson on the All the Smoke podcast. The Woodley fight will be his first PPV bout on the Showtime Boxing banner, so he will be looking to put on a show and make a name for himself.
Once I got my first knockout in my first pro fight, I was just addicted to the feeling of it. I caught the boxing bug, and the rest is really history.

Jake Paul
Paul says he will end Tyron Woodley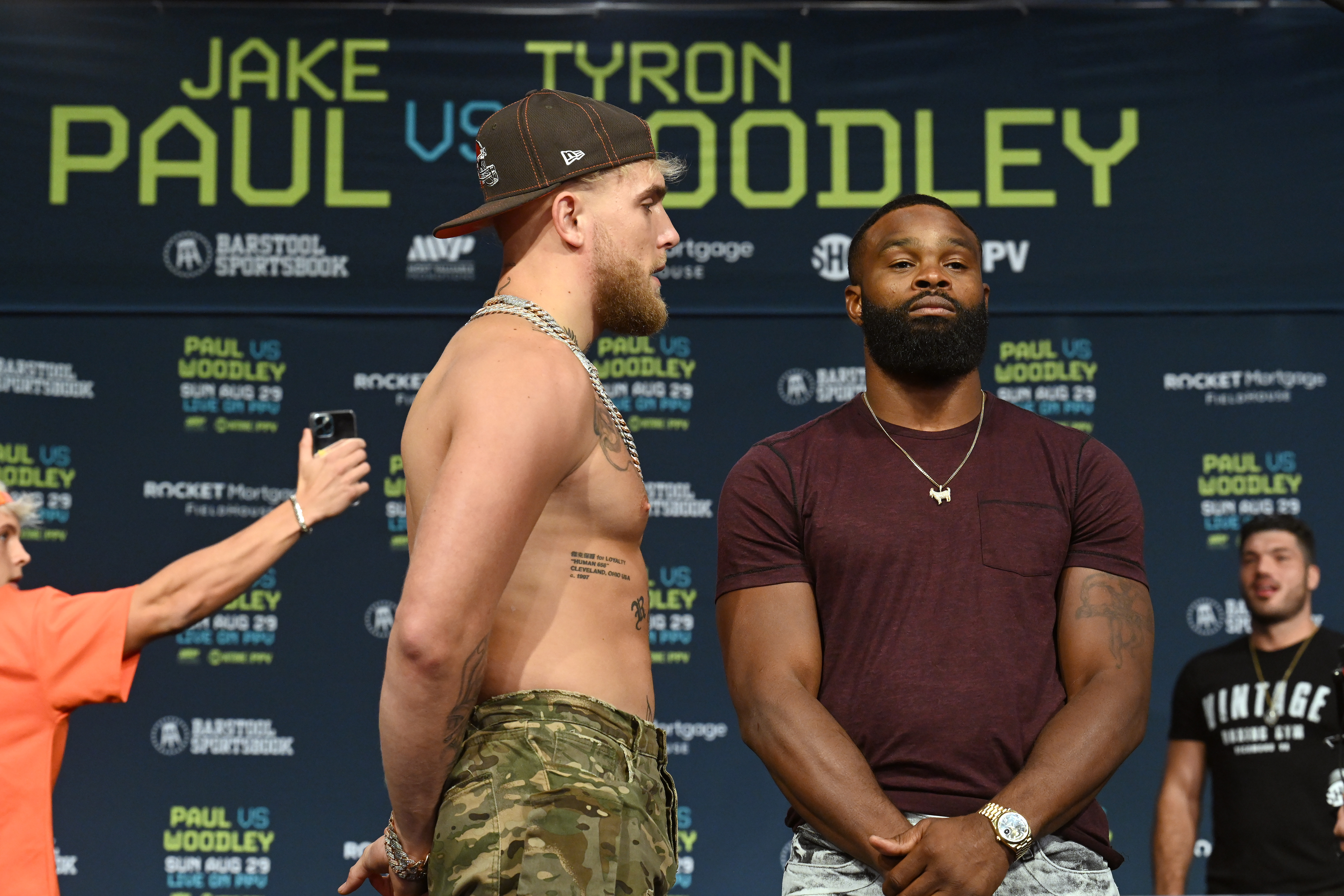 Paul comes into the fight with a 3-0 record, with knockout victories over social media influencer AnEsonGib, ex-NBA player Nate Robinson, and former UFC fighter Ben Askren. Neither of those names presented any challenge for the Cleveland native. Woodley will be his first real fight and a threat to his unblemished record.
Woodley is a former UFC welterweight champion with a 19-7-1 career record. Paul gave his opponent some credit, despite the pre-fight trash talk. "This is a serious guy," Paul said on All the Smoke. "Tyron's not playing around. He has knockout power."
Still, the former Disney Channel star is not lacking in confidence for the big fight. "I can't lose," said Paul. The hosts asked him to predict the outcome of the fight on Aug. 29. Paul said the fans could expect an "aura of greatness."
"You will see my bones go through Tyron's head and he will be out on the canvas," he declared.
The 'Problem Child' is looking to live up to his nickname
Jake Paul was born and raised in Ohio, so this fight means a lot to him. The bout will take place at the Rocket Mortgage FieldHouse in Cleveland.
He says his "Problem Child" nickname is derived from his experiences as a kid. According to Paul, his brother Logan never got in trouble when they were young. "I was using all this energy that I had for the wrong reason," he said of his childhood. He also added that he always got in trouble at school for being a class clown.
The class clown has graduated into a social media troll, and he's embraced the role. "I'm sorry, I'm different."
He tried to escape the nickname at one point, but since becoming a boxer, he's been using the moniker to channel his energy.
When the boxing gloves come on and the lights are on… and the press conferences, that side of me is what comes out…I'm just a problem for people in the ring.

Jake Paul
Jake Paul is a trash-talker personified, and it makes him an entertaining entity in the boxing space. The Problem Child will need to come out for this fight because Tyron Woodley will be looking to take his head off.
Like Sportscasting on Facebook. Follow us on Twitter @sportscasting19.