Jake Sanderson, USA Men's Hockey Team Set for Unexpected Debut Against Familiar Players From Team China
Jake Sanderson is somewhere he did not expect. He's in Beijing for the 2022 Winter Olympics. He's on Team USA's men's hockey team, with high expectations.
The 19-year-old college sophomore likely will play heavy minutes and lead the ad-hock lineup in its quest for an Olympic medal.
While unexpected, Sanderson is where he always wanted to be.
Jake Sanderson on going to Beijing Games: 'It was just something that I couldn't turn down'
The son of 17-year NHL veteran Geoff Sanderson, Jake lost one recent international opportunity because of coronavirus (COVID-19) complications only to gain another. 
"We were just ramping up to play Sweden (at the World Junior Hockey Championships in Alberta)," Sanderson told Sportsnet.
Suddenly, the bad news reached Sanderson, the 2020 fifth-overall draft pick by the NHL's Ottawa Senators, and his teammates. Just like that, tournament officials canceled the event, forcing the players to depart after just one match. 
"And then I returned home and got invited to go to the Olympics," he said. "… It was just something that I couldn't turn down."
Led by Sanderson, Team USA opens preliminary round play in a Group A matchup against Team China.
Initially, NHL stars filled Team USA's roster and were considered a favorite to compete for a medal. But NHL officials decided last December to back out of the Winter Games so its players could participate in COVID-19 make-up games this week and next.
Needing new players, roster spots went to mostly former NHLers playing overseas and college skaters. One of the first calls went out Sanderson.
Sanderson's college coach compares his talent to NHL standouts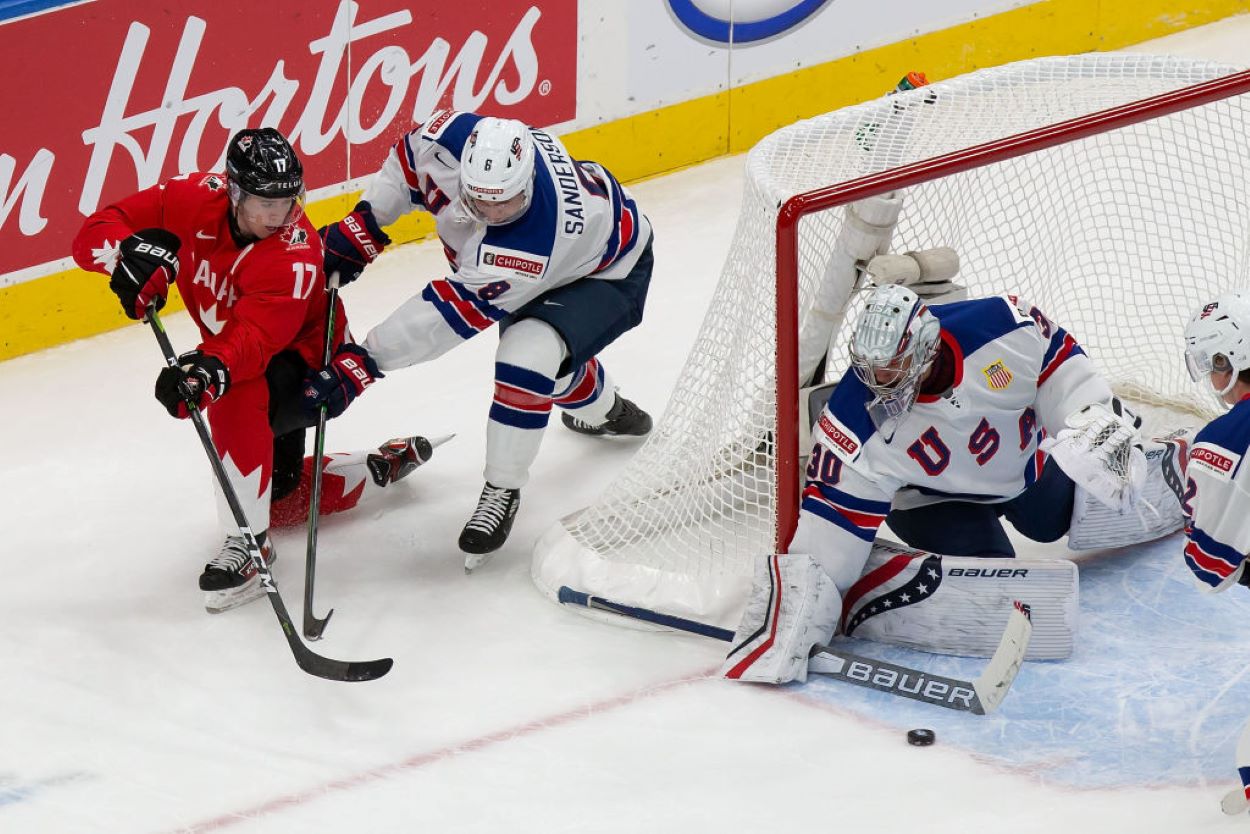 One of the most over-used sports cliches to describing a dedicated athlete often goes something like this: So-and-so was the first to enter the locker room and the last one to leave. How many times have you heard or read that line?
In Sanderson's case, it's accurate. His practice time has become legendary at the University of North Dakota, his current club. During his short time on campus, coach Brad Berry compared his hockey passion to UND alums and NHL standouts T.J. Oshie, Zach Parise, and Jonathan Toews. High praise, indeed.
"I don't name these guys because they are high-end, elite NHL players," Berry said. "They all had a common thing, and that was their work ethic and drive — Jake has that."
Sanderson's skating skills and hockey IQ are proving to be elite.
Now, he's out to prove it on the Olympic stage.
USA men's hockey team set for Winter Games opener versus Team China
Team USA's first-round opponent will prove to be a familiar foe. When the teams face-off on Feb. 10, Team China will have 19 North American players on its roster. Only six players have Chinese heritage. 
Of the squad's 25 players, 11 were born in the United States, including Jake Chelios, the son of three-time Stanley Cup champion Chris Chelios.
Now 30 years old, Jake recalls watching his father compete for Team USA during the 2002 Winter Games in Salt Lake City. The elder Chelios earned a Silver medal. The younger Chelios' expectations aren't as high. Team China's program qualified for the Winter Games for the first time. 
A member of Kunlun Red Star, a Chinese-owned franchise that competes in the Kontinental Hockey League (KHL), Chelios has resided in Beijing since 2019. An American playing on Team China? 
"I think half the family was a little confused of what was going on at first," Chelios told the Washington Examiner, "but now they're starting to understand how special it is."
Like Sportscasting on Facebook. Follow us on Twitter @sportscasting19.
RELATED: Is There an Age Limit to Compete in Olympic Figure Skating?