Jalen Green Deserves to Be the No. 1 Pick in the 2021 NBA Draft: 'He Has That 'It' Factor'
In some order, the top four picks are expected to be Oklahoma State's Cade Cunningham, USC's Evan Mobley, the G League Ignite's Jalen Green, and Gonzaga's Jalen Suggs.
Mock drafts are updated and big boards are finalized for the 2021 NBA Draft.
Cunningham is widely expected to go No. 1 overall to the Detroit Pistons. The one-and-done prospect has the combination of size, scoring, and playmaking ability that teams look for in today's league. In some circles, Mobley is thought to be the No. 2 prospect.
Despite being mentioned in the conservation for the first overall pick, Green is not expected to be selected by Detroit at No. 1. But with his athleticism, ability to create his own shot, and enormous upside, Detroit would be making a mistake by passing on Green.
Jalen Green has all the attributes teams are looking for when picking No. 1 in the NBA Draft
Green's athleticism is off the charts, which he showed as a member of the G League's Ignite team last season. He used his quickness to go past — and often over — opposing players. He couples that athleticism with a high offensive skill level for a 19-year old.
Perhaps more importantly, though, Green has a seemingly unquenchable thirst to get better. On The Ryen Russillo Podcast on The Ringer, long-time NBA vet and Ignite teammate Jarrett Jack heaped praise on Green for searching Jack out first and being a "sponge" in terms of soaking up as much knowledge as he possibly could.
In an interview with Chad Ford's NBA Big Board, Green's Ignite head coach Brian Shaw compared his work ethic and "it" factor to that of an NBA legend:
His work ethic — I've been around Kobe when he was young [and] some very good young players like Paul George when I was in Indiana — and there's just a certain 'It' factor that those guys had when they were Jalen's age, and he has that. When you couple that with that he's willing to put in the work, so he has that work ethic, he wants to be the best, he competes every day in practice, in every drill, just not wanting to lose a sprint to a shooting contest.

G League Ignite head coach Brian Shaw on Jalen Green
Green often looked like the best player on the floor in a league filled with professionals
According to NBA.com's G League stats, Green led his team in scoring at 17.9 points per game. He shot 46.1% from the field and 36.5% from three on 5.7 attempts per game. His shooting percentage from deep led the team for anyone who took more than one three per contest.
He also shot 82.9% from the free-throw line and averaged 4.1 rebounds and 2.8 assists. He showed defensive promise as well, averaging 1.5 steals per game. He stood out as a 19-year-old against NBA veterans and players fighting for a spot in the league.
While he may take longer to develop, Green could end up being the best player in the 2021 draft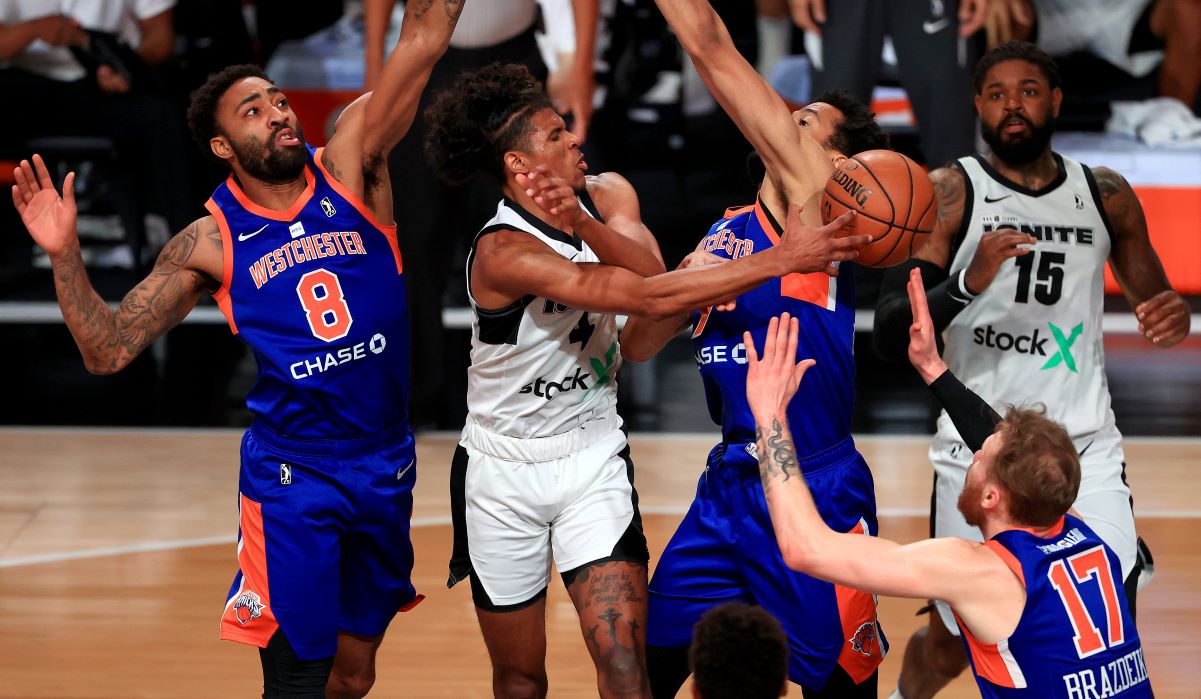 The biggest knock on Green is his lack of bulk. He was listed at 6-foot-6 and just 178 pounds on the Ignite's official roster. Despite his athleticism, Green's lack of strength could present a challenge as he transitions into playing NBA defense.
Green has also been the No. 1 scoring option anywhere he's been. He will have to learn how to flow within an NBA offense and develop better playmaking skills wherever he gets drafted.
But those are two correctable things for Green when he enters the league. He likely won't hit his physical prime for another 5-6 years and there's no reason to think he can't learn the nuances of the NBA game, both offensively and defensively. The upside of a 19-year-old hard-working, exceptionally-athletic shot-creator in today's league gives Green a better shot at developing into a superstar than any other prospect in this year's draft.