Jalen Green's Evolution Is Giving the Houston Rockets Their Own Ja Morant
Jalen Green was one of the most interesting prospects coming into the 2021 NBA Draft. He went from high school phenom to G League Ignite debutant.
The world didn't get to see him play for Duke or Kentucky on the national stage. Instead, the then-19-year-old plied his trade among former NBA players and others trying to get back to the league.
After being picked second overall by the Houston Rockets, he had a similarly odd start to his initial NBA season. But his evolution as of late — noticed by one Stephen Curry — has Rockets fans dreaming big dreams and quite possibly whispering "Ja Morant" under their breaths while knocking on wood with a rabbit's foot enclosed in their fists and crossing their fingers.
Jalen Green's rookie season with the Houston Rockets has been a mixed bag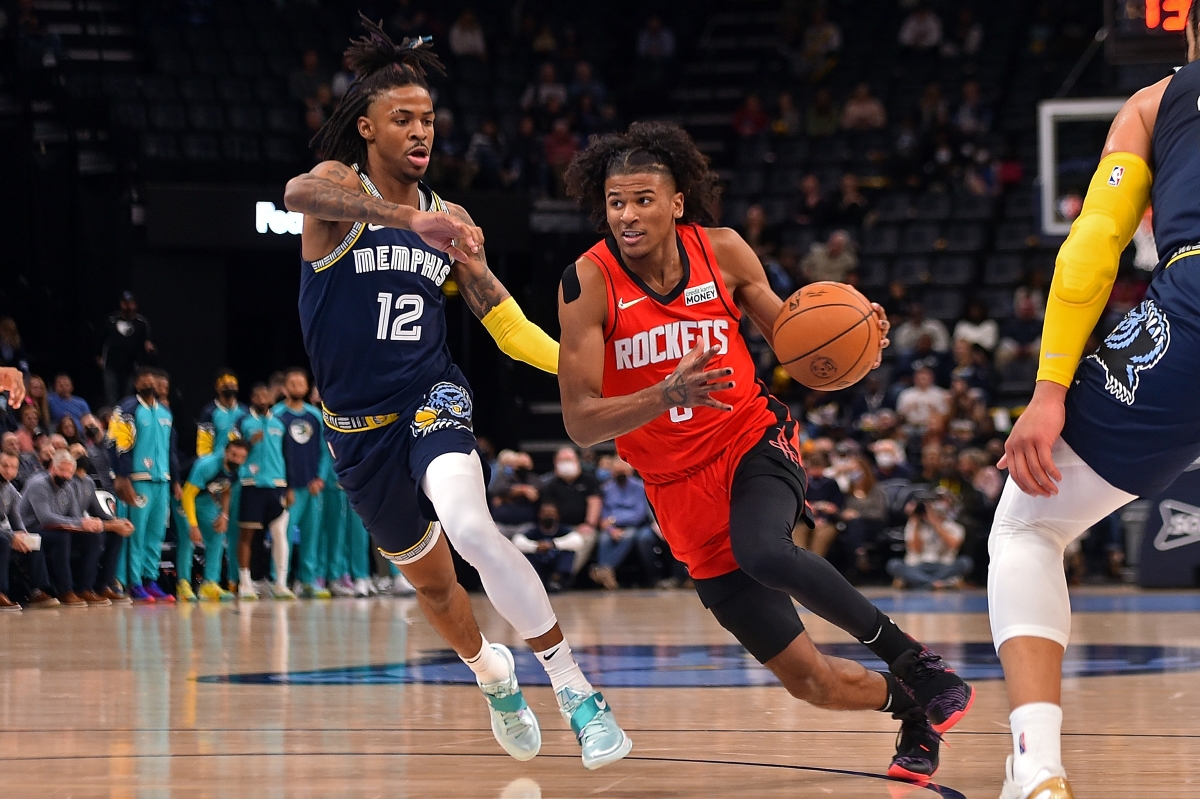 The Rockets have seven players age 21 or younger and three rookies playing significant minutes, so Houston was expected to struggle. And it has.
Jalen and his mates have the second-worst record in the NBA as of March 9. They're 19th in scoring and dead last in points allowed.
Green is averaging 15.4 points, 3.2 rebounds, and 2.5 assists on the year (he nearly has a 1:1 assist to turnover ratio). He hasn't been exceptionally efficient, either — he's barely cracking 40% shooting and 31% from three.
Jalen is tied for the team lead in field-goal attempts with Christian Wood. Wood leads the Rockets in minutes, rebounds, and scoring.
None of the above sentences are good signs of winning basketball. But Houston isn't in it for W's this season. The franchise wants to see development from its young players, Green especially.
And despite it being slow going early in the year, Jalen is showing the Rockets exactly what they want to see.
The rookie's game is showing signs of significant evolution
From opening night through the end of January, Green averaged 12.7 points on 37% shooting, 28.7% from three, and had more turnovers (2.3) than assists (2.2). Once the calendar turned to February, though, the 20-year-old found something.
Since Feb. 1, Jalen is averaging more than 18 points per game on 47% shooting from the floor, 37% shooting from three, and 3.1 assists to only 1.5 turnovers.
He's tied for first among rookies in scoring with Detroit's Cade Cunningham over that span, and he's blown by Cade in shooting efficiency, something that seemed impossible at the beginning of the year.
"Things are starting to slow down for me," Green said in a piece on The Athletic. "I'm starting to recognize the game a lot more and understand what my role is. So that's what I'm trying to figure out."
"I think you're seeing that he's making quicker decisions, which is super important because him doing anything quickly is good for our offense," Rockets head coach Stephen Silas added. "The reads will come as the game continues to slow down for him."
A certain two-time MVP northwest of Houston knows a little bit about what Jalen is going through. While some rookies bide their time on the bench and learn, Green is being thrown straight into the fire just as Golden State Warriors star Stephen Curry once was.
"It's a process," Curry said in that same story on The Athletic. "It's hard to kind of see the end of the journey when you come in.
"He (Green) — kind of like me — got to go through the reps. I got a decent amount of playing time early in my career, and it was a huge learning curve. But (you can't) get too ahead of yourself.
"Something you can take as a learning lesson, and then before you know it, that starts the process of becoming a true professional and a true vet in this league."
That process has not only started for Green, it's taken a leap — a little bit like this year's biggest NBA story.
Jalen's last few weeks have a little bit of Ja Morant in them
Morant has blown up in 2021-22. He jumped from 19.1 points per game last year to 27.6 this season.
His field goal attempts, three-point attempts, free throw attempts, and shooting efficiencies have all taken significant leaps, and now Ja is in the conversation for the NBA MVP Award.
Coming into their respective drafts, both he and Green were known for their explosive athletic ability above all else.
No one is going to put Green on the same level as the Memphis Grizzlies' superstar, and he's not the same kind of playmaker Ja is, but Jalen's rookie year has some similarities to Morant's:
Ja Morant in 2019-20 at age 20: 17.8 points, 3.9 rebounds, 7.3 assists, 47.7% shooting, 33.5% from three, 3.3 turnovers
Jalen Green in 2021-22 at age 20: 15.4 points, 3.2 rebounds, 2.5 assists, 40.3% shooting, 31.5% from three, 2.1 turnovers
Jalen Green since Feb. 1 2022: 18.3 points, 3.0 rebounds, 3.1 assists, 47% shooting, 37% from three, 1.5 turnovers
"That's growth," Silas said of Green's play since February. "That's 2.0 personified."
That's what the league has seen from Morant, only this year's it's been an explosion of growth. Before that, though, Ja steadily improved over his first two seasons. An MVP wasn't born overnight.
And just like Morant, Jalen has the work ethic and gym-rat mentality to grow rapidly. The name "Kobe Bryant" has come up during conversations surrounding the rookie's behind-the-scenes drive.
It's been, as Silas said, growth. That's exactly what Houston wants to see from Green, and it's exactly what the franchise is getting.
Who knows? Maybe Jalen will be the Ja of 2023-24.
All statistics courtesy of Basketball Reference.
RELATED: Draymond Green's Praise for Evan Mobley Shows How Special the Cavs Rookie Truly Is