Jalen Hurts Being Compared to Tim Tebow Is Proof the Eagles Need to Aggressively Pursue a New QB in the Offseason
Heading into the 2021 NFL season, no one was sure what the Philadelphia Eagles would look like.
On the one hand, they had an exciting new offense spearheaded by Jalen Hurts, first-round rookie DeVonta Smith, and a completely overhauled coaching staff. On the other hand, they parted ways with Carson Wentz and Super Bowl-winning head coach Doug Pederson, a duo that had been highly productive for the organization.
Despite a promising Week 1 win over the Atlanta Falcons, early signs are pointing toward the Eagles not being close to competing anytime soon.
The Eagles are off to a rocky start
Since Week 1, the Eagles haven't looked like a good football team. They're losers in four of their last five games, and two of their losses ended in an ugly fashion. The Dallas Cowboys blew them out during Week 3. They then allowed 40-plus points to the Kansas City Chiefs during Andy Reid's Philadelphia homecoming.
While the defense is dealing with their fair share of issues, the Eagles' offense is most concerning.
Nick Sirianni's playbook largely consists of screens and endless RPOs, DeVonta Smith has yet to break out fully, Miles Sanders is becoming an afterthought, and Jalen Hurts' play is inconsistent at best.
Hurts has already thrown four interceptions to go along with four fumbles. His QBR (quarterback rating) is worse than in 2020 (37.5 compared to 41.0). Despite all the hype surrounding Hurts and the Eagles' new-look offense, they look just as bad as they did last year — if not worse at times.
Jalen Hurts is being compared to Tim Tebow
It isn't fair to blame all of Philadelphia's struggles on Hurts. However, he's the starting quarterback. He is definitely in line for the majority of the criticism.
Most recently, following Hurts' poor performance against a hobbled Tampa Bay Buccaneers defense, he began drawing Tim Tebow comparisons from more than one media member. Both Colin Cowherd and The Fantasy Footballers' Andy Holloway made the comparison following Philly's Week 6 loss.
For what it's worth, they're not totally off with such a claim. Both Hurts and Tebow were college superstars who built their resumes up with elite athleticism and extreme mobility. Upon making their way to the NFL and being asked to pass in an NFL-style offense, both players began experiencing difficulties.
Tebow's seven-win season with the Denver Broncos actually saw him record a 38.6 QBR — a tick higher than where Hurts is currently.
Obviously, this is not good news for the Eagles. Tebow is no longer in the NFL for a reason.
The Eagles need to pivot off Jalen Hurts if things don't get better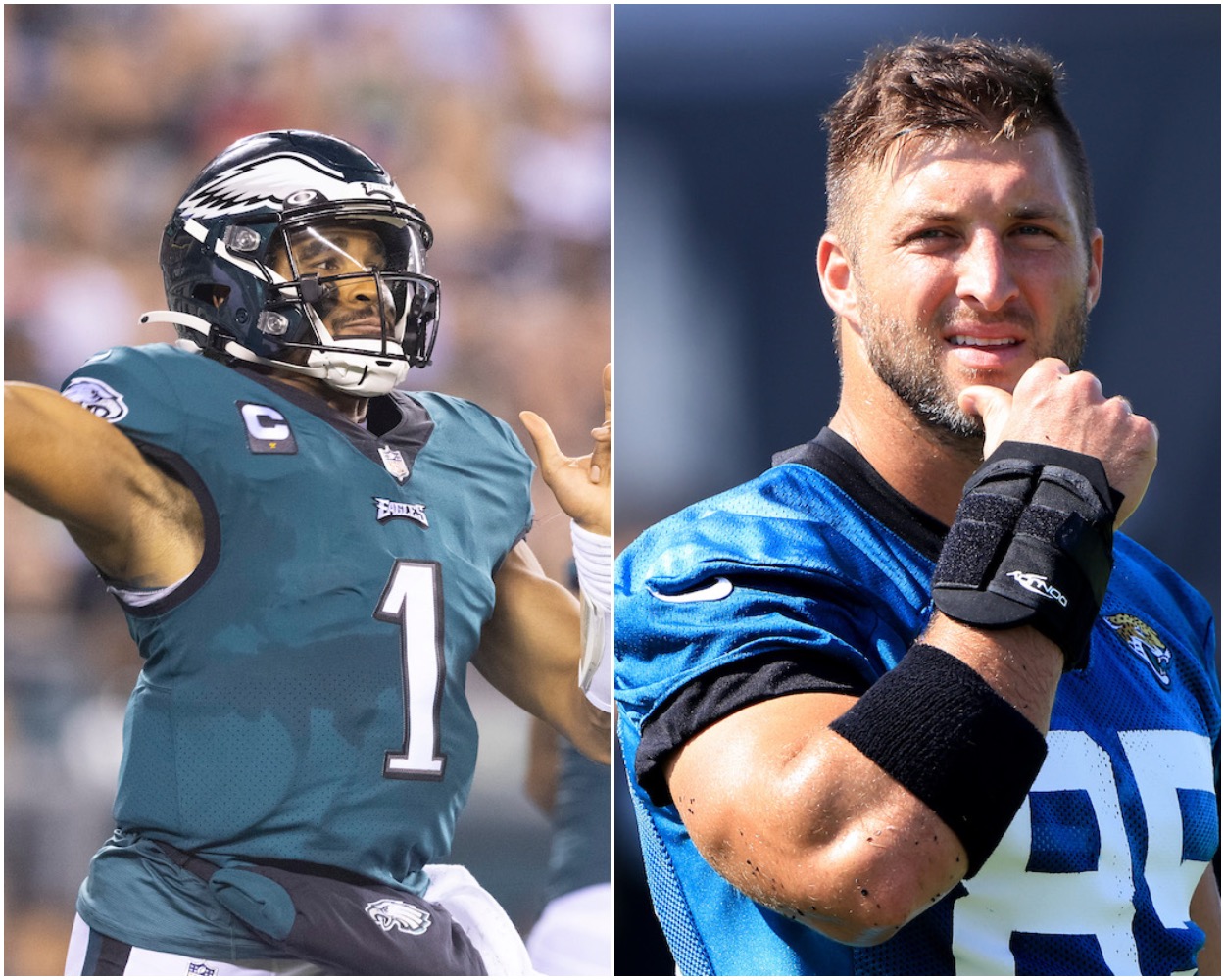 There's still plenty of time for Hurts to change the outlook on his career, assuming the Eagles continue to stick with him for the rest of the season. However, seeds of doubt are surely being planted into the heads of Eagles' executives.
If Hurts doesn't noticeably improve between now and the end of the 2021 season, there's simply no way to justify him being the starting quarterback in 2022.
The Eagles possess a minimum of two first-round picks in the 2022 NFL Draft, with the potential for a third to come via the Indianapolis Colts. With so much draft ammunition and a shaky QB situation, the Eagles would be fools to not strongly consider making a move for a new arm.
Whether via trade or through the draft, better options are out there — options that won't draw Tebow comparisons.
All stats courtesy of Pro Football Reference.
RELATED: The Eagles Need to Admit an Embarrassing Offseason Mistake and Cut Ties With a Grossly Overpaid Veteran