Jalen Hurts' Career Year in 2019 Could Lead Oklahoma to a Championship
Jalen Hurts and the Oklahoma Sooners faced what figures to be their toughest test of the 2019 regular season on October 12 in the Red River Showdown against the Texas Longhorns. The Sooners passed the test, defeating the No. 11 Longhorns 34-27 at the Cotton Bowl. And in the process, Hurts recorded another strong game in what has been the best season of his collegiate career.
Hurts has been a perfect fit in Lincoln Riley's offensive scheme. He is firmly in the Heisman Trophy conversation, and his continued success both throwing the ball and running with it has the Sooners looking like a team that could run the table and give Alabama and Clemson a run.
Jalen Hurts has improved significantly as a passer
Through the first six games of the 2019 season, Jalen Hurts has completed 98 of his 137 pass attempts (71.5%) for 1,758 yards, 17 touchdowns, and three interceptions. Projected over a 14-game season (six more regular season games plus the Big 12 Championship and a bowl game), Hurts is currently on pace to hit 4,102 passing yards and 40 touchdown passes with only seven interceptions.
These projected numbers would completely blow away his current career highs in passing yards (2,780) and passing touchdowns (23) that were both set in 2016. But more important than the total numbers is the accuracy and efficiency in which Jalen Hurts is recording these stats.
Back in 2016, Hurts completed only 62.8% of his passes. He also threw a ton of them with 382 passing attempts, leading to an average yards per attempt of 7.3 yards.
In addition to the sharp uptick in accuracy this season at all levels, Jalen Hurts is doing significantly more damage with each individual attempt. Through his first 137 passes in 2019, Hurts has averaged 12.8 yards per passing attempt. He is on pace to hit his career-high of 2,780 passing yards in just 217 passing attempts this season, which would be 165 fewer passes than the 382 he threw that year.
Hurts is running the ball much more efficiently, too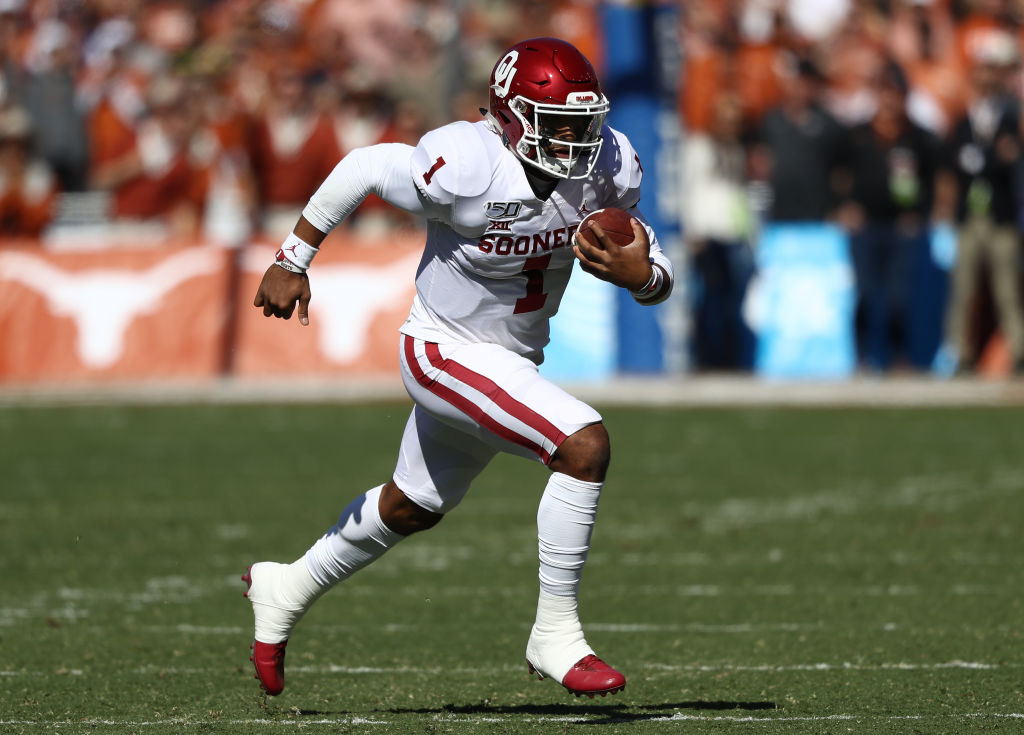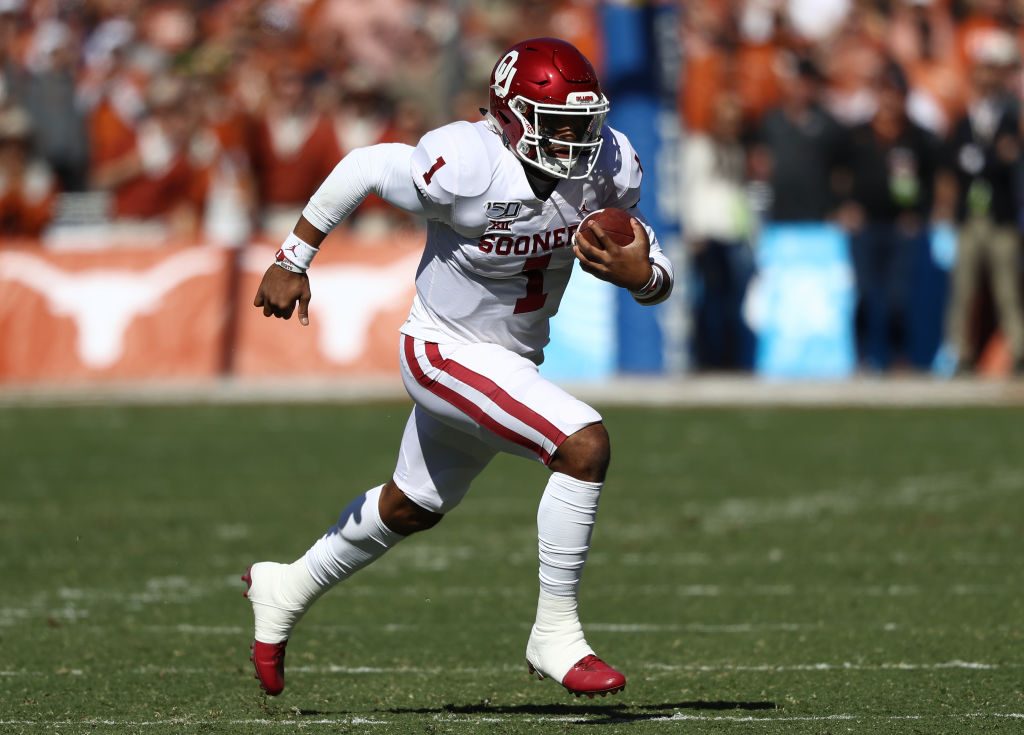 In 2016, Jalen Hurts had career highs in rushing attempts (191), rushing yards (954), and rushing touchdowns (13).
Hurts should easily surpass these rushing yards and touchdowns marks this season as he has already racked up 630 rushing yards and eight rushing touchdowns in 2019. He is on pace to finish the season with 1,470 rushing yards and 19 rushing touchdowns.
And he could put these numbers up with fewer rushing attempts than he had in 2016 as he is currently on pace to run the ball 173 times. Jalen Hurts is averaging 8.5 yards per attempt, far higher than the 5.0 per attempt he averaged in 2016 and the 5.6 per attempt he had in 2017.
Can Hurts succeed where Mayfield and Murray failed?
Under head coach Lincoln Riley, Baker Mayfield and Kyler Murray both had excellent statistical seasons and both won the Heisman Trophy. Both also went on to become the first overall pick in the NFL Draft in 2018 and 2019, respectively.
But both also lost a regular-season game and lost in the first game of the College Football Playoff. Hurts is on pace to have a superior individual season than both of his predecessors had; can he also take the Sooners to new heights?
It's possible. Clemson and Alabama don't look quite as dominant as they have in recent years, and Oklahoma's defense looks much-improved over last year's unit. How fitting would a National Championship Game with Jalen Hurts facing off against his old team in the Alabama Crimson Tide be? It's the matchup that many college football fans are hoping for.