Jalen Hurts' Chances of Becoming the Eagles' Franchise QB Just Took a Massive Hit Due to Howie Roseman's Devious Ways
After a handful of promising weeks in a row, Jalen Hurts and the Philadelphia Eagles offense ran into a significant hurdle during Week 12. The New York Giants held them to a whopping seven points, and Hurts threw three ugly interceptions.
The Eagles, as an organization, have taken drastic measures to assure fans Hurts is the quarterback of the future. Between naming him a captain and putting his posters up on the wall, they seemingly went all-in on the second-year QB after trading former franchise arm Carson Wentz.
With the Eagles now 5-7 following their latest loss, questions are starting to emerge about Hurts' future in Philadelphia.
The Eagles are experiencing mixed results with Jalen Hurts under center
Through 12 games this season, the Eagles have gotten mixed results with Hurts orchestrating the offense.
The team spent the first several games unsuccessfully asking Hurts to play like a stereotypical pass-first quarterback. However, upon switching to a more unorthodox run-first scheme, they started generating better results. They beat the Detroit Lions, Denver Broncos, and New Orleans Saints over a four-week span, causing fans to get hopeful about a potential postseason surge.
However, everything came crashing down against the Giants in Week 13. Hurts passed for a measly 129 yards on 31 attempts with the before-mentioned three interceptions. To go along with a pair of ill-timed drops from struggling WR Jalen Reagor, Hurts was the primary reason Philadelphia left New York winless.
It was one of the worst games Eagles fans have witnessed from a starting quarterback in several years, and Hurts' ankle injury only casts further doubt on the situation. Hurts claims he can play against the New York Jets this weekend. However, the Eagles seem inclined to give backup Gardner Minshew an opportunity to play.
GM Howie Roseman is reportedly losing faith in Jalen Hurts
To add even more drama and uncertainty to the situation, a report just dropped detailing general manager Howie Roseman's lack of faith in Hurts' ability to develop into a franchise arm. Roseman has a history of acting recklessly and impatiently with the QB position, making this report not terribly surprising considering how poorly Hurts played against the Giants.
Lurie is said to still believe in Hurts, but Roseman's assessment is less confident, two independent sources familiar with their thinking said…

The Eagles did preliminary work on [Deshaun] Watson and were open to the possibility of a transaction with the [Houston] Texans, even in light of multiple sexual assault allegations, sources said. While this would seem to go against Lurie's edict, Hurts would have either left in the exchange or dropped on the depth chart. A move of such magnitude couldn't occur without owner approval, of course. In fact, Lurie was believed to be the driving force behind his team's interest, the two sources familiar with his thinking said. "Jeffrey has his principles," an NFL source who worked with the Eagles said, "until it comes to quarterbacks."

Jeff McLane, The Philadelphia Inquirer
As reporter Jeff McLane stated, Eagles owner Jeffrey Lurie is the man with the power at the end of the day.
However, the little nugget in Roseman's assessment becoming "less confident" is important to note. After all, Roseman is the one who drafted Hurts — simultaneously pushing Wentz out the door — in the first place.
This isn't the first time the Eagles have created a self-inflicted QB controversy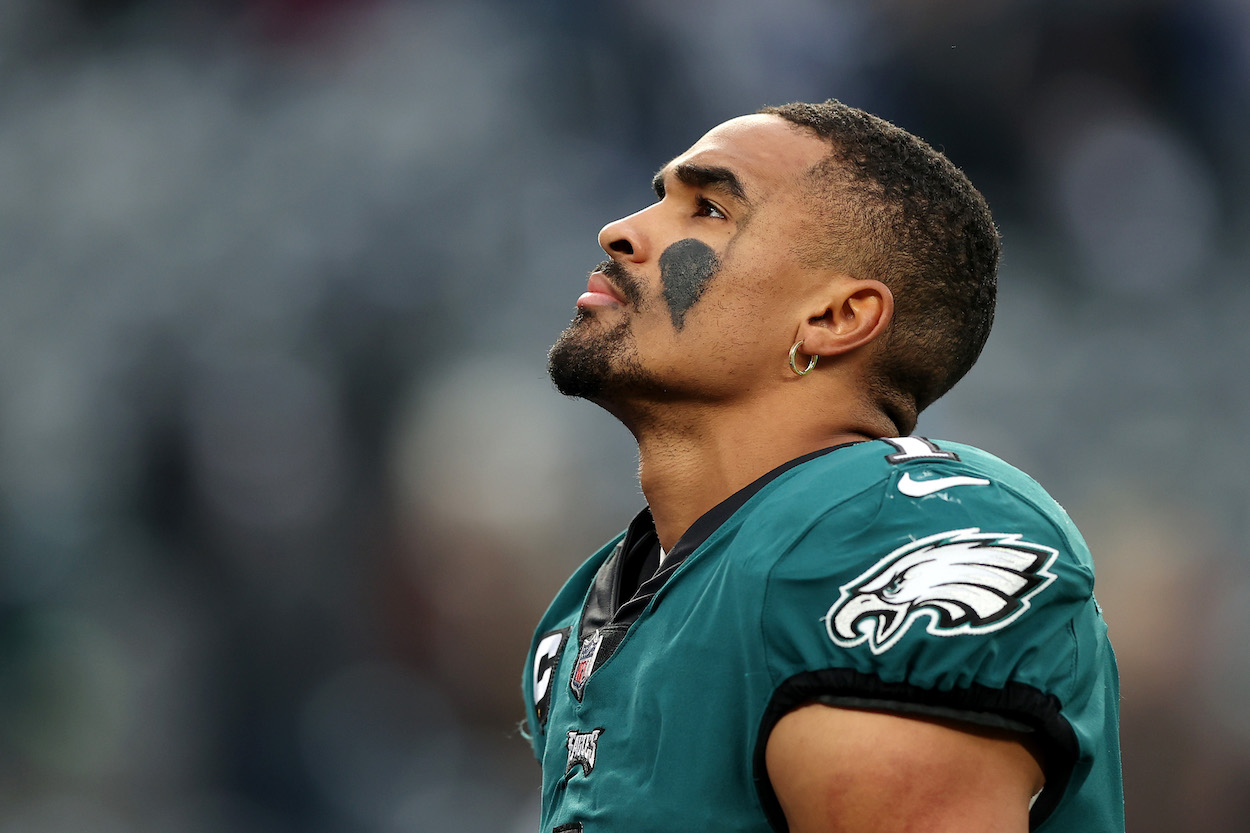 Howie Roseman's Super Bowl win in 2017 keeps him in good grace with owner Jeffrey Lurie. However, his self-inflicted quarterback controversies continue to rack up by the day.
The Eagles are struggling to commit to one concise plan at the quarterback position, and it's leaving them in limbo. Should they want to move off Hurts, they have three first-round picks at their disposal. However, the external options are only so great. Aaron Rodgers and Russell Wilson are aging, and Deshaun Watson has yet to resolve his legal issues.
Drafting a new franchise quarterback is always in play. However, this tends to be an area of struggle for Roseman. He nailed the Wentz pick in 2016 but only managed to keep him in town for a measly five years. Does Lurie really want to give Roseman the power to make another pick of such magnitude?
Regardless, the Eagles are undoubtedly at a crossroads at quarterback. They're running out of evaluation time for Hurts and need to make a decision sooner rather than later. If Roseman and Lurie are on opposite ends of the debate, then maybe the time for a new general manager in Philadelphia has finally arrived.
All stats courtesy of Pro Football Reference.