Jalen Hurts Cooked DeVonta Smith Pigs Feet in His Dorm at Alabama and He Makes 'Angelic' Crawfish, Too
The 2021 season for the Philadelphia Eagles is shaping up to be one of rebuilding and refocusing. Two significant factors in the rebuilding process are Jalen Hurts and DeVonta Smith.
Recently, Hurts revealed just how deep his friendship with Smith goes and how a shared love of food helped bring the two of them together long before they became the Batman and Robin of the Eagles franchise.
Jalen Hurts and DeVonta Smith are a match made in college
Hurts and Smith met each other at the University of Alabama. The two played for the Crimson Tide; Smith at wide receiver and Hurt as the starting quarterback. Southern blood runs through both men's veins, so it's no wonder they got along almost immediately.
But it was the drive to succeed and a strong work ethic that truly brought the two of them together. Most college students spend their hard-earned Friday and Saturday nights partying or relaxing. Not Hurts and Smith. The two future NFL athletes spent their free time working out and practicing together.
Both Smith and Hurts had stellar collegiate careers. Hurts broke Alabama's single-season record for most rushing yards by a quarterback. Smith became only the fourth college football player ever to win a Heisman trophy.
Hurts transferred to the University of Oklahoma in his senior year, while Smith closed out his college career with the Crimson Tide in Alabama. But the two men certainly never forgot each other.
Pigs feet built the foundation of their friendship
Smith hails from Amite, Louisiana, while Hurts was born and raised in Houston, Texas. They both consider themselves country boys, and their southern roots are a big part of their lives. It's hard to talk about the South without talking about food. There's a reason the saying goes, "Southern cooking makes you good looking."
Beyond anecdotally making you more attractive, southern food plays into a fascinating story that Hurts shared with GQ. The topics covered in the interview included Hurt's fashion sense, how he felt as a second-round draft pick, and even favorite cheesesteak spots.
But when asked to share one fact most people wouldn't know about him, Hurts had a surprise admission: "Something people don't know about me? I cook the best crawfish that they've ever had. I think I'm the greatest in the game," Hurts relayed. Of his crawfish cooking skills, he even said, "I am angelic."
Shortly after this, Smith and his famous jambalaya came up. With a laugh, Hurts revealed their similarities, as well as one other tidbit. "Me and him got the same taste," the QB explained. "I think in college one time I made him some pig's feet. We country boys! We like that type of food."
Hurts and Smith's future with the Philadelphia Eagles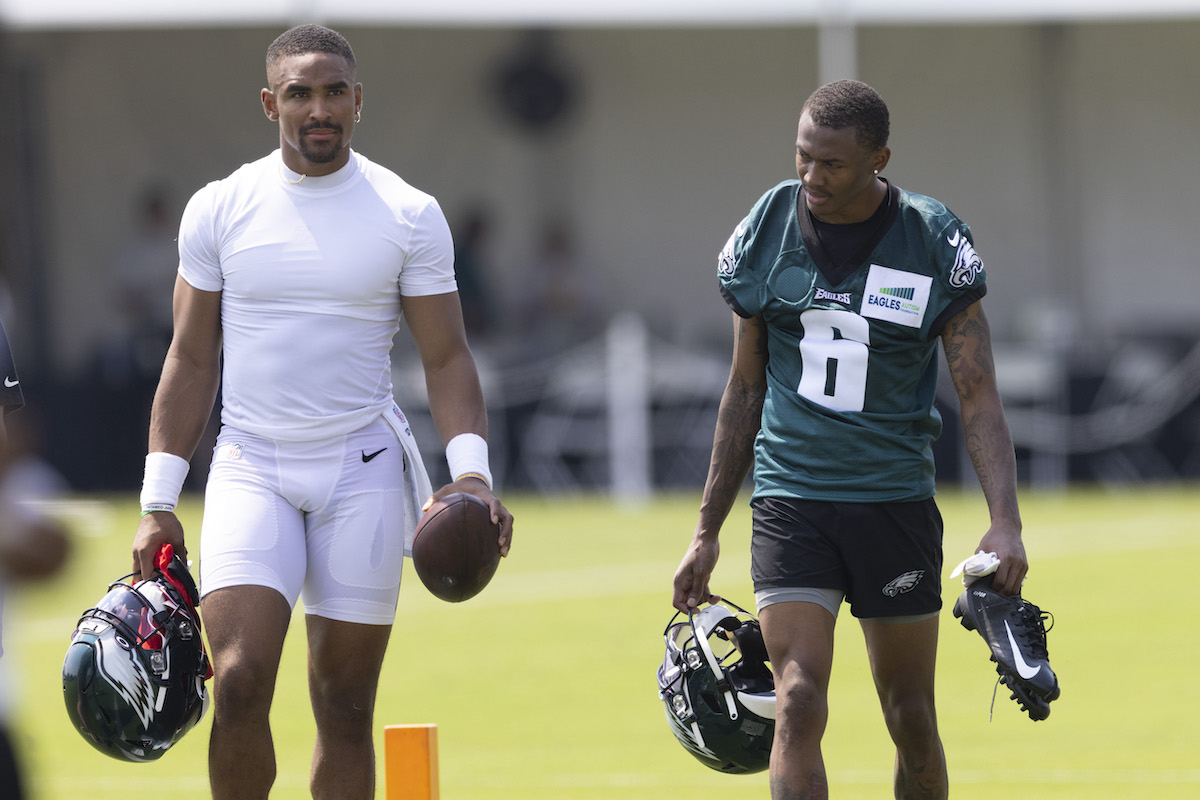 Smith has never had a problem with finding the ambition needed to succeed. Part of that is knowing that he's good at his job on the field and knowing what he needs. In his own interview with GQ, Smith said, "That quarterback, that's all I really need," he tells me. "Just get me a quarterback."
Hurts stepped up to be that quarterback. He is approaching his role as the starter with confidence while recognizing the need to learn and grow. Most importantly, Hurts understands the importance of building a bond with the team, a lesson he might've learned from his time with Smith. 
So far, both Hurts and Smith have a lot to prove to both the franchise and its fans. While the Eagles' current record isn't exactly spotless, with a losing record so far, there is still time for Hurts and Smith to capitalize on their famous chemistry and cook up some wins for Philly.
RELATED: The Eagles Are Trying to Blame Chiefs Head Coach Andy Reid for Their Selection of Second-Year QB Jalen Hurts