Jalen Hurts and the Eagles Are in the Midst of a Painfully Broken Identity Crisis
Despite a significant amount of offseason hype, the Philadelphia Eagles are failing to look like a competitive team this season. They're 2-4 through six weeks, and slow starts and poor offense have plagued most of their games.
The Eagles rank 19th in total offense, 19th in touchdowns, 23rd in scoring percentage, and 19th in expected points contributed by the offense. Wherever you look, Philadelphia is performing below average from an offensive perspective.
At the center of the Eagles' offensive woes is second-year quarterback Jalen Hurts. Beginning the year as the team's full-time starter for the first time, Hurts' playstyle is already clashing with the team's goals.
Jalen Hurts is struggling to run Nick Sirianni's offense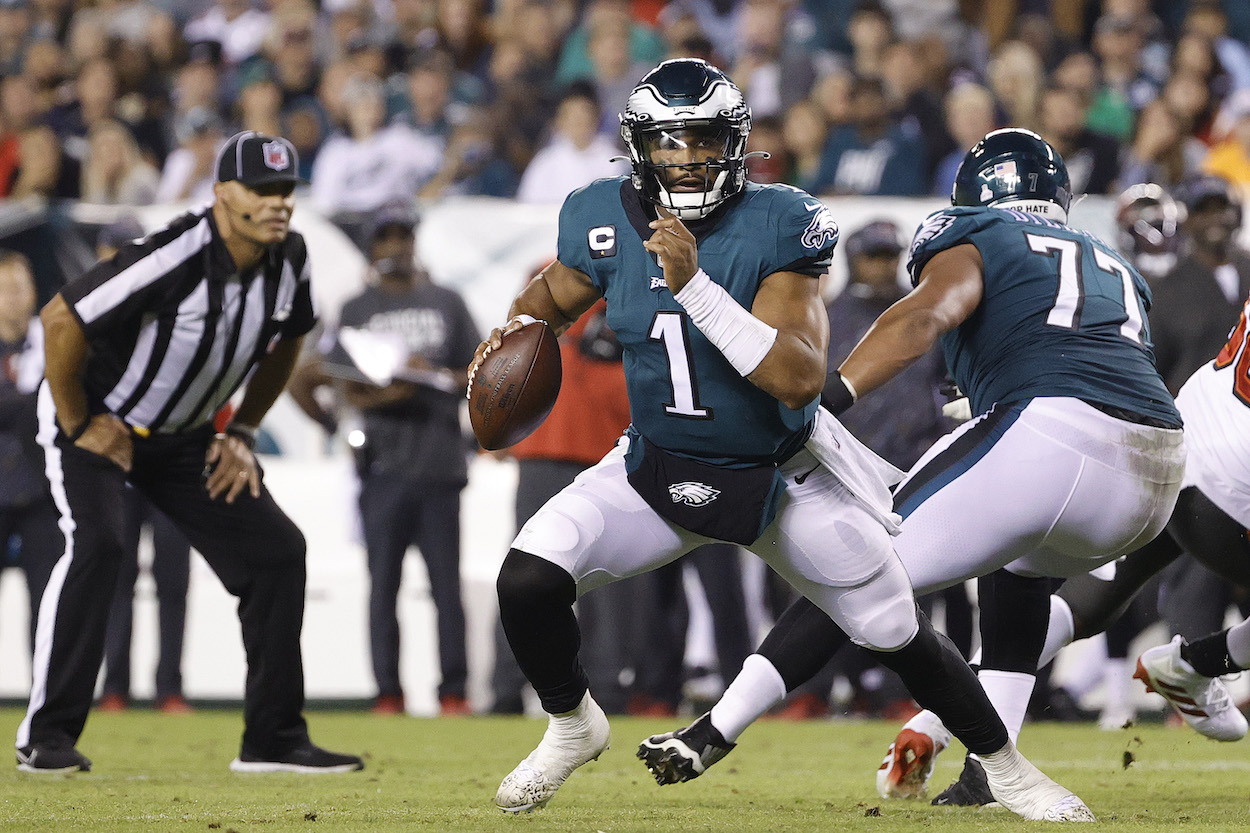 Once the Eagles decided to fire former head coach Doug Pederson, they hyper-focused on bringing in a younger voice with innovative ideas. Owner Jeffrey Lurie and general manager Howie Roseman settled on Indianapolis Colts offensive coordinator Nick Sirianni, giving him his first shot at being an NFL head coach.
The excitement around Sirianni was high, especially after he spent all offseason preaching playing to players' strengths. The expectation was that he would enter Philadelphia with a pro-Hurts-style offense.
Unfortunately for Hurts, this couldn't have been further from the truth. Sirianni's offense is almost exclusively built around moving the football through the air, which Hurts has struggled with through 10 career NFL starts.
Hurts' career completion percentage sits at a measly 58.1%, and his passer rating is in the 80s. He's a run-first type of quarterback. He can't air it out like other starting QBs around the league.
The Eagles are starting to form an identity crisis
While the first few Eagles' losses could easily be attributed to rust or Hurts and Sirianni feeling each other out, the duo is now beginning to share more clues regarding why things aren't clicking.
During an October 19 press conference, Sirianni revealed he is "trying to find ways to make Jalen Hurts more comfortable," alluding to the fact that Hurts is uncomfortable when asked to push the ball downfield via the air. A glance at recent footage from the Eagles' Week 6 loss suggests as much — Hurts prefers scrambling.
Hurts, on the other hand, had his own tongue-in-cheek comments. When asked about his lack of pass attempts over the middle of the field, Hurts responded by saying, "just trying to execute everything that's called." This suggests that Hurts feels limited by Sirianni's play-calling.
So, which one is it? Is Hurts incapable of running an NFL offense? Or is Sirianni's play-calling so bad that it's causing Hurts to struggle?
What's next for Hurts and the Eagles?
To answer the before-mentioned question, the truth of the matter is that both sides are at fault. Hurts is playing poorly, and Sirianni is experiencing the growing pains of being an NFL play-caller.
However, what's inexcusable is the lack of cohesion that we're seeing. Hurts wants to go one way (run-first-style offense), and Sirianni and the Eagles want to go another (pass-first).
The Eagles have a full-blown identity crisis on their hands, and the entire offense suffers from it.
Moving forward, the Eagles will have to prioritize one aspect of their organization over the other. Building a run-first-style offense around Hurts' legs would likely cost Sirianni his job, whereas continuing to build around Sirianni's pass-first offense requires a new QB to be successful. Either way, someone is going to be on the hot seat in Philadelphia by season's end.
All stats courtesy of Pro Football Reference.
RELATED: The Philadelphia Eagles Are Pointing the Finger at a Surprising Figure to Justify the Heartbreaking Zach Ertz Trade