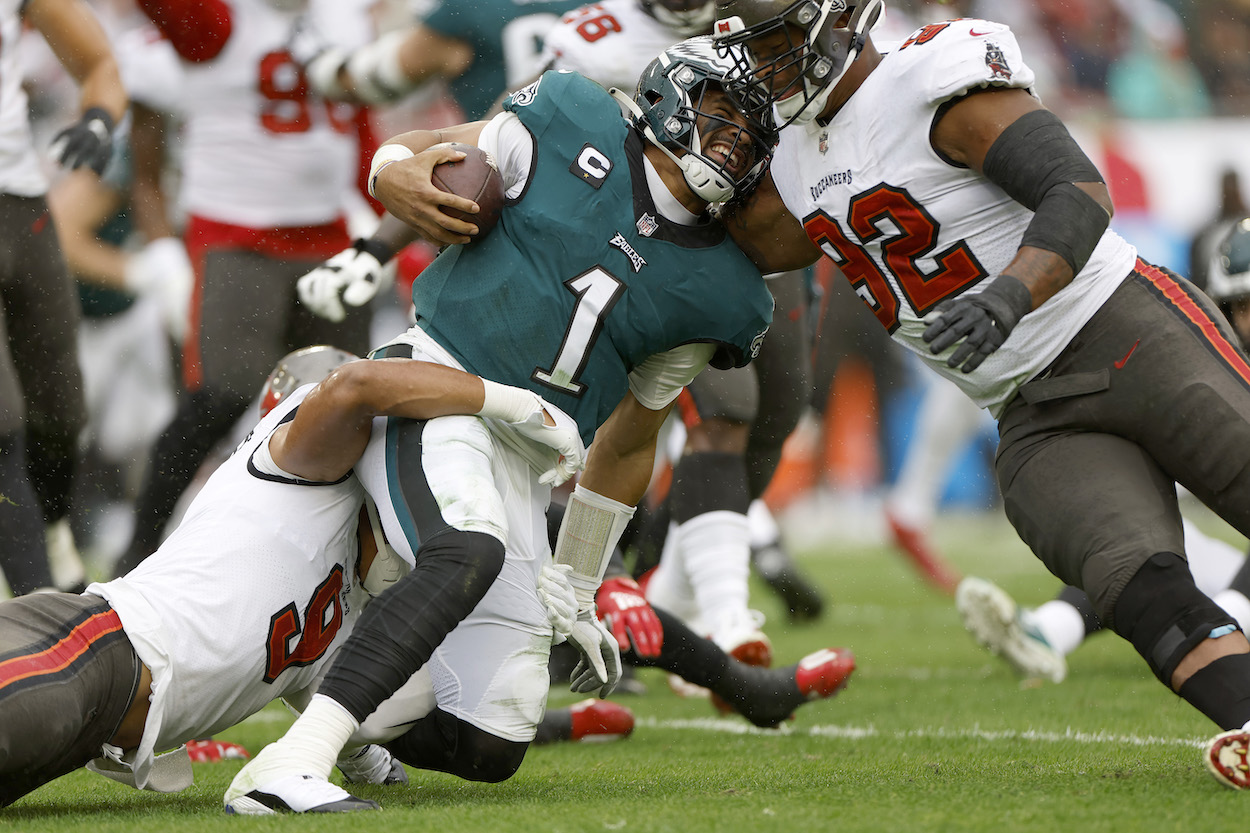 Jalen Hurts' Fatal Flaw Was Put on Full Display During the Eagles' Embarrassing Playoff Loss
Jalen Hurts' inability to consistently move the ball through the air finally came back to bite the Eagles during their embarrasing playoff loss down in Tampa Bay.
For most of this past season, opinions on Philadelphia Eagles quarterback Jalen Hurts were extremely split. On the one hand, he routinely struggled moving the ball through the air like a stereotypical quarterback. On the other hand, he'd become the foundation to the Eagles' run-first style of offense that they implemented halfway through the season.
Hurts finished the regular season 22nd in passer rating and 19th in quarterback rating (QBR) — a below-average campaign by all accounts and measures. However, the Eagles did secure a wild-card spot, and Hurts ended the year with 700-plus rushing yards and 10 rushing touchdowns. It was hard to say Hurts' style of play didn't work, because it did.
Jalen Hurts' fatal flaw was exposed during the Eagles' first-round playoff loss
Opinion on Hurts started to trend more and more positively as the season came to a close. He finished the year with strong performances against the Washington Football Team and New York Giants, securing the Eagles that No. 7 seed.
However, once it came time to actually perform in the postseason against a good team, all of the worries concerning Hurts' lack of an arm floated to the surface.
Despite playing against a depleted Tampa Bay Buccaneers defense, Hurts massively struggled during his first career playoff game. He finished the day with two interceptions, a 60.0 passer rating, and a completion rate in the low 50s. He missed multiple open receivers throughout the afternoon, never giving the Eagles much of a chance to mount a comeback after falling behind 17-0 early.
The Eagles didn't even score any points until the fourth quarter — when the Bucs started playing more prevent-based coverages in an attempt to drain the clock.
It was an abysmal performance from Hurts, and conversation has already pivoted back toward Hurts' lack of arm talent. It was the biggest reason he fell to the second round in 2020, and it's the biggest reason so many analysts and fans still doubt him to this day. His running ability is elite; no one is saying otherwise. However, his ability to throw the ball leaves a lot to desire — a fairly important trait considering he plays quarterback.
Can the Eagles win long-term playing this style of football?
When the Eagles initially switched offensive philosophies, becoming a run-first football team, they were 2-5, and fans were begging for any form of change. Chants of "run the ball" were becoming frequent at Lincoln Financial Field — most fans were thrilled to see head coach Nick Sirianni take their advice.
While the excessive running led to a 7-3 finish to the year, one must wonder if it's truly a viable way to win football games in today's NFL. Look at the NFL playoff picture; all the remaining teams are built around a quarterback who can push the ball downfield when asked to do so.
Additionally, it'd be foolish to ignore the role the Eagles' 2021 schedule plays in all of this. They had a last-place schedule and finished the year playing a string of non-playoff teams. In fact, the Eagles didn't beat a playoff team all year long. They finished 0-7 against teams who made the postseason this year.
Clearly, their run-first style of football led by Jalen Hurts wasn't working against the better teams in the NFL.
What next for Jalen Hurts?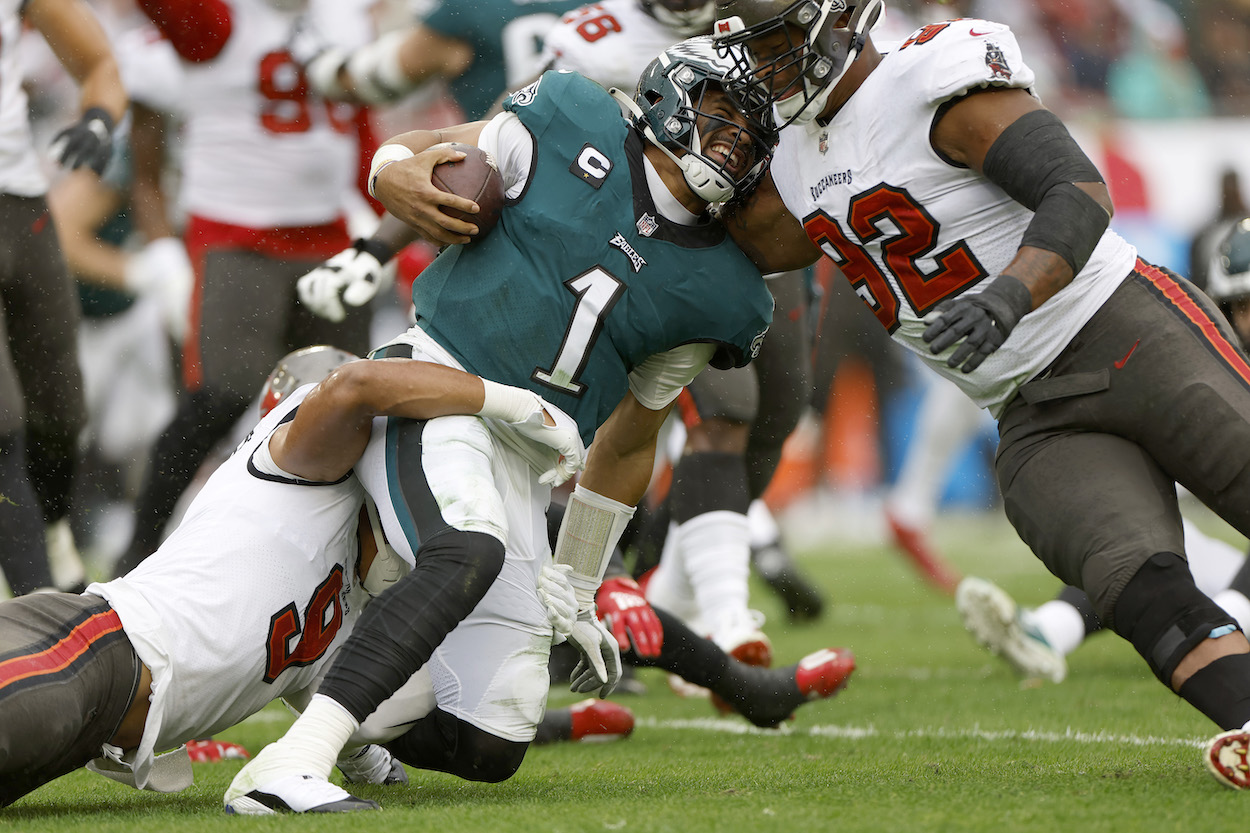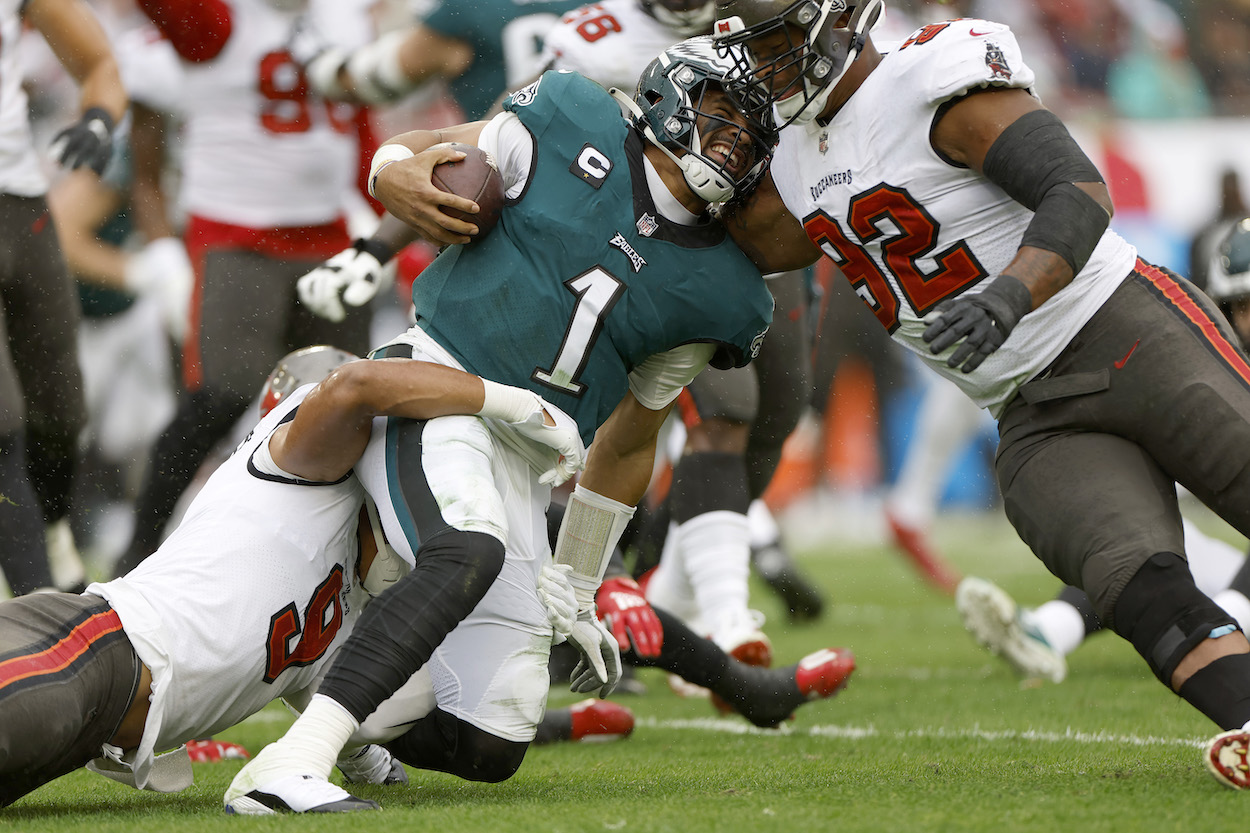 Jalen Hurts has a lot of fans in Philadelphia due to his likable personality and team-first mentality. However, the cat is out of the bag when it comes to stopping him. Anyone suggesting otherwise is in pure denial.
Hurts hasn't beaten a single good team during his two-year NFL career, and he certainly hasn't beaten any good teams with his arm. His wins have been predicated on running the football to an obsessive level, which isn't a realistic way to operate in 2022. It's a passing league.
Can Hurts take dramatic steps forward in his development and become a better passer this offseason? Maybe. It'd be foolish to write off a 23-year-old. However, it's hard to imagine the Eagles running their way to success again next year. They'll have a tougher schedule, and the blueprint to stopping Hurts is becoming more and more clear.
Make him throw, and bad things tend to happen for Philly. It's the number one reason the Eagles were embarrassed on the road this past weekend.
All stats courtesy of Pro Football Reference.