Jalen Hurts is the Next Taysom Hill and Isn't Worth First-Round Money in the NFL Draft
Jalen Hurts made DJ Khaled proud by winning everywhere he went. Hurts led Alabama to the National Championship in his first two seasons and brought the Oklahoma Sooners to the College Football Playoff last season. Hurts now has a chance to experience winning at the NFL level.
Rather than draw comparisons to a starting quarterback, Hurts' name has recently been mentioned in the same conversations as New Orleans Saints backup and all-purpose weapon Taysom Hill.
Here's why Hurts, a projected mid-round pick, perfectly fits the mold that Hill has created in New Orleans.
Jalen Hurts had a stellar college football career
Jalen Hurts had the privilege of playing for some of college football's best offensive minds. As a true freshman in 2016, Hurts won SEC Offensive Player of the Year under Alabama offensive coordinator Lane Kiffin. The veteran Kiffin parlayed his success with Hurts to the Florida Atlantic head coaching job in December 2016.
Hurts threw 32 touchdowns and nearly 4,000 yards for Lincoln Riley's Oklahoma Sooners last year. An excellent playmaker with his legs, Hurts ran for 13 touchdowns as a true freshman and another 20 scores last year. Hurts ended his college career with 3,274 rushing yards and 43 touchdowns on 5.3 yards per rush.
Jalen Hurts became the first quarterback to lead two separate teams to the College Football Playoff. He won a national title after the 2017 season, although he was famously benched midway through the national championship for true freshman Tua Tagovailoa.
Hurts has earned comparisons to New Orleans Saints quarterback Taysom Hill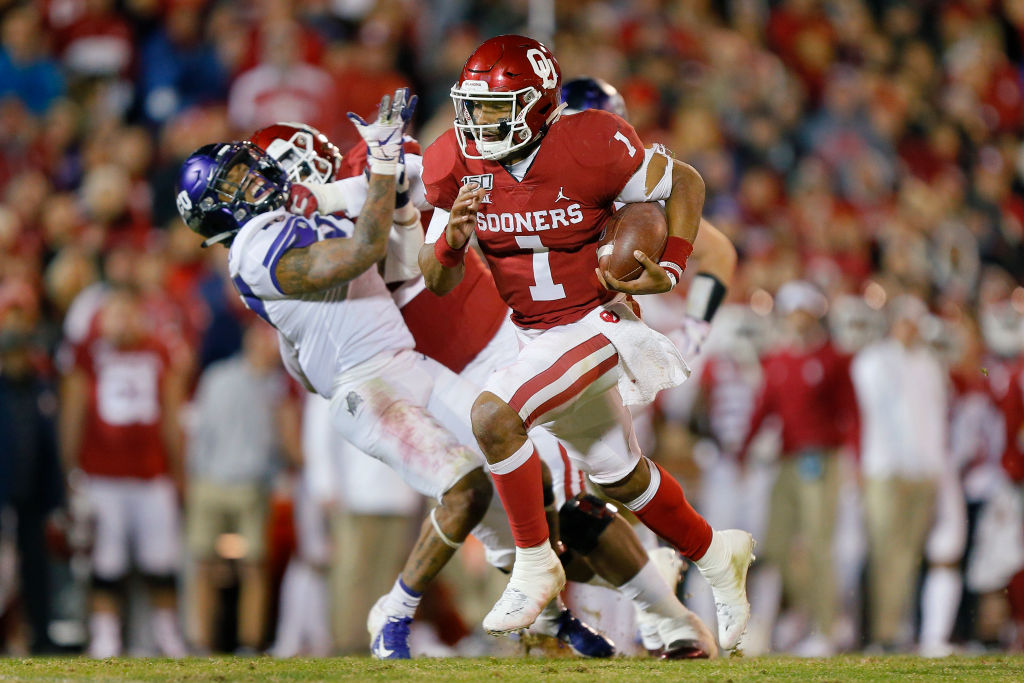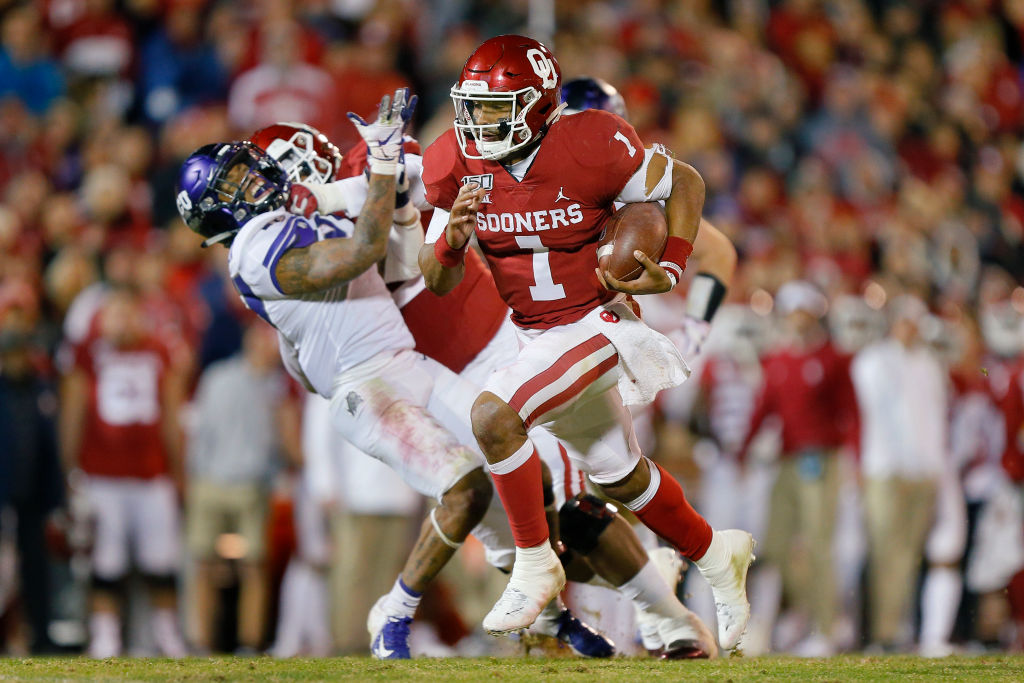 Although Jalen Hurts experienced winning at each of his college stops and led both Alabama and Oklahoma to the College Football Playoff, teams are reportedly bullish on his future as a starting quarterback. Those doubts have created an opening for Hurts to potentially join a team's quarterback room as an all-purpose, change-of-pace weapon.
Enter the Taysom Hill comparisons. An undrafted quarterback from BYU, Hill has averaged 5.5 yards per run and 10.8 yards per catch the last two seasons. Hill caught six touchdowns last year and outplayed teammate Drew Brees in the NFC wild card game.
CBS Sports analyst Ryan Wilson called Hurts a "younger and healthier" version of Taysom Hill with a better arm. ESPN's Dan Orlovsky, a former NFL quarterback with the Detroit Lions and Indianapolis Colts, went one step further when evaluating Jalen Hurts.
Not only did Orlovsky compare Hurts to Taysom Hill, but he invoked the name of a recent NFL MVP.
"Some team is gonna draft Jalen Hurts, and they're gonna treat him as a cross between Lamar Jackson and Taysom Hill … and it's gonna become incredibly for defenses to stop."
Where will teams draft Jalen Hurts?
Of all the quarterbacks in the 2020 NFL draft, Jalen Hurts' draft range is one of the more intriguing. Bleacher Report's Matt Miller believes Hurts is a fringe-first round pick worthy of the No. 34 selection. Miller projected the Indianapolis Colts will trade up for Hurts.
Indianapolis signed Chargers legend Philip Rivers this offseason and still has Jacoby Brissett on the roster. Brissett looked sharp at times last year while the rest of the offense struggled.
The Athletic's Dane Brugler, on the other hand, has Hurts going to the Las Vegas Raiders early in the third round. Walter Football's Walter Cherepinsky is a bit more pessimistic and projected the Pittsburgh Steelers will draft Hurts with the 102nd overall pick.
It seems unrealistic a team will use a first-round selection on Jalen Hurts without trading back into the first round. Even then, Hurts appears more likely to be selected late in the draft's second day or early on Day 3.
Jalen Hurts is an extremely talented quarterback with a bright future ahead of him, especially if he is drafted by a team that maximizes his skillset. Hurts is not ready yet to be a starting quarterback at the NFL level and needs to be properly groomed.
If a team sees Hurts as a weapon and develops him in that way, Hurts could easily contribute when the season starts.