Jalen Hurts' New Favorite Target Isn't a Secret Anymore: 'I Guess the Cat Is out of the Bag'
Jalen Reagor wasn't the one stepping up and making plays in light of DeVonta Smith's absence on August 13; it was a different second-year wide receiver altogether. Quez Watkins, who's starting to form an important on-field relationship with quarterback Jalen Hurts, flashed some serious potential during the Philadelphia Eagles' first preseason game.
"I guess the cat is out of the bag," said Watkins during his postgame interview.
Quez Watkins shined during the Philadelphia Eagles' first preseason game
Watkins' biggest highlight-reel play actually came with Joe Flacco (the Eagles' second-string QB) under center. Flacco threw a quick screen pass to Watkins during the second quarter's closing seconds, and the second-year wideout caught it in stride.
After surveying the field in front of him for a moment, establishing where the blocks would be setting up, Watkins accelerated up the field past the Pittsburgh Steelers defenders.
Just a few steps later, Watkins was home free. The former Southern Missouri wideout flew down the sideline with no one able to catch him, scoring the Eagles' first touchdown of the preseason.
Jalen Hurts and Watkins already have a strong relationship
While Watkins' 79-yard touchdown reception didn't come via the arm of Hurts, the two already have a strong relationship. The pair of sophomores nearly connected on a deep route earlier in the game against the Steelers. It would have been another 75-plus-yard touchdown reception had Hurts placed a slightly more accurate pass.
Flashback to the 2020 regular season, and Hurts and Watkins did connect on a touchdown pass. Eerily similar to how Watkins scored against Pittsburgh, Hurts hit the wideout on a quick-developing screen pass behind the line of scrimmage against the Arizona Cardinals in Week 15. The speedy Eagles receiver quickly spun around a defender and darted up the field for a 32-yard touchdown.
Against the Dallas Cowboys a week later, the duo connected again, this time on a deep ball between the soft spot of the defense on a broken play. Hurts scrambled around the pocket, avoiding a few Dallas defenders, before looking downfield and connecting with his speedy WR.
Hurts also hit Watkins on a 50-plus-yard bomb during an open Eagles practice (shown above). Needless to say, they've been making plays together.
The Eagles have a new starting WR candidate to consider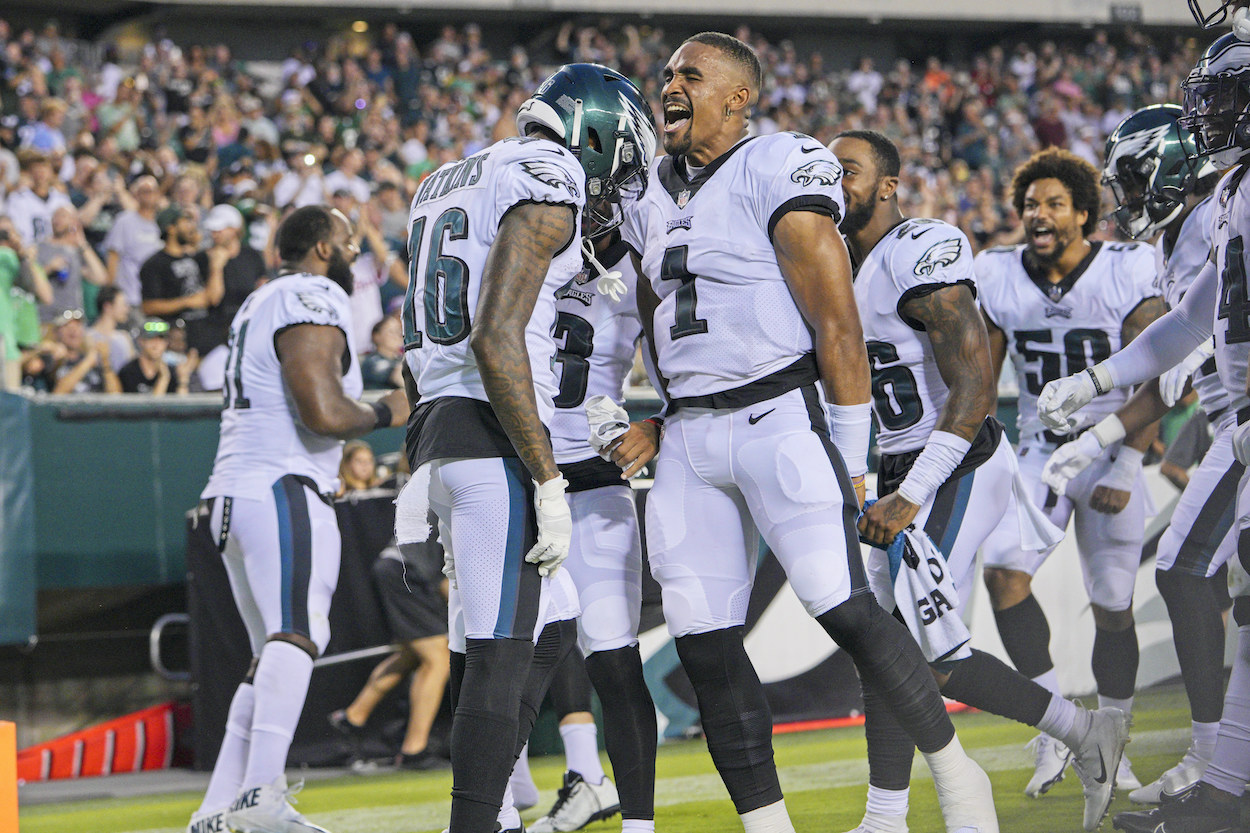 Prior to Watkins' explosive preseason performance against the Steelers, he was lighting up training camp practices (according to Eagles beat reporters). With first-round pick DeVonta Smith sidelined due to a knee injury, Watkins found himself in a position where he saw lots of first-team reps.
Thus far, the Southern Missouri product has latched onto this opportunity and run with it.
Heading into the offseason, the expectation was that Philadelphia's starting WR room would consist of Smith, Reagor, Travis Fulgham, or Greg Ward. While this still may be the Eagles' plan at the moment, it's becoming increasingly hard to ignore the impact Watkins is making. If he keeps playing as he has been, Philly would be doing itself a disservice by not slotting him into the starting lineup.
Watkins has a strong relationship with Hurts, and he's been making plays all summer long — what more can you ask from a second-year wideout playing under a new coaching staff?
All stats courtesy of Pro Football Reference.