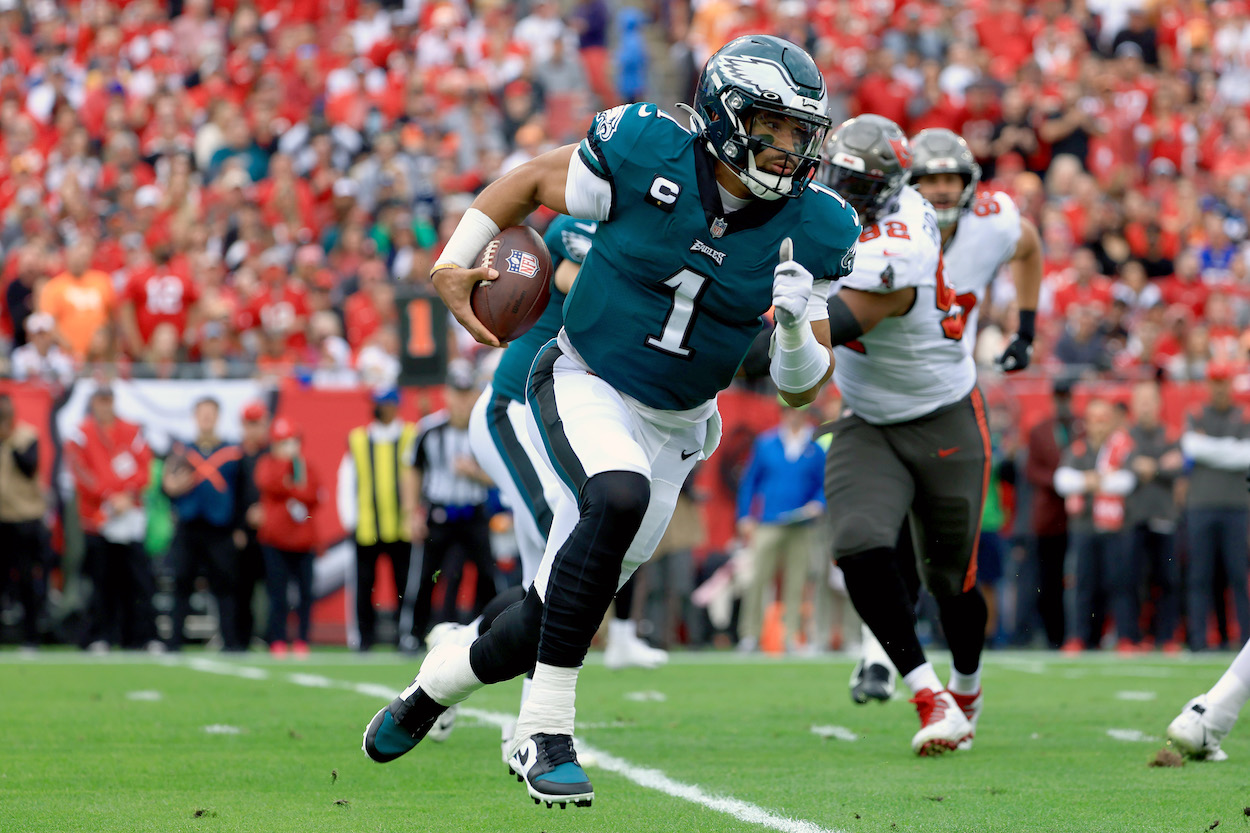 Jalen Hurts Puts the Eagles In 'QB Purgatory' According to ESPN
Does Jalen Hurts' limited arm talent put the Philadelphia Eagles in quarterback purgatory? At least one ESPN writer believes so.
The Philadelphia Eagles are coming off a bizarre 2021 season. They entered the year with meager expectations — most experts expected them to finish with three or four wins. However, after adapting to a run-first offense centered around quarterback Jalen Hurts, the Eagles managed to sneak into the playoffs as a wild card team.
Making the postseason was a huge accomplishment for the Eagles. However, their actual results in the playoffs left a sour taste in everyone's mouth. The Tampa Bay Buccaneers crushed them 31-15, and Hurts had one of the worst playoff performances in Eagles franchise history.
Due to this, questions about the Eagles' QB situation are beginning to ramp up.
ESPN believes the Eagles are in 'QB purgatory'
During a recent story by ESPN, Staff Writer Jeremy Fowler dove into the state of teams around the NFL. Upon reaching the Eagles, he labeled them as being in "QB purgatory."
STUCK IN QB PURGATORY. Philadelphia Eagles. Priorities this offseason: Take stock of the quarterback position and solidify its future. The lifeless wild-card loss to Tampa Bay raises questions about Jalen Hurts' 2022 outlook in green. Hurts did an admirable job leading Philadelphia to nine wins and a playoff berth, but his problems against the Bucs — including struggling to see open receivers and bailing from the pocket too early — aren't new. Philadelphia at least needs to create competition for Hurts. And with GM Howie Roseman's aggressive mentality, the Eagles are bound to be involved in a few big-game QB talks leaguewide. How could they not be, with three first-round picks (Nos. 15, 16 and 19 overall)

Jeremy Fowler, ESPN
This may feel like harsh criticism considering it was Hurts' first full season as a starter in the NFL, and he led the Eagles to a playoff appearance. However, Fowler's points are still valid. Everyone knows Hurts' struggles to move the ball through the air — it was his biggest flaw coming out of college.
The NFL is becoming more QB driven by the year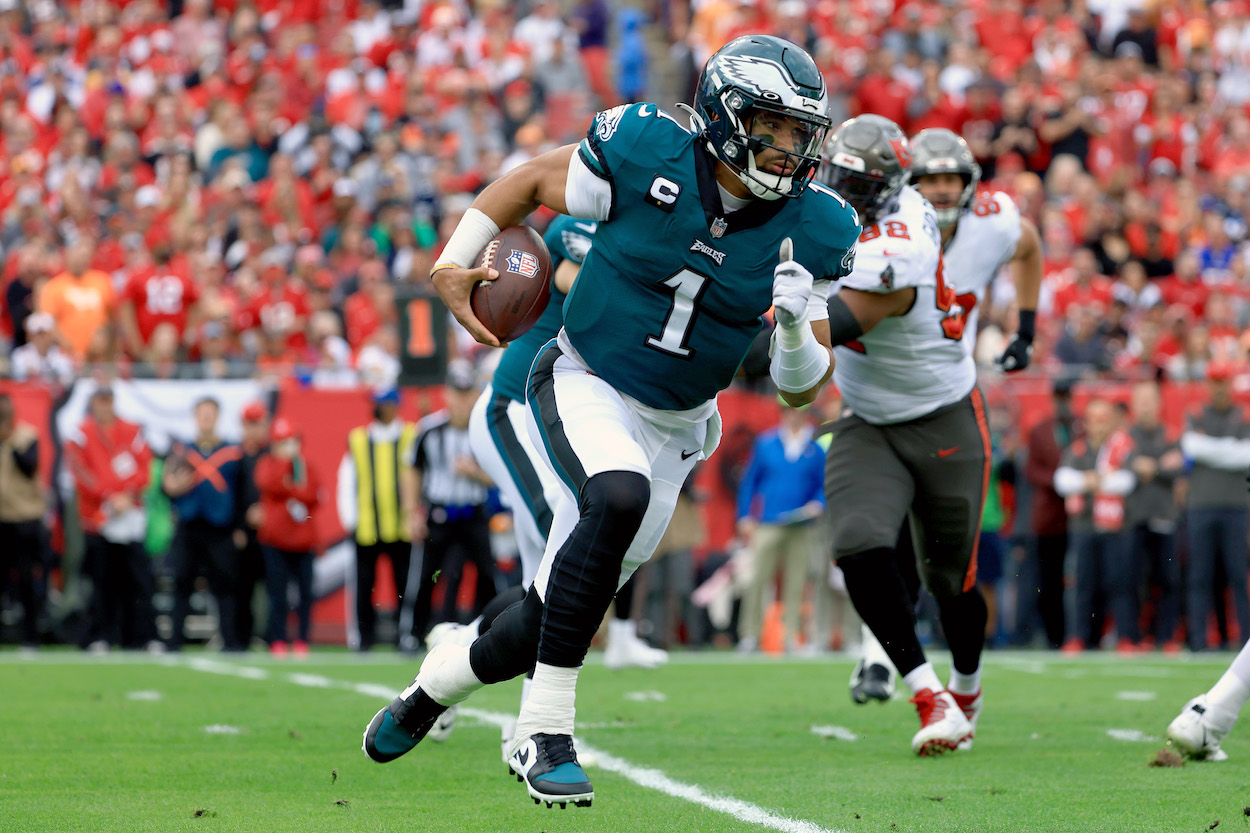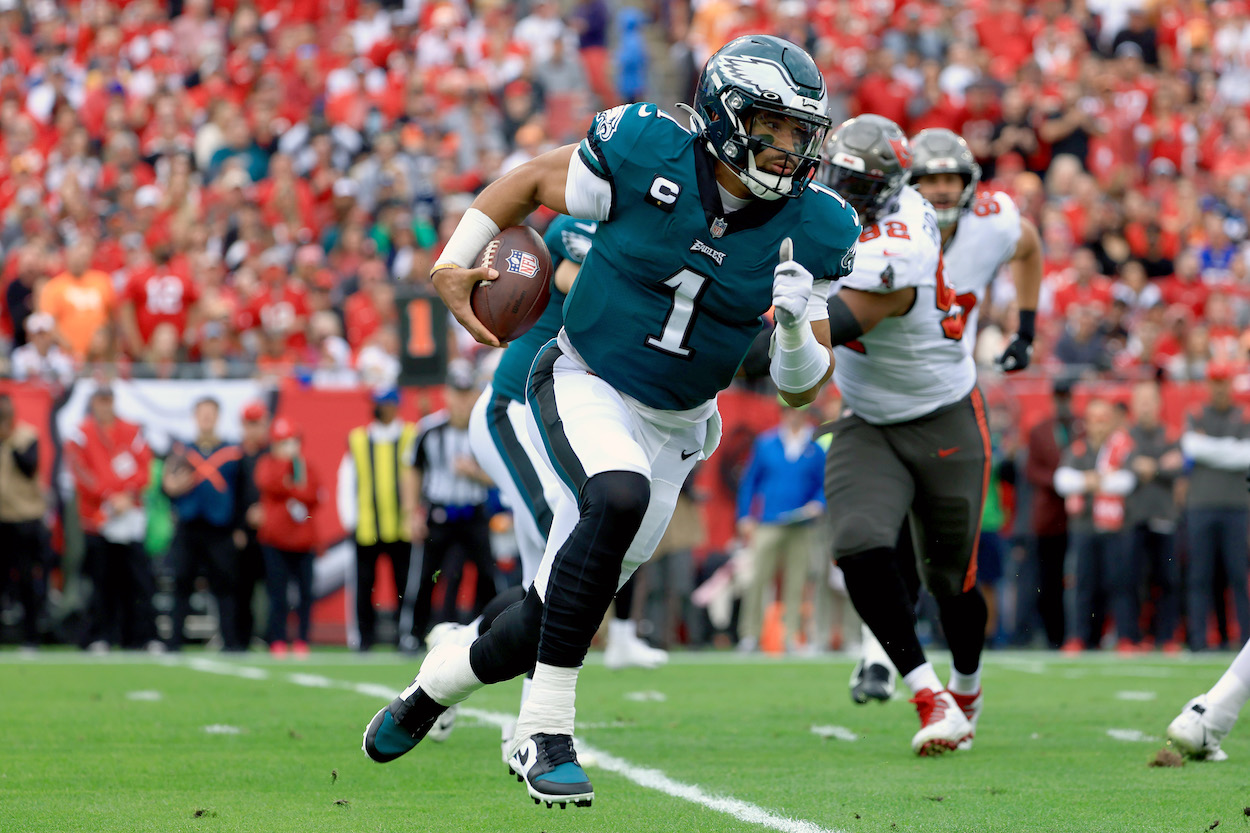 If you watched the NFL Divisional Round this past weekend, you got to see just how advanced the quarterback position has become. Guys are making throws that people weren't even dreaming of a decade ago.
Joe Burrow, Josh Allen, Patrick Mahomes, Matthew Stafford, Tom Brady — these guys look like they're playing a completely different sport than Hurts.
This is the point Fowler is trying to make — and it's an entirely valid one. Barring miraculous development on Hurts' end of things, the Eagles are actively limiting their offensive potential. Games are won and lost through the air these days; that's just the nature of the NFL.
Should the Eagles look to replace Jalen Hurts this offseason?
Ultimately speaking, the Eagles will be involved in the quarterback market this offseason. While general manager Howie Roseman did publicly commit to Hurts during his end-of-year press conference, he's proven capable of lying to the media on more than one occasion.
He said the same exact thing about Carson Wentz last offseason before shipping him off to Indianapolis.
The Eagles will likely poke around the Russell Wilson and Deshaun Watson trade market. If they can acquire one of them for a reasonable price, they should. If the asking price becomes too much, the Eagles will presumably enter 2022 with Hurts under center.
Either way, that looming question will hang over Philadelphia until Hurts gives us a reason to stop asking it. Are the Eagles in quarterback purgatory?
All stats courtesy of Pro Football Reference.