Jalen Hurts' Unique Skillset Already Has Eagles Offensive Lineman Lane Johnson Thanking the Unproven Quarterback
The pressure is on Jalen Hurts to prove that the Philadelphia Eagles made the right choice drafting him a year ago and by sending Carson Wentz to the Indianapolis Colts.
Hurts impressed at times in his four starts as a rookie in 2020 and is now trying to win the full-time starting quarterback job. Lane Johnson, the Eagles' veteran right tackle and offensive leader, wants the fans to know how grateful he already is for the second-year quarterback's presence.
Johnson praised Hurts and his unique skillset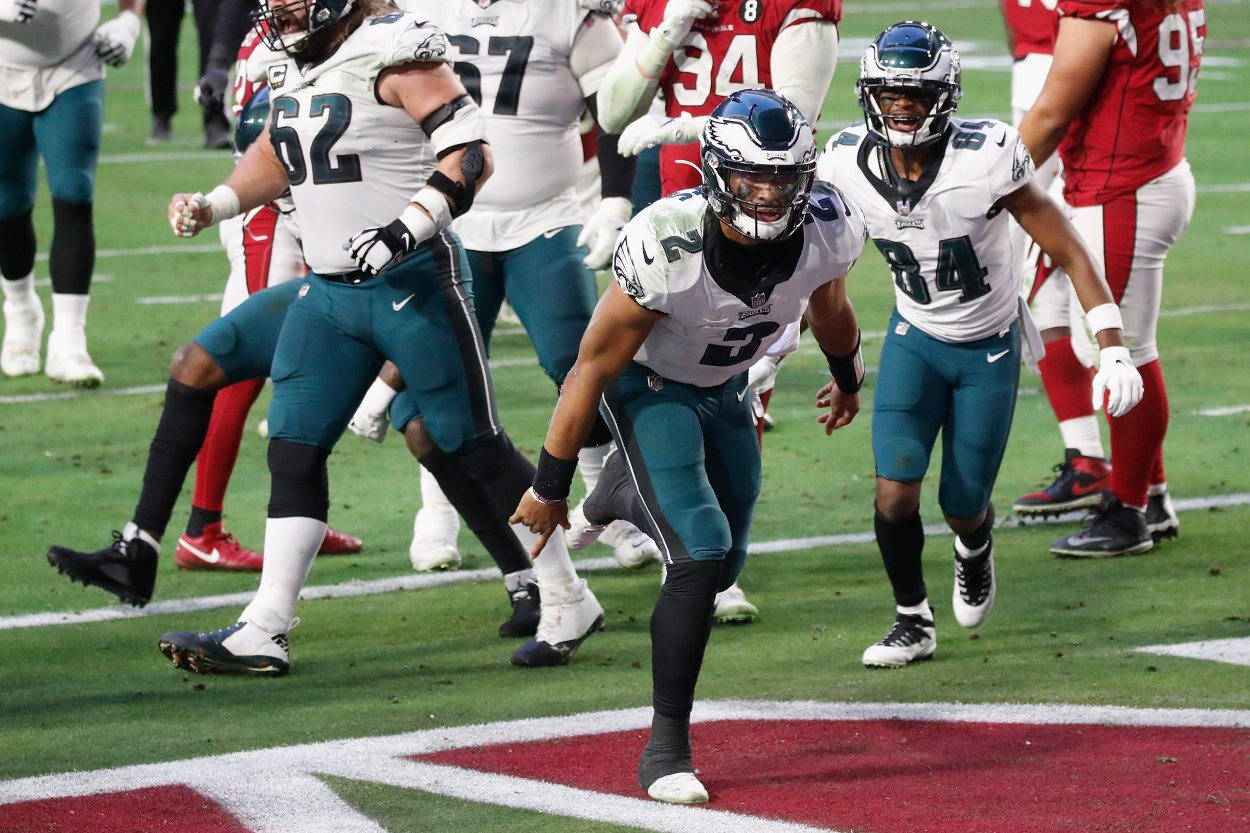 The age of the stiff, pocket-passer quarterback like Peyton Manning is nearing its end. Most of the league's active starting quarterbacks are dual-threat players who, even if they're not 1,000-yard rushers like Lamar Jackson, can fully change a game and keep a drive alive with their legs.
That is good news for Johnson, the three-time Pro Bowl right tackle. ProFootballTalk transcribed comments the veteran offensive lineman made during a recent interview on Sirius XM. In addition to praising Hurts' confidence, Johnson explained how much the quarterback's skillset helps the Eagles' offensive line.
"The things he can do on the field, you know, he can scramble outside of the pocket. When that happens, man, it makes it a little easier for the offensive line. Whenever you have a mobile quarterback back there, the pass rushers approach the pass rush a little bit differently. Instead of maybe running the hoop, they're taught not to break contain because if they do, he can scramble for 10 or 15 [yards] and get a quick first down."

Lane Johnson
As for the second-year quarterback's impact on the locker room, Johnson said there are no concerns on that front.
"The way he carries himself, he carries himself like a veteran," Johnson said.
Johnson's words should speak volumes about the Eagles' faith in Hurts
Hurts is in a unique situation among the second-year quarterbacks. The Eagles have a new coach and, because Hurts wasn't a first-round pick, they are not financially tied to him the way that, say, the Dolphins might be to Tua Tagovailoa.
But if Johnson is speaking that highly about Hurts and his abilities, then we need to pay attention. The former first-round pick has been around since Michael Vick started for the Eagles, and he's seen what makes quarterbacks tick.
After the Eagles won Super Bowl 52 in February 2018, their offense struggled with injuries and inconsistency in the following years. Wentz fought through his various ailments before his play took a severe dip last season. The Eagles turned to Hurts not only for a spark but to gauge how far he'd come as a rookie.
Hurts didn't set the world on fire, but he provided a spark with his arms and his legs. Clearly, he showed enough then and during offseason workouts to have Johnson excited about the year ahead.
Hurts can cement his place as the Eagles' long-term starting quarterback
If Hurts has a down sophomore season and the Eagles earn a high enough draft pick, they can easily replace him in 2022. A scenario where Deshaun Watson is starting for the Eagles next year doesn't sound so implausible, especially if the veteran quarterback is cleared in his legal issues.
But this is Hurts' chance to shine and prove himself to a new coaching staff. Unless he suffers an injury or is consistently dreadful in the preseason, don't expect to see Hurts sitting behind Joe Flacco in Week 1 against Matt Ryan and the Atlanta Falcons.
Hurts has the arm and the legs to make things happen in the NFL. It is up to him and the Eagles to maximize that talent in a year where outsiders don't expect much from them.
By the sound of things, Hurts has already earned his starting right tackle's respect. That might go a long way in establishing himself as the Eagles' franchise quarterback.
Like Sportscasting on Facebook. Follow us on Twitter @sportscasting19.