Jalen Ramsey Revealed Odell Beckham Jr. Is 1 of the Top 3 Hardest Wide Receivers to Guard in the NFL: 'When He's on His S***, He's Tough'
The Los Angeles Rams shocked the sports world when they signed Odell Beckham Jr. to a one-year contract. The former Cleveland Browns wideout dominated NFL headlines for the past couple of weeks. No matter your opinion of OBJ, some people still believe in his talent on the football field. Beckham Jr.'s new teammate, Jalen Ramsey, knows firsthand how good he can be.
Odell Beckham Jr. is looking to return to form in Los Angeles
Odell Beckham Jr. looked like a shell of his former self during his time with the Cleveland Browns.
The failed experiment lasted just two and a half seasons. Beckham Jr. became unhappy playing in Cleveland despite his close relationship with Jarvis Landry. OBJ and quarterback Baker Mayfield just couldn't get on the same page.
With another change of scenery, the three-time Pro Bowler hopes to return to an elite level, as he enjoyed early in his career.
Beckham Jr. was a superstar in his first three seasons with the New York Giants. He put together three straight seasons of over 90 receptions, 1,300 receiving yards, and double-digit touchdowns.
While it's unrealistic to expect OBJ to return similar production, he's in a great position to re-establish himself as a legitimate receiving threat.
The all-in Rams have Super Bowl aspirations. The New Orleans, Louisiana native has the talent to contribute to something special.
Jalen Ramsey says OBJ is one of the toughest NFL WRs to guard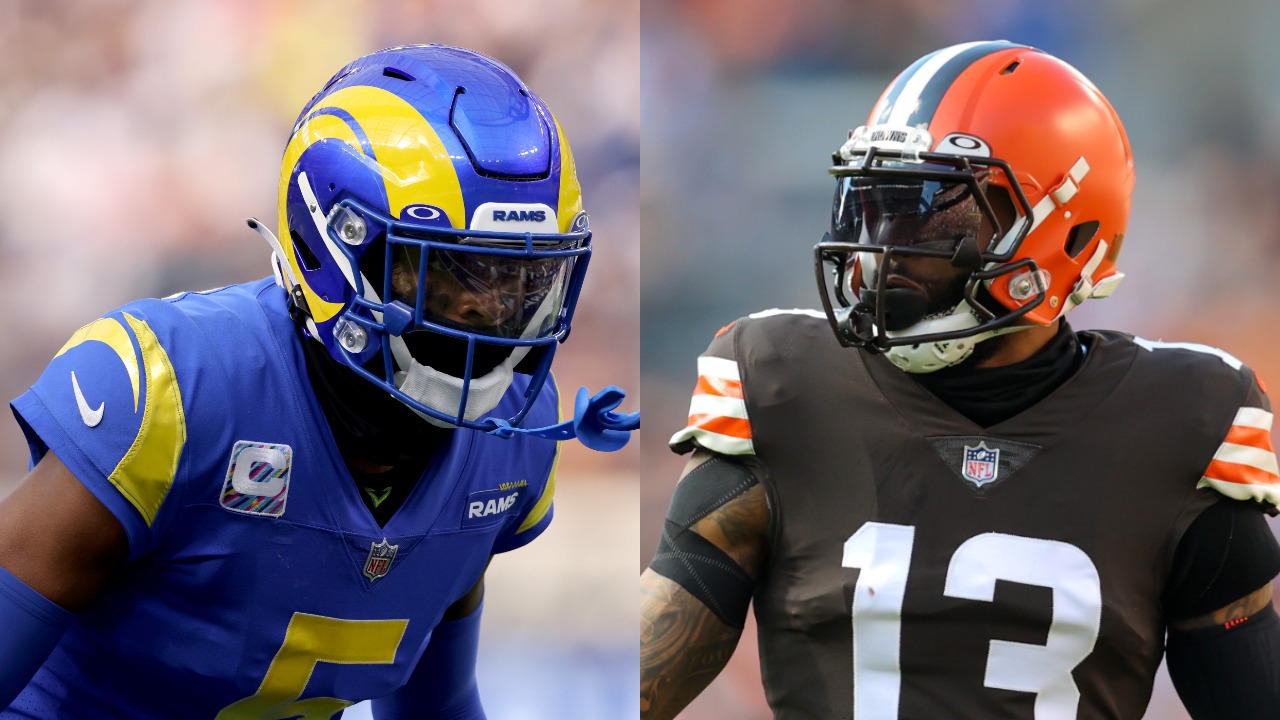 The counting stats don't show that Odell Beckham Jr. is anywhere near the same player he was on the Giants. However, multiple factors played a role in his decline.
A string of injuries coupled with a lack of chemistry with Baker Mayfield drastically impacted OBJ's performance with the Browns. Still, that doesn't mean the talent is gone.
LA Rams' All-Pro cornerback Jalen Ramsey recently revealed his personal list of the top three wideouts to guard in the NFL, and guess who was on it.
The three names Ramsey listed were DeAndre Hopkins, Julio Jones, and Odell Beckham Jr.
"When Odell is healthy, and when he's on his s***, he's tough," Ramsey said on the Million Dollaz Worth of Game podcast. "He's tough, for real. He's just fast, twitchy, runs good routes, got great hands. I like his game."
The Florida State product noted that usually bigger receivers give him the most trouble. Beckham Jr. doesn't fit that mold, but his other skills make him one of the more challenging covers in the league.
The Rams could be a surprisingly perfect fit for Beckham Jr.
Odell Beckham Jr. will get the opportunity to prove Jalen Ramsey right when he suits up for the LA Rams against the San Francisco 49ers on Monday Night Football.
The matchup will undoubtedly be electric, especially with the star wideout commanding so much media attention of late.
Beckham Jr.'s role in Sean McVay's offense grew exponentially with the loss of Robert Woods to a torn ACL in practice. The 29-year-old will get every chance to step in and be the Rams' No. 2 receiver behind Cooper Kupp.
According to NFL insider Peter King, McVay was transparent with OBJ during the recruiting process. He's not going to force the ball to Beckham Jr. Instead, he said, "If you're open, Matthew [Stafford] will get you the ball."
Even without a high volume of targets, OBJ could still make some big-time plays in this offense.
Rams' general manager Les Snead made the mission clear for the 2021 season. It's Super Bowl or bust. They already proved that by acquiring Von Miller from the Denver Broncos.
The OBJ signing was the icing on the cake for LA. There are stars all up and down this roster. He wanted to go to a contender, and he got his wish. Now it's time to go out there and produce.
If Odell Beckham Jr. can finally shake the me-first narrative and buy-in, the LA Rams could be Super Bowl champs by year's end.
All stats courtesy of Pro Football Reference