Jalen Ramsey's Trash Talk Skills Are so Elite That He Nearly Caused Tom Brady to Collapse During Their 2018 AFC Championship Clash
Before Jalen Ramsey was lighting it up for the Los Angeles Rams in Hollywood, the superstar cornerback was making a name for himself with the Jacksonville Jaguars.
The former No. 5 overall pick quickly established himself as a franchise CB with his on-field production while simultaneously making sure opponents felt his impact via his words.
Ramsey doesn't hold back when it comes to his infamous trash talk. During the 2018 AFC Championship Game, Ramsey went as far as to make Tom Brady a victim of his vicious wordplay.
Jalen Ramsey once targetted Tom Brady with his trash talk
During the Jaguars' Conference Championship showdown with the New England Patriots, Ramsey wasted little time going after the top-dog on the field. During Brady's initial entrance at Gillette Stadium, Ramsey made sure to shuffle over his way and make a few comments.
The 2017 Jaguars are known for their stingy defense and elite turnover ability — it wasn't all that surprising to see Ramsey attempt to get inside his opponent's head. He and his teammates spent the entire year talking trash, forcing interceptions, and recording sacks. Some went as far as to label them "Sacksonville."
However, what was particularly unique about this incident is the fact that Brady appeared noticeably rattled. Brady was a pretty uptight individual before arriving in Tampa Bay (where he's lightened up). He rarely engaged in trash talk during games. He was the ultimate professional week after week — there to win a football game and go home.
Ultimately speaking, the Patriots pulled out the win over Jacksonville and traveled to Super Bowl 52. However, it wasn't without drama. The Jaguars' defense kept it close all game long, forcing Brady to lead a game-winning drive during the game's closing moments.
Maybe Ramsey's pre-game antics threw Brady off a bit, or maybe they didn't. Either way, it's one of the few times we've seen Brady look noticeably angry with an opponent.
Jalen Ramsey has the contract to back up his elite trash talk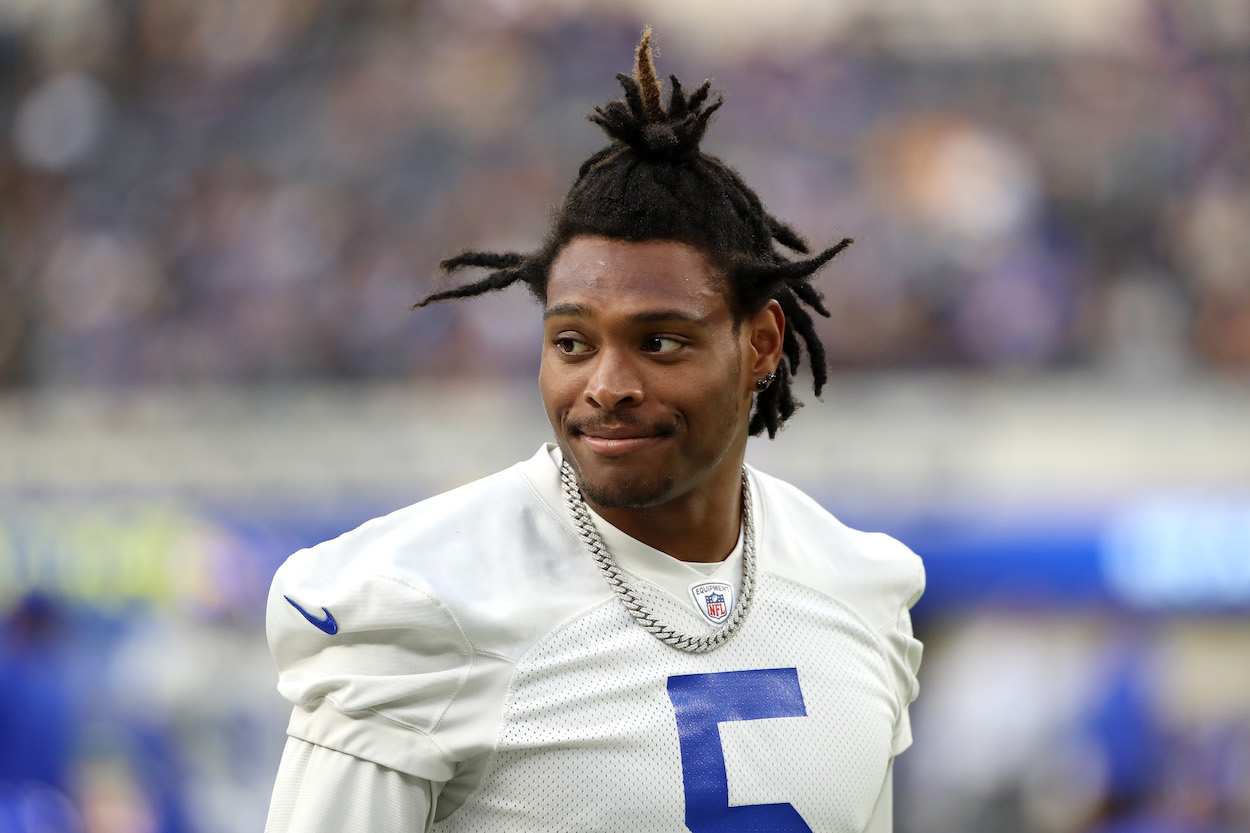 Ramsey didn't spend much more time in Jacksonville following the Jaguars' crushing loss to Brady and the Patriots. The team quickly spiraled out of control following the failed Super Bowl run and began tumbling down into a messy rebuild phase with no clear end goal in sight.
Understanding his worth around the NFL, Ramsey held out of games to force a trade away from Flordia.
The Rams happily met Jacksonville's high asking price of two first-rounders and some change for Ramsey. Soon after, they made their new cornerback the highest paid CB in the NFL ($100 million contract).
Brady could meet his former trash-talking rival in the playoffs again this winter
Fast forward to 2021, and it looks like Ramsey and Brady could be staring down another postseason meeting later in the year.
The Buccaneers are reigning Super Bowl champions looking to defend their crown, while the Rams look like legitimate contenders following the Matthew Stafford acquisition.
If the two parties do end up meeting at some point during the NFC bracket, it'll be interesting to see if Ramsey will verbally go after Brady again leading up to kickoff. Or, if the superstar CB had learned his lesson from his ill-fated attempt back in 2018.
Like Sportscasting on Facebook. Follow us on Twitter @sportscasting19.
RELATED: Matthew Stafford Was Destined to Join a Struggling NFC Rival Before Making a Drastic Life-Changing Decision