Jamal Anderson Acted Like a 'Dirty Bird' After Leading the Atlanta Falcons to a Super Bowl
Former Atlanta Falcons running back Jamal Anderson had a brief, but flashy NFL career. He'll always be remembered in Atlanta for the magical 1998 season which saw him drag the "Dirty Birds" all the way to the Super Bowl. Unfortunately, since he played his last NFL snap in 2001, Anderson's life has fallen off a cliff.
Jamal Anderson had a productive NFL career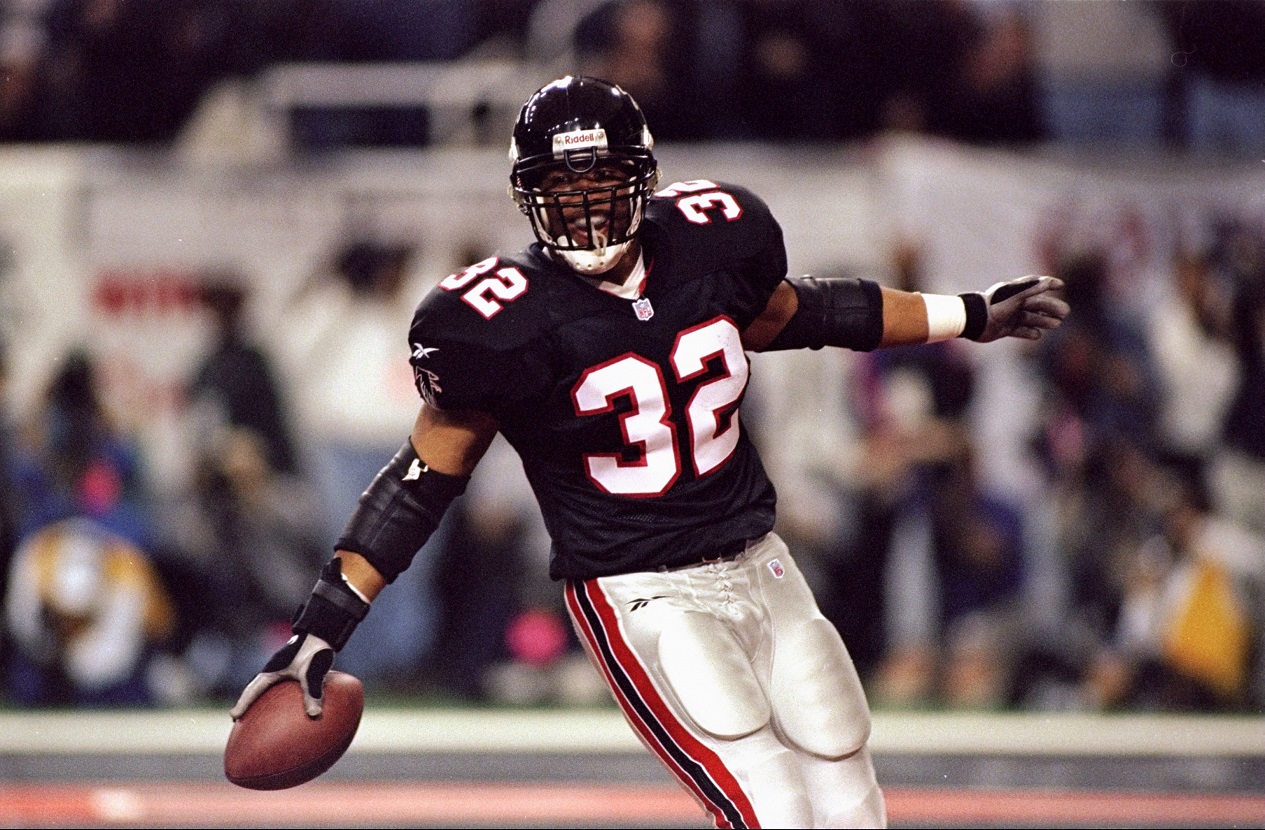 RELATED: Matt Ryan May Be the Next Quarterback Involved in a Blockbuster Trade as His Falcons Tenure Could Soon Be Over
Jamal Anderson came into the NFL as an unheralded seventh-round pick out of Utah in 1994. He barely saw any playing time in his first two seasons with the Falcons, amassing only 160 yards on 41 carries over that time.
It wasn't until 1996 that Anderson truly broke out. Although Falcons had a horrid season, finishing 3-13, their running back surely wasn't to blame. He had his first of three consecutive 1,000-yard seasons, rushing for 1,055 yards and five touchdowns.
1998 was, by far, his best season, as he evolved into the Falcons' offensive workhorse. That season, he took a league-high 410 carries for a whopping 1,846 yards. In any other year, he may have been voted the NFL's Most Valuable Player. Unfortunately, this just happened to be the same year that the Broncos' Terrell Davis rushed for over 2,000 yards.
The Falcons unexpectedly reached the Super Bowl that season. Along the way, he came to national attention thanks to his "Dirty Bird" touchdown dance. Although he didn't invent it, he certainly popularized it as the team's offensive star and most visible player.
Injuries slow Jamal to a crawl
RELATED: Who Is CBS Announcer Jay Feely and Did He Play in the NFL?
Although the Falcons lost that Super Bowl to the Denver Broncos, it seemed that Jamal Anderson was on his way to a Hall of Fame career. Two weeks into the following season, it became clear that this would not be the case.
In a game against the Dallas Cowboys, Anderson suffered a freak injury to his right ACL. This not only knocked him out for the remainder of the 1999 season, it nearly ended his NFL career. The Falcons fell well short of reaching the playoffs in a season where Atlanta's Georgia Dome hosted the Super Bowl.
Anderson bounced back for another 1,000-yard season in 2000, but it wasn't enough to help the Falcons reach the playoffs, as they continued their decline. The following year, during week three, he re-injured his ACL. This time, he couldn't make a comeback, and his NFL career was over.
This was a shame, because a backfield with both Jamal Anderson and Michael Vick might have been fun to watch.
Jamal Anderson's life heads downhill
Unfortunately, retirement from the NFL hasn't been that kind to Jamal Anderson.
On the bright side, he made infrequent appearances on ESPN and CNN — the latter conveniently located in Atlanta. Aside from that, Anderson has gotten in and out of trouble with the law quite often in the two decades since he last played a down in the NFL.
The first incident occurred in February 2009, when Atlanta police arrested Anderson for cocaine possession. According to WSB-TV, he and another man were caught in a bathroom stall snorting cocaine off a toilet bowl.
Since then, Anderson has been arrested for driving under the influence in at least four different Georgia counties. After a 2014 arrest, he was sentenced to one year of probation and 40 hours of community service. He has also been banned from a QuikTrip in Suwanee for, as the Gwinnett Daily Post phrases it, "exposing himself during a drunken stupor."
Any bridges between Anderson and the Atlanta Falcons have apparently burned to the ground. For the 2020 season, the Falcons debuted new uniforms and apparently didn't send Jamal a free sample. In return, Anderson took great pleasure in the Falcons' miserable start to the season, which saw them lose their first five games.