Jamal Lewis Made Over $46 Million and Is Now a Concussion Advocate
Jamal Lewis personified the punch-to-the-mouth style that the Baltimore Ravens turned into a national brand. While the likes of Ray Lewis and Ed Reed delivered bone-crunching hits on defense, Lewis ran over defenders and bullied defensive backs into the ground in a nine-year NFL career.
Although Jamal Lewis earned nearly $50 million in his playing days, that wasn't enough to guarantee him a peaceful retirement. Here's how Lewis turned his post-retirement troubles into a thrilling second act.
Jamal Lewis was one of the NFL's best running backs in the 2000s
As hard as this may be to believe now, Jamal Lewis was on a Hall of Fame pace for most of the 2000s. There were legitimate conversations about who was the NFL's better young running back, Lewis or the Chargers' LaDainian Tomlinson, even if LT earned more of the spotlight.
To put things into perspective, Jamal Lewis ran for 5,763 yards and 33 touchdowns in his first four full seasons; Lewis missed the 2001 season with a knee injury.
Cowboys legend Emmitt Smith, the NFL's all-time leading rusher, ran for 5,699 yards in his first four seasons from 1990-93.
In fairness, most of Lewis' yards came in his legendary 2003 season. Jamal Lewis ran for 2,066 yards and 14 touchdowns that season, earning his only Pro Bowl and All-Pro honors in the process.
Jamal Lewis totaled 7,801 yards and 45 touchdowns in six seasons with the Ravens. He signed with the rival Cleveland Browns in 2007 at age 28 and, both sides hoped, plenty of mileage left in the tank.
Lewis suffered multiple concussions before he retired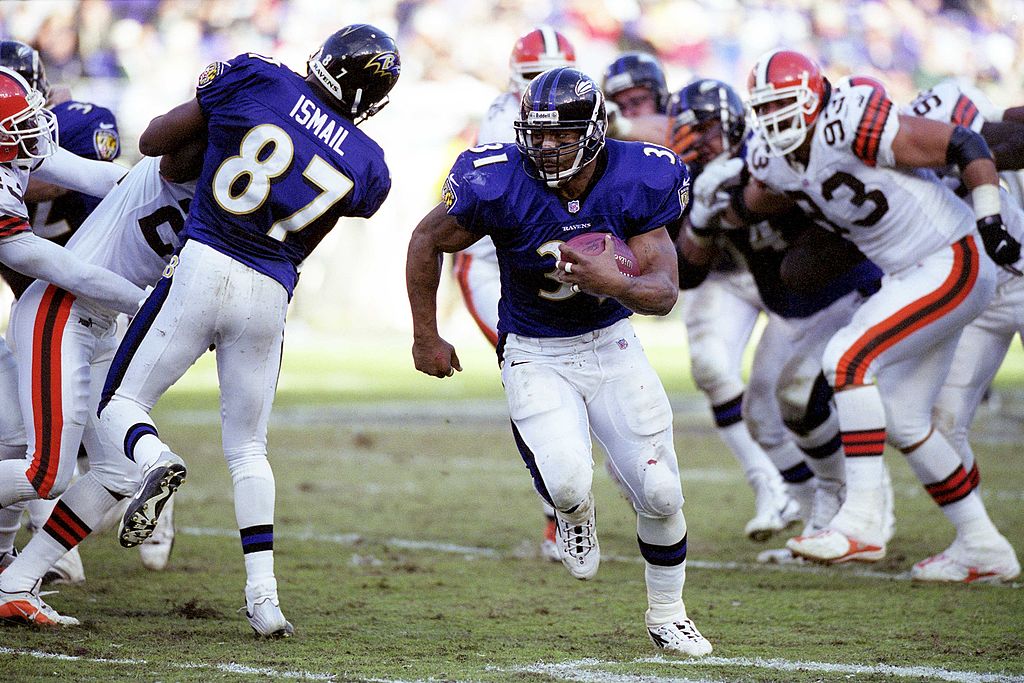 Jamal Lewis began his Browns career with a 1,304-yard, nine-touchdown season in 2007. Lewis averaged 4.4 yards per carry — his most since the 5.3 yards he averaged in 2003 — and played a key role on a Browns team that infamously went 10-6.
That was the last football fans saw of the elite Jamal Lewis, though. Lewis ended 2008 with 1,002 yards, but it was clear he didn't look like his old self.
Lewis ran for 500 yards on 143 carries across nine games in 2009. His season, and ultimately his career, ended that December after a "serious concussion" that showed "brain abnormalities," according to the Plain Dealer.
Jamal Lewis told Bleacher Report in a 2018 interview he believed he suffered a minimum of 10 concussions in the NFL. Lewis also revealed that two or three of those injuries knocked him unconscious.
Jamal Lewis is now a concussion advocate and motivational speaker
Jamal Lewis retired with over $46.7 million in career earnings, according to Spotrac. But Lewis learned first hand that the money he brought into retirement wouldn't guarantee him happiness.
The 2018 interview Lewis conducted with Bleacher Report let fans into Jamal Lewis' world.
Lewis admitted a mixture of post-retirement woes, the failure of his trucking business, and watching several of his former Ravens teammates pass away contributed to his suicidal thoughts.
"You just have those thoughts about should you end it? I can only imagine with sleep apnea and heart attacks and heart disease. Who wants to go out like that?

Especially when you have people upset with you — your wife upset with you, pissed off, you have to file bankruptcy, made bad decisions … It's not over. I have to keep moving."
Thankfully, Jamal Lewis never reached the point of plotting his own death. Lewis has spoken out about concussions over the last few years and his Bleacher Report story earned rave reviews.
Jamal Lewis has also become a guest speaker. He spoke to the Tennessee Volunteers football team last year and was the keynote speaker at 2018's "Not All Wounds are Visible Conversation."
The Maryland-based program focused on "men, seniors, chronic disease, and suicide prevention," according to The Athletic.
Lewis may not make the Pro Football Hall of Fame, but the second act of his football career is proving more valuable than a bronze bust ever could.