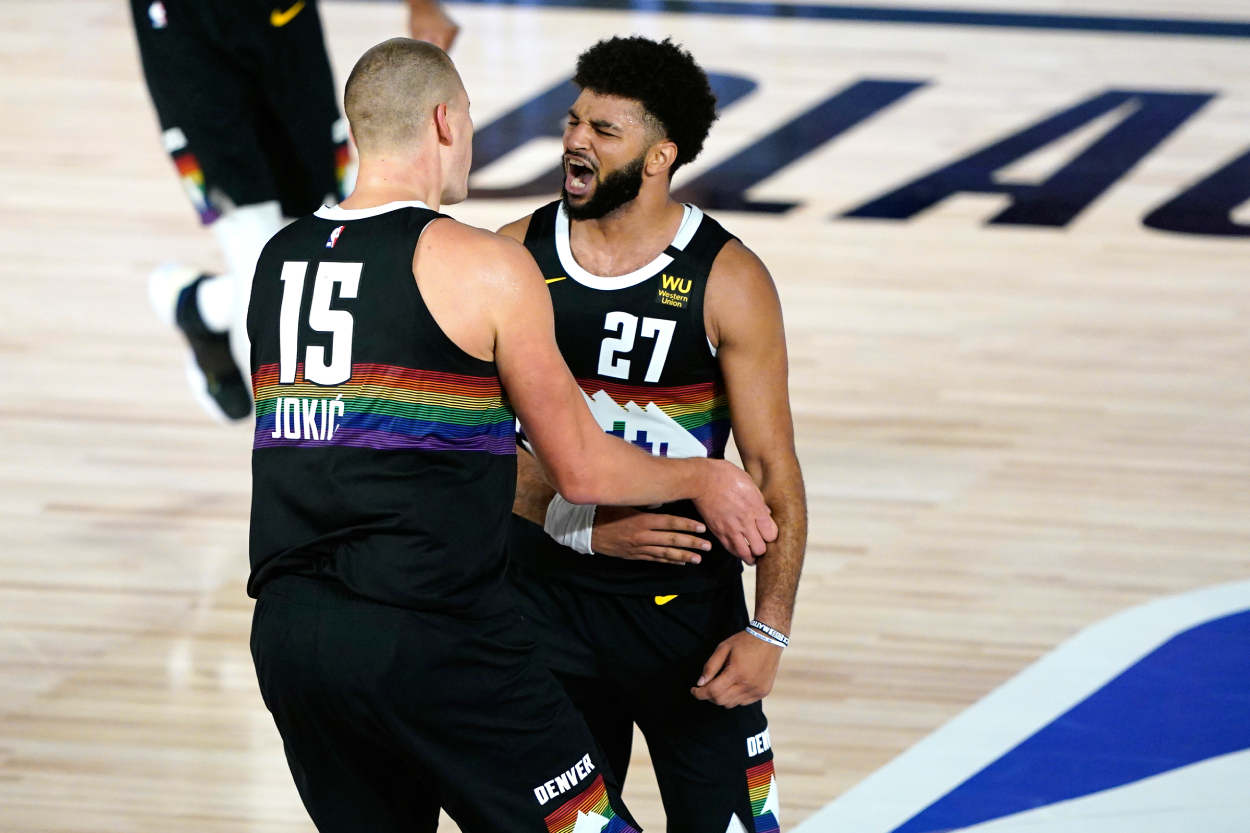 Jamal Murray Blasts Nikola Jokic Haters Amid Competitive NBA MVP Race
Denver Nuggets star Nikola Jokic has maybe been the least-talked-about reigning MVP in NBA history. His teammate, Jamal Murray, doesn't seem to appreciate the disrespect the big man receives, either.
Most NBA superstars have in-your-face personalities, or their athleticism puts them on SportsCenter almost every night. But that's not the case for Nikola Jokic.
The Denver Nuggets star doesn't receive much attention. He seems to keep to himself, and he doesn't go out and posterize defenders by throwing down massive dunks.
However, he's still arguably the NBA's most dominant player.
Jokic has potentially been the least-talked-about reigning MVP in history this year. While the talking heads typically discuss Joel Embiid, Giannis Antetokounmpo, or even Demar Derozan, Jokic has continued flying under the radar, despite leading his shorthanded Nuggets squad to a respectable record.
His teammate Jamal Murray has a problem with that. Murray recently put Jokic's haters on blast and made a case for why he deserves a second consecutive MVP.
Nikola Jokic isn't your typical NBA MVP
When you look back at the last 10-plus years, NBA MVPs typically have unreal athleticism or superstar personalities. Those characteristics, in turn, make them some of the most-talked-about stars in sports.
Kobe Byrant won it in 2007-08, and LeBron James won it four times in five seasons between 2008-09 and 2012-13. They are both two of the most well-respected NBA legends of all time. Fans flocked to their personalities, and James was (and still is) one of the most athletic players the NBA has ever seen.
There have also been players like Derrick Rose, Russell Westbrook, and Giannis Antetokounmpo, who, in their primes, have been able to run and jump with anyone. And you can't forget Stephen Curry, Kevin Durant, and James Harden, three of the greatest scorers to ever play who also have large fan bases.
Nikola Jokic, the 2020-21 winner, is different in many ways. He doesn't make highlight-reel plays, and he didn't even rank in the top 15 this year on the NBA's top-selling jersey list.
But he still dominates.
Jokic averaged 26.4 points, 10.8 rebounds, and 8.3 assists last season. He also made 56.6% of his shots and drained 38.8% of his three-pointers. Those numbers were enough for him to win his first MVP.
And he has been even more impressive this year.
Jokic is recording 25.4 points, 13.8 rebounds, and 7.9 assists per game. He's also making 56.7% of his shots. But what's most incredible is that the Nuggets' two other scorers have essentially been out all year. Jamal Murray has been injured since last season with a knee injury, and Michael Porter Jr. has only played in nine games due to a back injury. Jokic, though, has led Denver to a 36-26 record.
Given how successful the Nuggets have been, Murray recently gave Jokic major props.
Jamal Murray blasted Nikola Jokic haters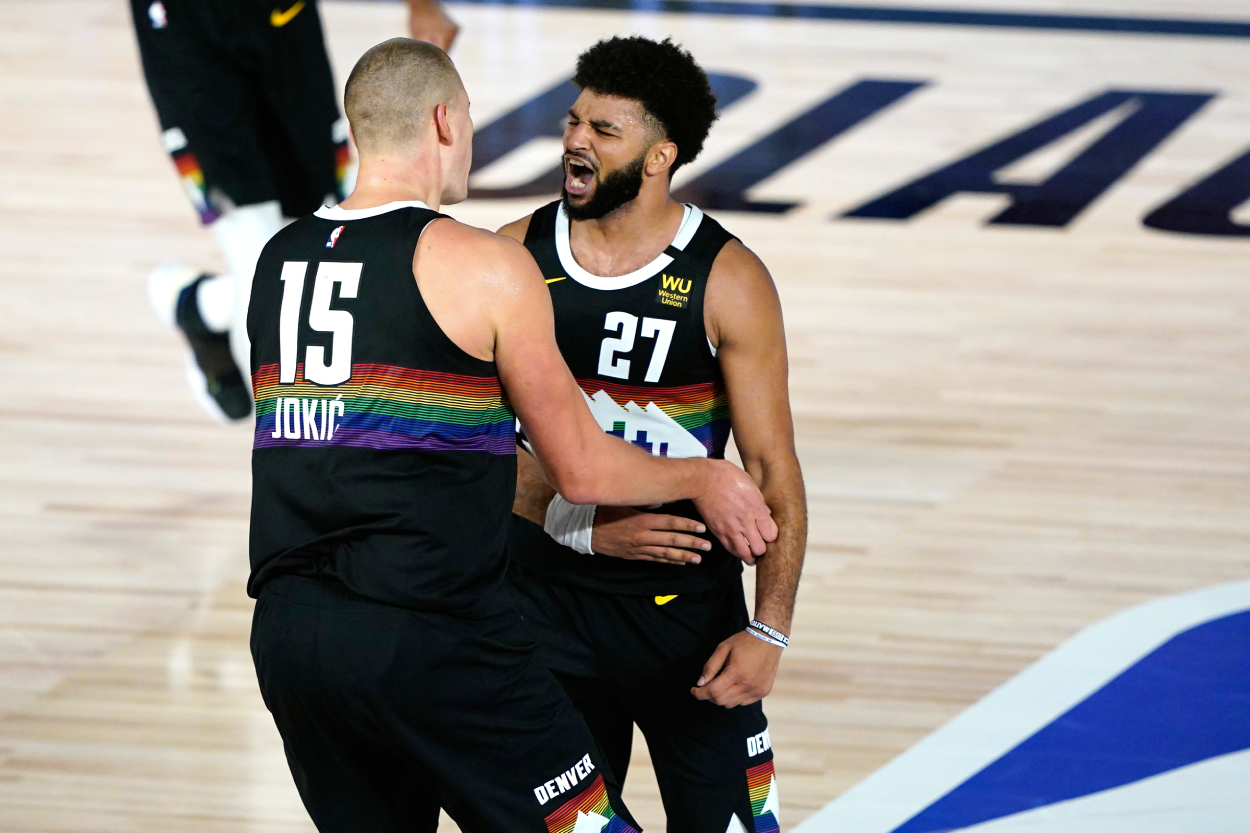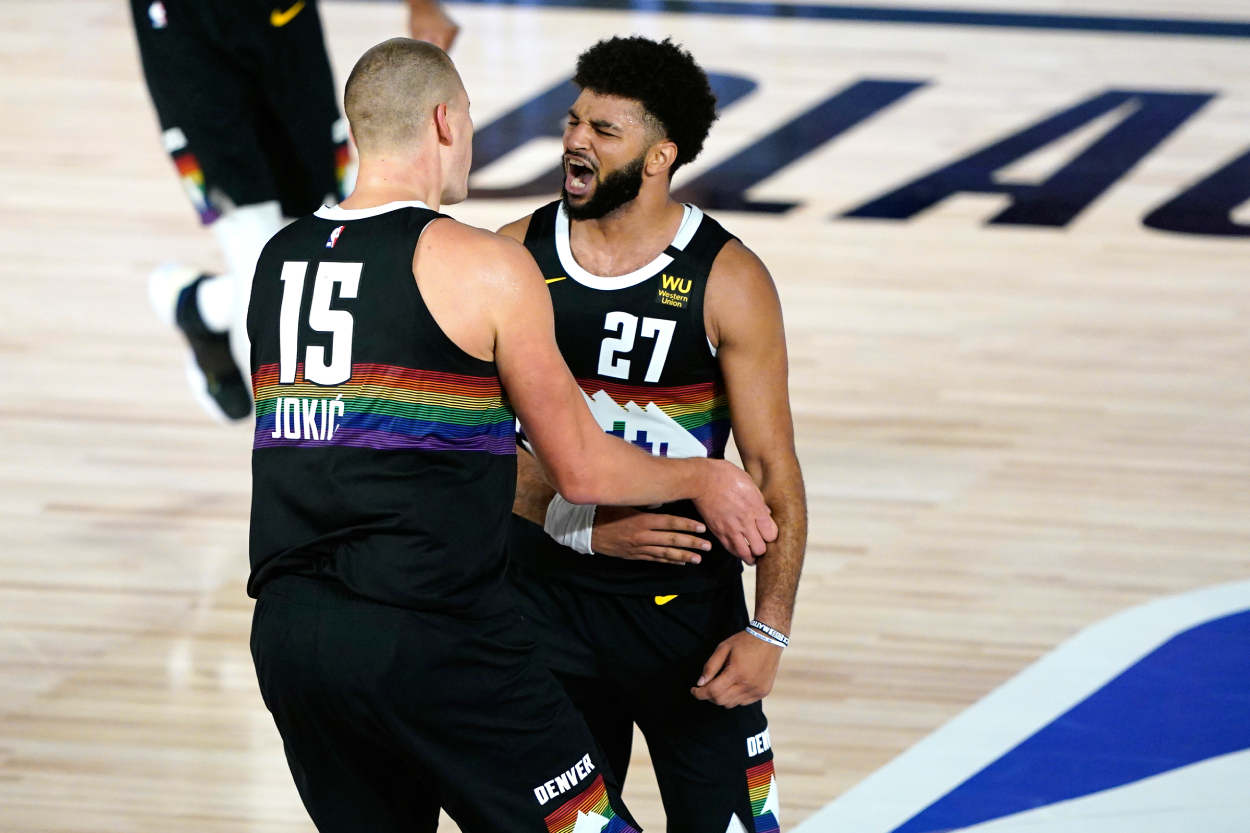 Jamal Murray has had a front-row seat to Nikola Jokic's greatness in Denver. And he recently blasted fans who hate on the big man.
"I watch some of these people on social media talk like he's not the MVP, and if you actually have played basketball and you've watched basketball, he dominates the game without jumping out the gym, without moving the fastest, and he's just picking defenses apart—he's being double-teamed every possession—and still averaging a triple-double without his two main scorers out there on the court," Murray said to Complex.
He continued: "How much more do you want him [to do]? He has to basically go up and dunk between his legs for you guys to be happy. He does everything that a winning team and a championship team needs and it's self-explanatory. He's the Most Valuable Player every time he steps on the court."
Murray makes some excellent points. Just because Jokic doesn't "go up and dunk between his legs" doesn't mean he's not an MVP. And if everything goes right, he could win the award again this season.
Where does he rank in the NBA MVP race?
The NBA MVP race has been tightly contested all year, but it has essentially come down to three men: Nikola Jokic, Joel Embiid, and Giannis Antetokounmpo.
Embiid and Antentokounmpo have had fantastic years. The former is averaging 29.8 points, 11.1 rebounds, and 4.4 assists, and he led the Philadelphia 76ers to significant success without Ben Simmons (until the team traded for James Harden last month). Giannis is also having a great year with 29.3 points, 11.5 rebounds, and 6.0 assists for the reigning champion Milwaukee Bucks.
There are, of course, other players in the conversation, like DeMar DeRozan, Ja Morant, and Luka Doncic. But Jokic has to be the favorite.
Everyone mentioned above has more to work with on their teams. Jokic is leading Denver to success with barely any help.
All in all, Nikola Jokic has a chance to join an exclusive club by winning another MVP this year. And he would become the least-talked-about two-time MVP in NBA history.
Stats courtesy of Basketball Reference