Jamal Murray Had a Hilarious Comment About Nikola Jokic's Slimmed-Down Look
The internet was shocked yesterday when they saw Nikola Jokic and his new look. The Denver Nuggets star has been criticized for his weight in the past. However, now he looks like a completely new man with his slimmed-down frame. Fans and internet trolls were not the only people who had something to say about his weight loss, though. Jokic's teammate Jamal Murray had a hilarious comment about it.
Nikola Jokic loses weight during the NBA's suspension
The NBA season has been suspended since March. It looks like Jokic has been hard at work during this time off, though.
In the past, some have been critical of Jokic and his weight. The Denver Post wrote earlier this season that Jokic was not paying attention to his critics, who, in addition to criticizing his weight, were saying that he was not as engaged on the court as he had been in the past. 
"I don't read anything anymore," Jokic said, according to The Denver Post. "I stopped."
Jokic also went on to say this when discussing the shots people were taking at his physique, in addition to saying that he was out of shape.
"It doesn't bother me," Jokic said, according to The Denver Post. "People are …  they assume things, and they cannot be right or wrong. They're just saying, if it's wrong (shrug). If it's good, if they are right, it's a good thing."
Well, Jokic, who told ESPN last year that he prefers playing between 275-280 pounds, is now very slim and looks like a new person. 
Jamal Murray makes a hilarious comment about his fellow Nuggets star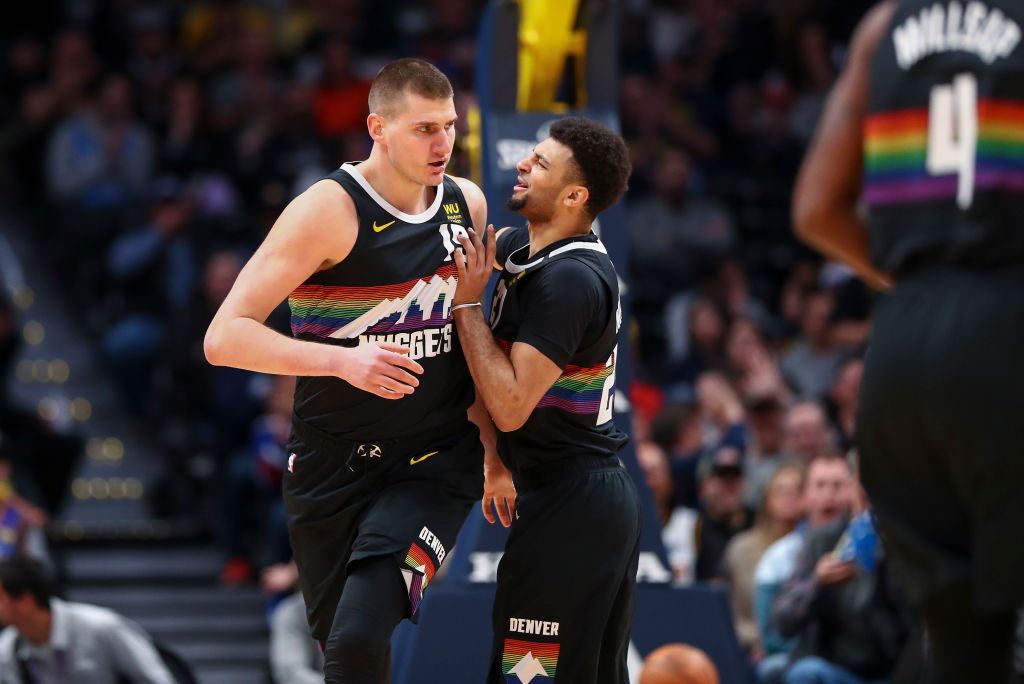 When discussing his teammate's body transformation, this is what Murray had to say. 
"Hey, Joker got a little four-pack," Murray said, according to ESPN. "I love it. … Remember, probably [my] second year [2017-18], how skinny Joker was. You could start to see him put on the weight. He put on a lot more and then he took it, just like, it's just gone. He took it all the way out."
Could the weight loss hurt him, since he has always played at a heavier weight, or could it help him? 
"It is kind of weird to see him like this where he is a lot more athletic, he is moving a lot better," Murray said, according to ESPN. 
Murray is not the only person within the Nuggets organization who has commented on Jokic's new frame, though. 
"He's beach ready. He has abs," Denver Nuggets president of basketball operations Tim Connelly said on Altitude Sports Radio according to CBS Sports. "He showed up in great shape. He's sitting there. He sent me a picture. No shirt on. He's got abs. I've never seen him have abs before."
How far can the Denver Nuggets go in the playoffs?
It looks like the NBA season is finally on its way to returning, so what are the Denver Nuggets' chances at making some noise? The fact is that no one is talking about them, but they should be.
The Nuggets are 43-22 this season, and they are coming off of a year in 2018-19 where they went 54-28 and lost to the Portland Trail Blazers in seven games in the Western Conference Semifinals. 
The team certainly has the firepower to go the distance too. Jokic was averaging 20.2 points per game before the league suspended its season, to go with 10.2 rebounds and 6.9 assists. Additionally, Murray was averaging 18.8 points per game and 4.8 assists while Will Barton was averaging 15.1 points and 6.3 rebounds. 
Denver has three guys who can lead the team in scoring in Jokic, Murray, and Barton, but they also have six guys in total that average double-figures in points. They are loaded. 
Everyone seems to be picking the Milwaukee Bucks, Los Angeles Lakers, or Los Angeles Clippers to win it all once the season resumes. The Nuggets, though, have as good a chance as any.
Stats courtesy of Basketball Reference