JaMarcus Russell Raised Red Flags For the Raiders When He 'Made it Rain' at a Talent Show
The 2021 NFL draft begins April 29 in Cleveland, and all indications are that the Jacksonville Jaguars will select Clemson quarterback Trevor Lawrence with the first overall pick. Whatever happens, the Jaguars have to hope they don't receive the same sort of return that the then-Oakland Raiders received for JaMarcus Russell, the first pick of the 2007 draft.
While no one doubted the LSU passer's physical gifts, questions remained about his dedication to football even before he entered the NFL. He answered all of those questions before he ever played a snap, and not in a positive way.
JaMarcus Russell starts off on the wrong foot with the Raiders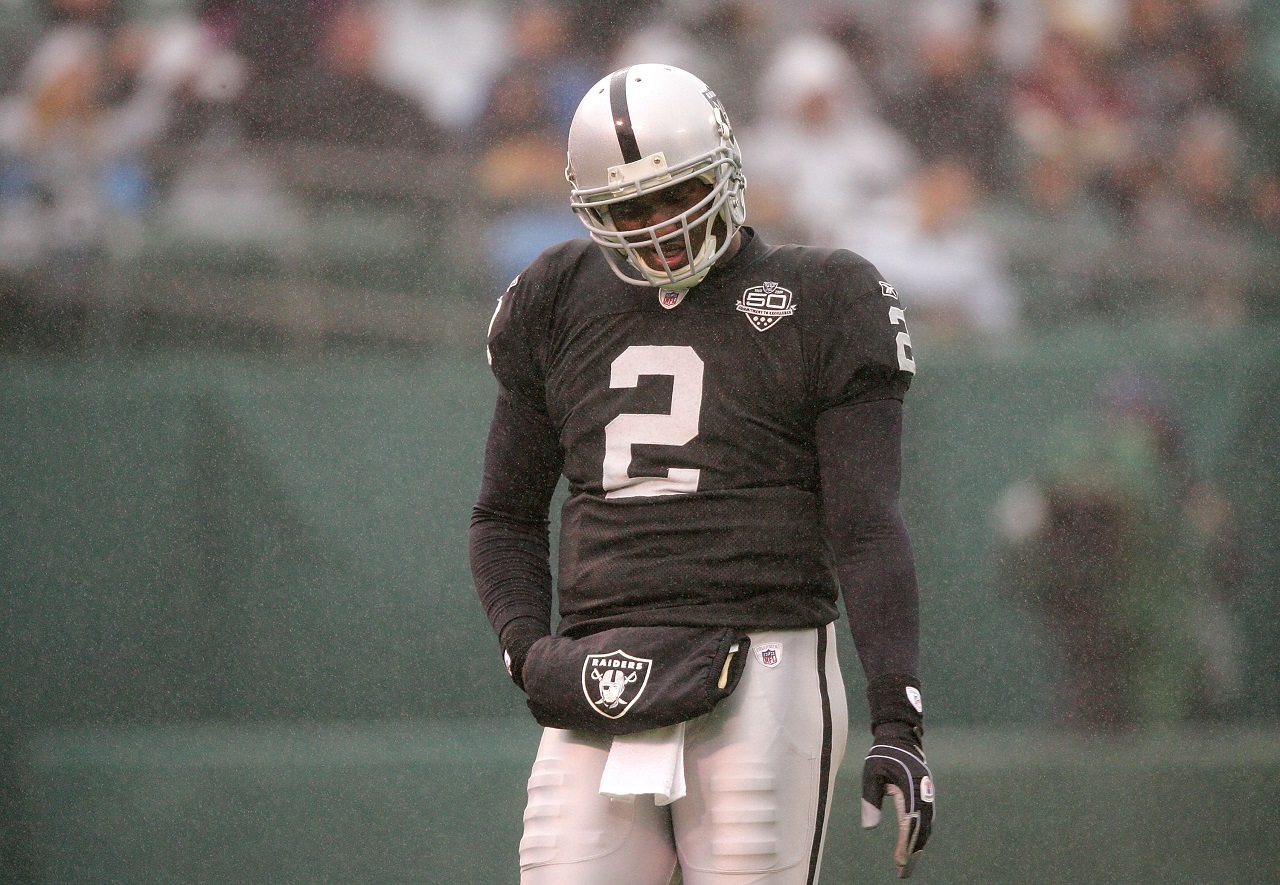 RELATED: Derek Carr Should Be Furious Over The Las Vegas Raiders' Recent Trade Talks
The Oakland Raiders held the first overall pick in the 2007 NFL draft after finishing a miserable 2-14 in 2006. That same year, JaMarcus Russell led the LSU Tigers to an 11-2 record and a dominating Sugar Bowl victory over Notre Dame. He passed for 3,129 yards, 28 touchdowns, and only eight interceptions.
Al Davis had historically built his Raiders around gun-slinging quarterbacks, and Russell seemed like a perfect fit. During the NFL draft, ESPN famously showed a clip of Russell throwing a football over 60 yards while on his knees. Not everyone thought the LSU passer was fully cut out for the NFL, however.
In a rare bit of common sense, former Raiders linebacker and then-Lions general manager Matt Millen advised Davis not to draft Russell. As he told Sports Illustrated in 2015, Millen repeatedly noticed Russell looking at his watch during a pre-draft interview.
Millen reportedly told Davis, "Coach, the guy's a stiff. He couldn't pay attention for five minutes. He couldn't even pretend." The Raiders, of course, took him anyway.
JaMarcus Russell 'makes it rain' money at the rookie show
RELATED: Trevor Lawrence Will Have a Chance To Do What No Other NFL Spokesmen Has Been Able To
Within months, they probably had drafters' remorse. JaMarcus Russell could not agree to contract terms with the Raiders and held out all the way into early September. As a result, he missed his entire first training camp and preseason. It wasn't exactly a good first impression, and it was all downhill from there.
As all of this was happening, the Raiders held their "rookie show", a talent show for their incoming rookies which doubles as a form of hazing. Those who watched the first season of Hard Knocks should know what these look like. Of course, since Russell was in the middle of his holdout, he did not participate.
Finally, on September 12 — three days after the first regular season game — Russell signed his rookie contract. It was a six-year deal worth $68 million, a rookie record at the time. $31.5 million of that money was guaranteed. Shortly after that, his Raiders teammates urged him to attend to unfinished business by doing his rookie show skit. Former Raiders linebacker Kirk Morrison, Russell's teammate at the time, recalled the story on the Rich Eisen Show in 2018.
"I remember the day. He comes up, he walks in, and he has this backpack," said Morrison. "He pulls out, I would say, at least $5,000 in ones in cash and literally made the entire meeting room rain."
We're not sure how tossing thousands of dollars in the air qualifies as an actual talent, but then again, none of us were ever picked first overall in the NFL draft. Then again, it's curious that he didn't fall back on one of his actual talents, such as the aforementioned throwing of a football 60 yards while kneeling.
Russell flames out in the NFL spotlight
You all know how this story ends. JaMarcus Russell would go down in history as one of the NFL's most notorious draft busts. Everyone who doubted his commitment to football before the draft turned out to be correct, and then some.
Russell only spent three seasons in the NFL before the Raiders released him in 2010. He finished with a total record of 7-18, 18 touchdown passes, and 23 interceptions. His lack of commitment was plainly visible by 2010, when he showed up to training camp at nearly 300 pounds. According to Yahoo News (via the Wayback Machine), even his "life coach", former NBA head coach John Lucas, reportedly gave up on him.
The Oakland Raiders whiffed badly on their No. 1 pick in 2007, which turned out to have a spectacular class. Calvin Johnson, Adrian Peterson, Joe Thomas, Marshawn Lynch, and Darrelle Revis were still on the board. Any one of them could have made the Raiders better in a hurry. Russell set the team back years.