Ja'Marr Chase Has Only Played in 3 NFL Games but Has Already Emphatically Proven a Group of Bengals Fans Wrong
Throughout the months leading up to the 2021 NFL Draft, Cincinnati Bengals fans were divided over one issue: Should the team draft wide receiver Ja'Marr Chase or offensive lineman Penei Sewell? 
Cincinnati needed — and still needs — help along its offensive line, especially after seeing quarterback Joe Burrow go down with a season-ending knee injury during his rookie year in 2020. Drafting Chase, though, would reunite the QB with his college teammate who he dominated and won a national championship with in 2019.
And as you likely know, the Bengals chose playmaking abilities over stability up front, but while some fans disagreed with the move, Chase has already proven them wrong.
Bengals fans were divided over Ja'Marr Chase and Penei Sewell
Cincinnati Bengals fans knew they would receive a high selection in the 2021 NFL Draft, especially once Joe Burrow went down with a season-ending injury during Week 11 of the 2020 campaign. Cincy had only won two games with the 2020 No. 1 overall pick at QB. Without him, they didn't have much hope, and they eventually finished the year 4-11-1.
Since Cincinnati fans were expecting a top-five pick, the hot debate started early: Should the team select Ja'Marr Chase or Penei Sewell?
The Sewell supporters simply wanted protection for their quarterback. The team's offensive line in 2020 had Burrow running for his life on nearly every play and allowed him to get sacked 32 times in 10 games. Many of them didn't understand the purpose of selecting Chase in the draft if the rules state that Burrow can't pass the ball from the ground.
Cincinnatians in favor of selecting the offensive lineman also went to great lengths to make their wishes known. Some even brought a "Penei for ur thoughts" sign to a game, per 247Sports.
The Chase advocates, though, just saw the explosive plays the receiver made with Burrow as his QB at LSU in 2019. He caught 84 passes for 1,780 yards and 20 touchdowns that year, and the Tigers won the national championship.
So, overall, if you were pro-Chase in Cincy, you were essentially anti-Sewell, and vice versa. The debate filled sports bars around town (although likely not as many as there could have been due to COVID-19). And fans certainly argued with each other on Twitter. Lance McAllister, a Cincinnati radio personality, even opened up the debate for his 70,000-plus Twitter followers, many of whom are probably Bengals fans, and the responses were pretty split.
Those who campaigned for the playmaking star, though, got their wish. The Bengals selected Chase with the fifth overall selection.
Ja'Marr Chase has already proven those Bengals fans wrong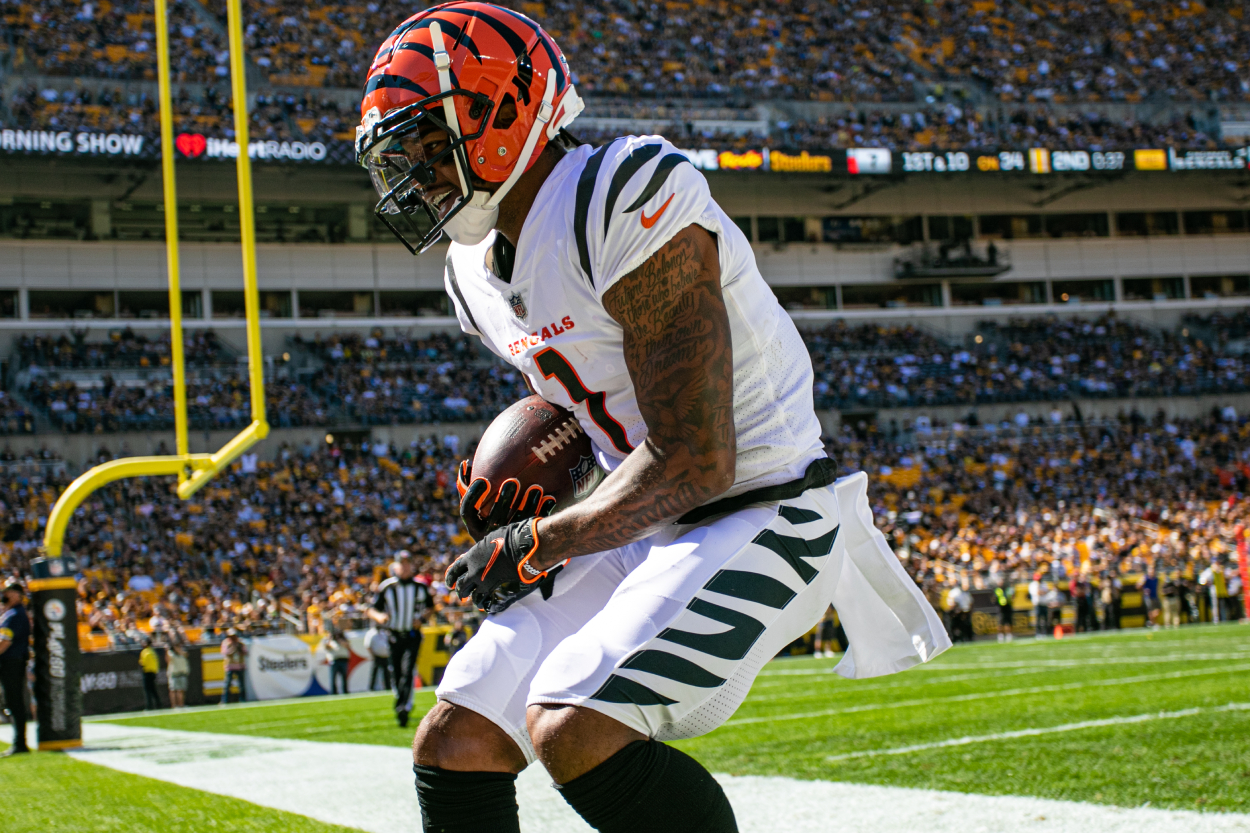 He has only played in three NFL games so far, but heading into Cincinnati's Week 4 matchup with the Jacksonville Jaguars, Ja'Marr Chase has already proven those pro-Sewell Bengals fans wrong.
Through those three 2021 contests, Chase has caught 11 passes for 220 yards. He has also had a knack for finding the end zone, as the rookie is tied for second in the NFL in touchdown catches with four, sitting up there with guys like Rob Gronkowski, Adam Thielen, and Mike Williams. Cooper Kupp is the only player with more, as he has five.
That's not all, though. Chase has been so good that Pro Football Focus has him rated as the top offensive rookie in the NFL through the first three weeks, according to USA Today's LSU Wire.
That chemistry he has with Burrow seems to be paying off.
But how does his play compare to Sewell's?
Sewell went to the Detroit Lions with the No. 7 overall pick, and he played well through the first two weeks. But the rookie struggled in Week 3. According to Sports Illustrated, he was the third-worst offensive player for the Lions (in terms of his PFF grade) during their loss to the Baltimore Ravens.
So, it appears Chase may have actually been the right choice; he has a bright future in Cincinnati. The Bengals, though, still need to fix their offensive line.
The Cincinnati Bengals still need to address their offensive line
Cincinnati made some changes to its offensive line this past offseason, which included drafting tackle Jackson Carman in the second round. But the unit has still struggled, as Burrow has already taken the third-most sacks in the NFL so far, going down 10 times in three games.
When the Bengals drafted Burrow, I wrote that they needed to improve their offensive line if they wanted him to be their franchise quarterback for 10-plus years. Fans don't want to see him treated the same way the Indianapolis Colts treated Andrew Luck.
Cincy, though, already proved me right last season with the number of hits he took that culminated in his season-ending injury. Getting sacked 10 times in three games this year can't be good for a player coming off something like that.
So, yes, Ja'Marr Chase has proven that the Bengals made the right selection in the 2021 NFL Draft. However, if they don't get some bullies in front of Burrow, his electric on-field chemistry with Chase won't mean a thing.
Stats courtesy of Sports Reference and Pro Football Reference
RELATED: Cincinnati Bengals Rookie Receiver Ja'Marr Chase Broke a Record Set by Randy Moss and Joined an Exclusive Club During His Extraordinary First 3 NFL Games