Jameis Winston Has $7 Million Opportunity After Winning New Orleans Saints Starting Quarterback Job
The New Orleans Saints have finally ended the unnecessary suspense surrounding their starting quarterback position for the 2021 season. The team has named Jameis Winston the starter for Week 1 after beating out Taysom Hill.
The former Tampa Bay Buccaneers signal-caller is entering his second season with the Saints. He has an opportunity to earn himself some more money as the lead guy in 2021.
Jameis Winston's contract offers up to $7 million in incentives
Winston appeared in just four games and recorded 11 pass attempts in 2020. He re-signed with the Saints in the offseason, inking a one-year deal worth a base salary of $5.5 million. The contract also includes some incentives based on the 27-year-old's performance.
If Winston plays 70% of the regular season snaps and the Saints make the playoffs, he will earn an additional $500,000. He'll be counting on his offensive line for an additional $500,000. If he plays 70% of snaps and the Saints rank in the top five in sacks allowed, he'll cash in on that.
The Florida State product will earn $500,000 for any passer rating over 93.0 and a completion rate of 65% or better on a minimum of 224 attempts.
His passing yard and touchdown totals figure into the contract as well. He can make up to $1 million for each, with 3,500 passing yards and 25 touchdowns.
Winston should have an easy $1 million tacked on for improving playing time, passing yards, or touchdowns over his 2020 stats.
The New Orleans Saints will count on Winston to keep the offense dangerous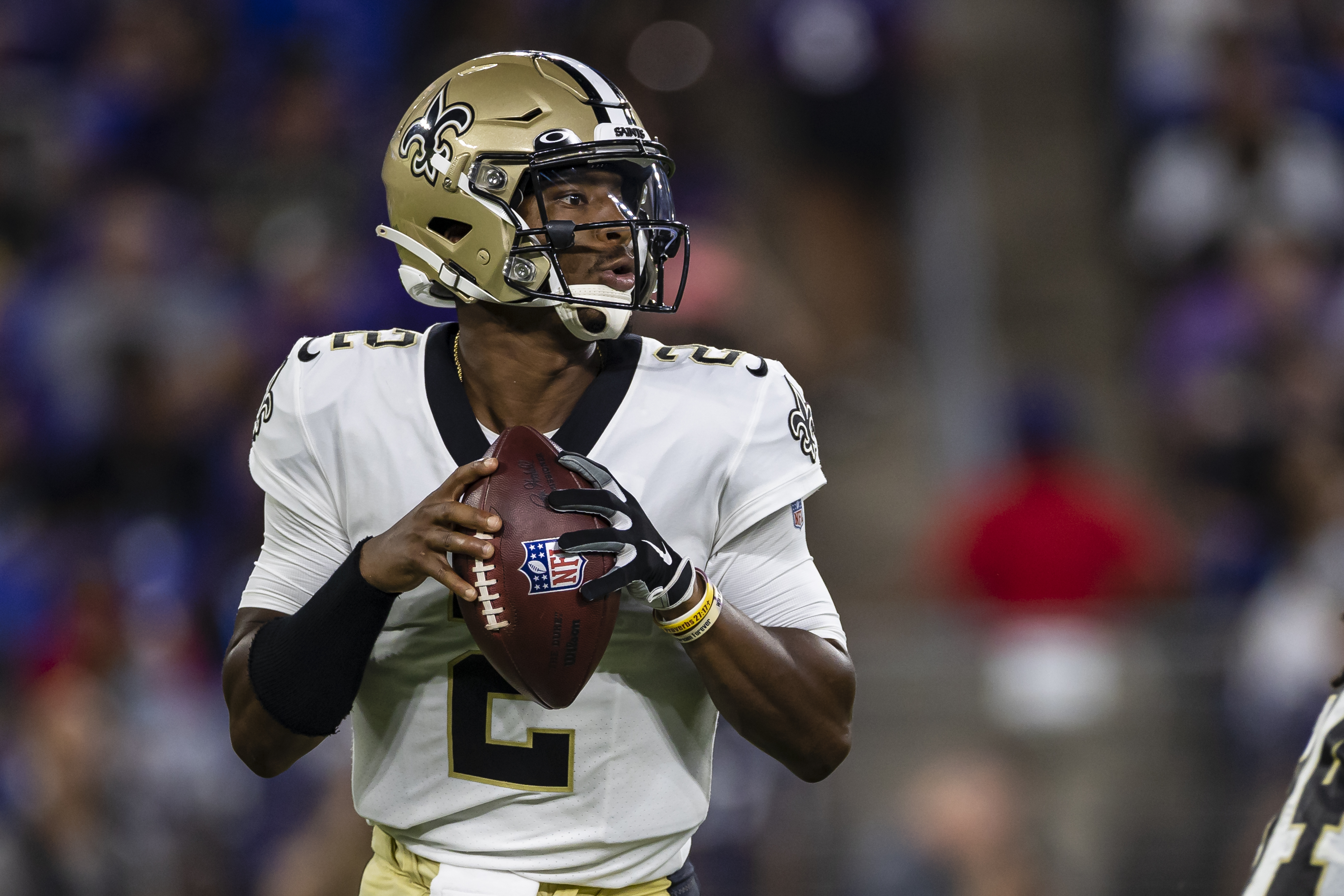 Taysom Hill is a dual-threat, but it's evident that he does not elevate this Saints offense. Jameis Winston is a gunslinger, and he has a better chance of leading this offense in the post-Drew Brees era.
The six-year veteran has been on a roller coaster of sorts during his career. In five seasons as the Tampa Bay Buccaneers starting quarterback, he threw for 19,737 yards and 121 touchdowns. On the flip side, he threw 88 interceptions. That's been the biggest knock on him.
It's evident that he can push the ball downfield. The Saints need to be able to open up their offense. All-Pro wide receiver Michael Thomas is dealing with an ankle injury, and likely won't be available until October. Even when he's healthy, it's unclear if he'll play in New Orleans this season due to his fractured relationship with the organization.
Tre'Quan Smith and preseason breakout Marquez Callaway are slated to be Winston's top targets. Smith has been injured throughout training camp, but the team hopes he can be ready for Week 1. Callaway has displayed an ability to stretch the field in the preseason.
"I think he's an incredible football player," Winston said of Callaway, per NFL.com. "It's fun to have teammates out there that see the game the same way that you see it and just really love taking advantage of these opportunities." The University of Tennessee product appears to be building chemistry with his new quarterback.
Alvin Kamara will be a beneficiary of the move as well. He's the best player on this offense. Having a quarterback who can make all the requisite throws allows Sean Payton to get creative in getting Kamara the ball.
Jameis Winston can lead the Saints to the playoffs
Tom Brady and the Buccaneers are the defending Super Bowl champions and the favorites to come out of the NFC yet again in 2021. However, that doesn't mean the Saints can't be a playoff contender.
The ceiling of the offense drastically increases with Winston under center, as opposed to Taysom Hill. He's taking over a proven offensive system, albeit one without its full display of weapons. His mental mistakes are hopefully a thing of the past. If Michael Thomas does return to the Saints and regains his form, the sky is the limit for this offense.
The Saints defense should be formidable once again. The unit lost some key players from 2020, including Trey Hendrickson, Janoris Jenkins, and Sheldon Rankins. However, there's still plenty of talent on that side of the ball to keep New Orleans competitive. They return defensive leaders Cameron Jordan, Demario Davis, Malcolm Jenkins, and Marshon Lattimore.
If Jameis Winston can continue his inspired play, the New Orleans Saints have an opportunity to be a playoff team in 2021.
All stats courtesy of Pro Football Reference and contract figures courtesy of Spotrac
RELATED: Jameis Winston Hasn't Started 1 Actual Game Since 2019 but Just Oddly Garnered Comparisons to Peyton Manning by a Former NFL Veteran