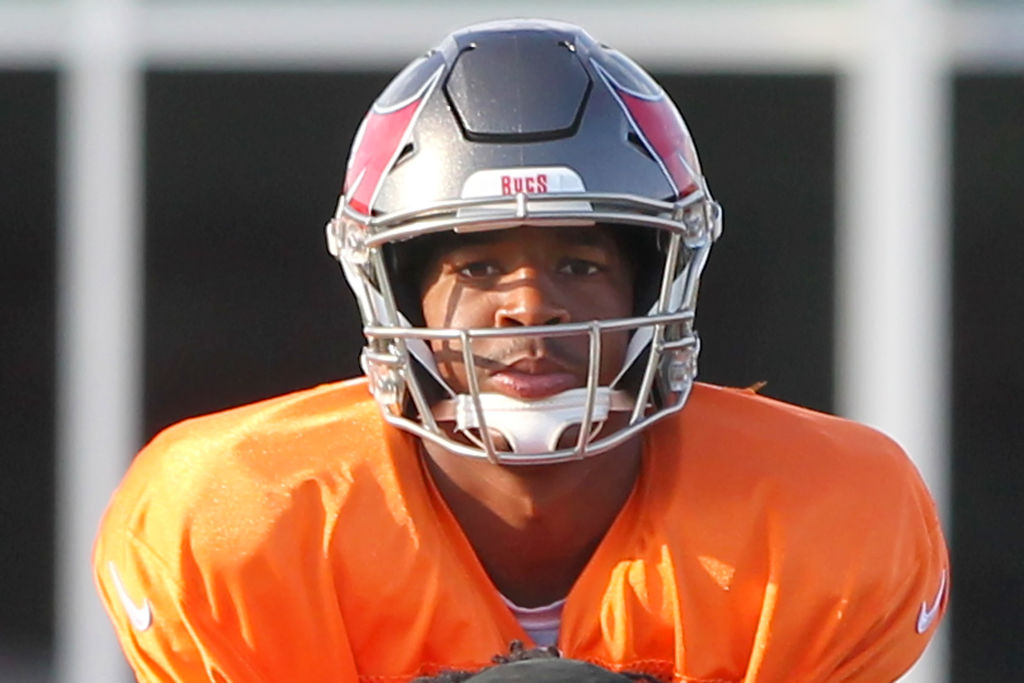 Jameis Winston Couldn't Even Read License Plates or Street Signs Before LASIK Eye Surgery
Jameis Winston's eyesight might have been worse than we thought. Winston recently said he can now read signs he couldn't read before.
New Saints' quarterback Jameis Winston made a shocking revelation Wednesday about his eyesight. Winston recently underwent LASIK eye surgery, and he says the improvement is already noticeable. Before the surgery, Winston said he could barely read license plates and street signs. Now, he reads them perfectly. Maybe that explains his NFL-leading 30 interceptions last season.
Jameis Winston says he can now read license plates and street signs
On Wednesday, Winston hopped on a Zoom media session with Saints reporters. He talked about his expectations with the Saints, how he's spending his time during the pandemic, and his recent LASIK eye surgery.
Winston said the procedure is already showing significant improvements for his vision.
"No blurriness and I think that's huge," Winston said. "Depth perception has increased. Those are the big things. I didn't have bad eyes, I just had astigmatism. I had certain things that they had to fix to increase the precision and sharpness of my vision. That's the biggest thing."
Winston went on to say he couldn't make out mundane objects like license plate numbers or street signs before the surgery. It makes you wonder why he was able to drive a car in the first place. And if Winston couldn't even read a stop sign, how could he see an inside linebacker dropping back into a zone?
Winston threw an NFL-high 30 interceptions last season
If you take interceptions out of the equation, Winston had a fantastic statistical season for the Buccaneers in 2019. He led the entire NFL in passing yards with 5,109, and he threw 33 touchdowns.
However, it's impossible to ignore the turnovers. Winston threw a league-high 30 interceptions. He's the only quarterback in NFL history to throw 30 touchdowns and 30 interceptions in the same season.
He also threw seven pick-sixes in 2019, another NFL record. Oh, and he fumbled 12 times too.
The most incredible part about Winston is not the turnovers themselves. It's the hilarious, almost folly-like style they all have in common. You could sync up Winston's interceptions from last season with clown circus music, and it would fit seamlessly.
Many of his interceptions make you wonder what he's even looking at on the field. Well, maybe he wasn't actually looking at anything because he couldn't even see.
Can LASIK eye surgery save Jameis Winston's career?
It'll be fascinating to see whether or not Winston's decision making improves after LASIK eye surgery. Sadly, we probably won't find out this season.
Winston recently signed a one-year deal with the New Orleans Saints. After serving as the starter in Tampa Bay for his first five seasons in the league, Winston will have to assume the role of backup in 2020. Drew Brees can still play at an elite level, but there's a chance he gets hurt and opens the door for Winston next season.
Brees injured his right thumb just last season and missed five games, and Teddy Bridgewater filled in well for the future Hall of Famer. Winston has to be ready to do the same in 2020. It will be a tough transition for a QB who's always been the best on his team.
Fans are just hoping they get to see Winston in action in some capacity this season. Will his LASIK eye surgery really lead to better play on the field? Will his sharper vision cut down his turnovers?
We might not even learn the answer this year, but Winston deserves to be a starting quarterback in the NFL again soon. With his improved vision, he could become a franchise QB again.