Jameis Winston's Former Teammate Finally Comes Clean About His Infamous 'Eat a W' Speech: 'It Was Weird, Man'
Most of you have probably seen the odd pregame speech that Jameis Winston gave to the Tampa Bay Buccaneers in 2017. He asked if they were ready to "eat a W." The moment ultimately went viral and has since become one of the most memorable speeches in NFL history. Now, Winston's former teammate finally has something to say about it. That former teammate is linebacker Lavonte David.
Jameis Winston encouraged his teammates to 'eat a W'
RELATED: Drew Brees Has Taken on a New Extreme Sport Since Retiring From the NFL, Says It Has Been 'a Crazy Experience'
The Tampa Bay Buccaneers were not a good team in 2017. They ultimately went 5-11, and quarterback Jameis Winston had an up-and-down year, throwing for 3,504 yards, 19 touchdowns, and 11 interceptions in 13 games.
However, during a Week 9 matchup against the New Orleans Saints, Winston tried using an interesting speech to pump up his teammates.
In a video courtesy of FOX Sports, Winston formed his fingers into the shape of a "W," put them in his mouth, and said: "I want everybody to look at me. … That's a W. Let's eat one. Let's eat one; that's a W. How many people wanna eat a W tonight?"
As expected, the speech didn't do its job. 
The Saints beat the Buccaneers 30-10, and New Orleans even led 30-3 heading into the fourth quarter.
His former Buccaneers teammate discussed the infamous speech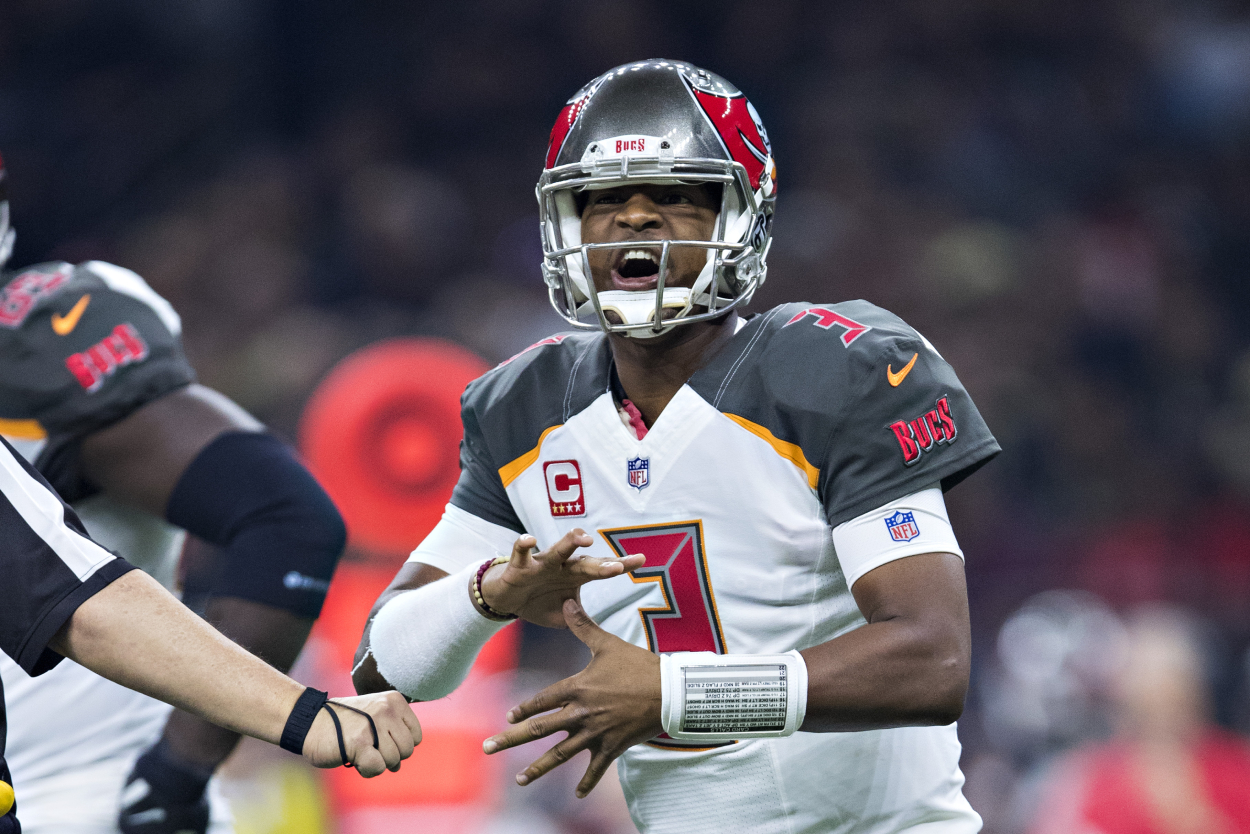 RELATED: Drew Brees Makes Stunning Admission About Playing With 11 Broken Ribs: 'I'm Having Trouble Breathing'
Lavonte David is now a Super Bowl champion, but he played with Jameis Winston from 2015 through 2019. This led to him being there for Winston's infamous "eat a W" speech.
"I was right in the heart of it," David said to The Undefeated. "My boy Jameis, he's a very, very, very energetic, animated guy. That was just something that he thought up off the top of his head. And he came out with it and it was weird, man. It was weird, honestly. He knows it was weird. Everybody wasn't really thrilled with it for a hype-up speech, but unfortunately, that's going to follow my guy Jameis for his whole career."
He continued: "He meant well by it. But that particular thing didn't go over well with the rest of the team, and the outcome of that game kind of proved it. It definitely was something that kind of caught me off guard. I was kind of like, 'What?' It is what it is, though. We all love Jameis. He meant well. He's a great competitor, but unfortunately, that's going to follow him for a long time."
David was right about one thing; it was definitely "weird."
However, while that speech has followed Winston ever since, he now has a chance to make a name for himself outside of it in 2021.
Jameis Winston now looks to 'eat' Ws on the New Orleans Saints
RELATED: Tom Brady Just Gave Tampa Bay Buccaneers Fans a Promising Update Ahead of the 2021 NFL Season
Jameis Winston has made one thing clear in his career: he has talent. After winning the Heisman Trophy at Florida State in college, he then went No. 1 overall in the 2015 NFL draft.
Through his first five NFL seasons, Winston threw for 4,000 yards or more in every year he played over 13 games. Additionally, in 2019, he even led the NFL in passing yards with 5,109 to go with 33 touchdowns.
However, interceptions have always been an issue, as Winston led the NFL with 30 in 2019 and has thrown 88 picks in 76 career games. Those frequent interceptions were partially why the Buccaneers moved on from him and then signed Tom Brady in 2020, which, in turn, led to Winston joining the Saints.
The former Seminole only threw 11 total passes for New Orleans last season, but now, with Drew Brees retired, he has a chance become a starting QB yet again.
"I went from being the No. 1 draft pick to everybody laughing at me. But guess what? I'm about that business," Winston recently said at a youth football camp, according to CBS Sports. "I'm outworking everyone at my position. … I'm doing things every single day committing to the dream."
It'll be interesting to see if Winston can become an NFL starter again. If he does, the Saints have a good enough team to give him plenty of Ws to eat.
Stats courtesy of Pro Football Reference