Jameis Winston Gushes About Undrafted Receiver Who Is Making Saints Fans Forget About Michael Thomas
New Orleans Saints quarterback Jameis Winston is still in the midst of a heated competition with Tayson Hill for the starting job. He's getting an enormous boost from undrafted wide receiver Marquez Callaway, who is doing his best to make Saints fans forget about the Michael Thomas drama and might be helping Winston get the upper hand in the QB competition.
Callaway is having a whale of a preseason. He's also earning significant praise from Winston, who seems to understand how important the undrafted wideout has been to his chances of winning the starting job.
The Saints still have yet to choose between Jameis Winston and Taysom Hill
Saints head coach Sean Payton was asked before Monday's preseason game when the team would choose a starting quarterback. According to Payton, the decision could come down to the wire.
New Orleans' quarterback competition is the result of Drew Brees' retirement. Brees quarterbacked the Saints for 15 seasons but officially announced he was hanging it up earlier this year.
The Saints moved quickly to give themselves options. They signed Taysom Hill to a new extension that included voidable years and gave the team more cap space. New Orleans also brought back Jameis Winston on a one-year deal after the No. 1 overall pick impressed in a backup role last season.
Hill made four starts at quarterback in place of Brees last season when the latter was suffering from broken ribs and other injuries. He completed over 72% of his pass attempts but threw just four touchdowns and posted a 58.8 total quarterback rating (QBR).
Winston hasn't made a start since 2019 and threw 12 passes in total in 2020 between the regular season and playoffs. The 27-year-old probably has a higher upside than Hill in arm talent and past starting experience. However, his turnover-happy style is potentially worrisome for a Saints team that routinely took care of the ball with Brees under center.
Payton might be having a hard time making up his mind, but the connection between Winston and a budding star is making waves in New Orleans.
Winston applauds Marquez Callaway for embracing the opportunity in Michael Thomas' absence
Saints wide receiver Michael Thomas is one of the best players at his position. He's also caused a whole lot of drama in the past year.
Thomas missed time with injury last season and has been sidelined this preseason due to a bad ankle after deliberately undergoing surgery later than anticipated. He previously hinted at a desire to be traded, though those demands have seemingly been squashed. Regardless, Thomas' absence is a notable storyline of this Saints preseason.
Marquez Callaway could care less.
The 23-year-old is getting more playing time with Thomas and Tre'Quan Smith nursing injuries. He has made the most of that time, with eight catches for 165 yards in the first two preseason games. Winston is taking notice of Callaway's play and gushed about the undrafted wideout after Monday's game against the Jacksonville Jaguars.
"I think [Marquez Callaway]'s just an incredible football player," Winston said, via Pro Football Talk. "I mean, the guy was undrafted, right? Who missed out on that guy? I'm happy that we were able to get him. It speaks volumes of our organization and how they see talent. The thing about him, man, it's like when he's out there, it's like we're playing little league football. He loves it so much; he has no fear in his heart. He has elite energy. He's out there playing football."
Callaway was especially impressive on Monday night. He and Winston hooked up on a spectacular 43-yard touchdown, with Winston placing the ball right in the breadbasket and Callaway fighting off pass interference. That came shortly before Callaway scored his second touchdown with a one-handed grab later in the first quarter.
The Saints have apparently found their diamond in the rough in Marquez Callaway, whose outstanding performance on Monday might have handed Jameis Winston the starting job over Taysom Hill.
New Orleans might have its starting quarterback and next star receiver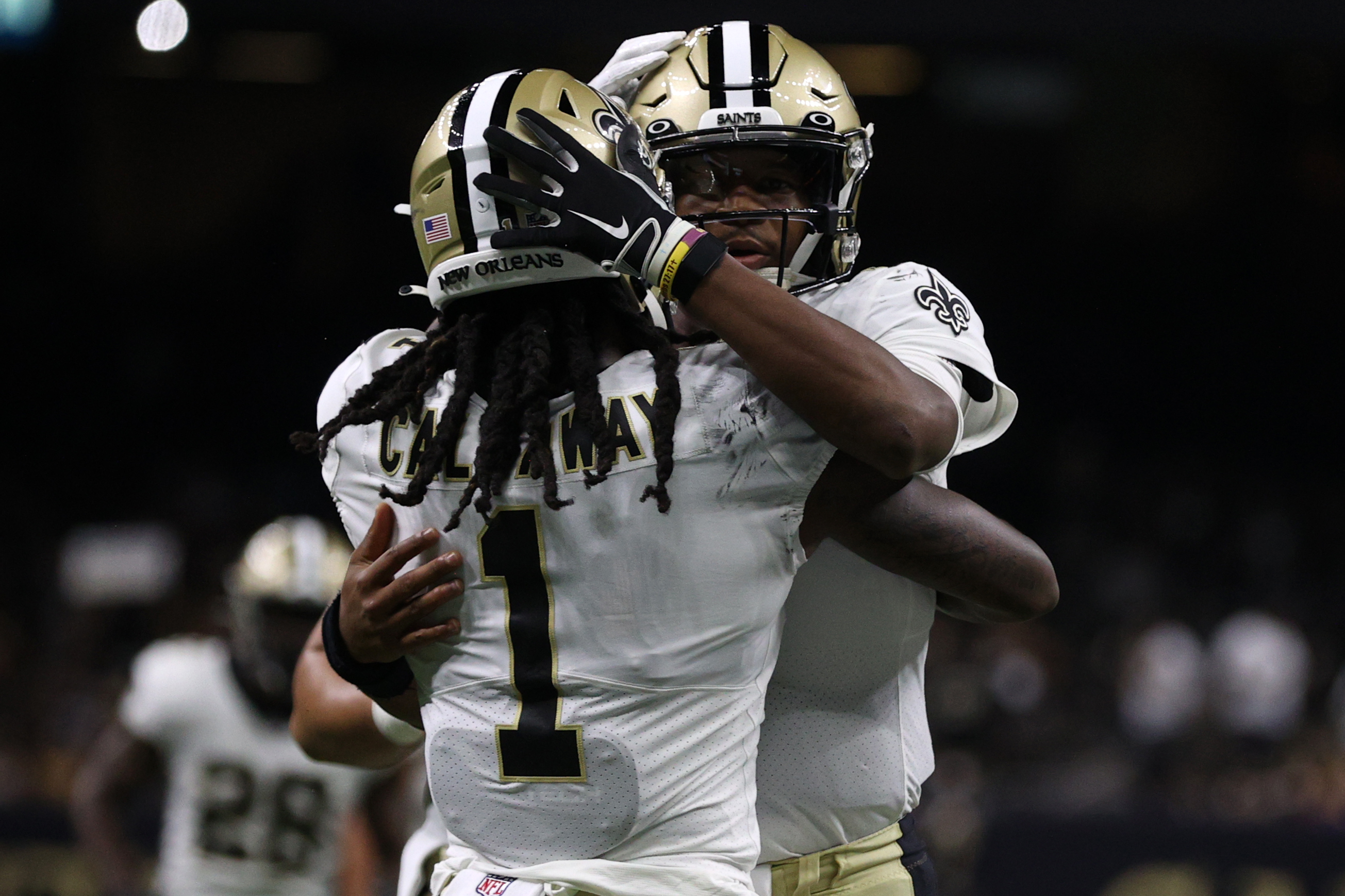 Sean Payton will have a hard time denying Jameis Winston the starting job after Monday night's performance.
Winston and Taysom Hill essentially came into Monday's game on mostly level terms. Winston promptly came out and went 9-for-10 with 157 yards and a pair of scores. Hill completed 11 of 20 attempts for 138 yards and a touchdown, but the explosiveness Winston brought and the quality of his throws were separators.
The connection between Winston and Callaway might also be an incentive for Payton to name the former No. 1 overall pick as his starter. Michael Thomas will miss time in the regular season, so the Saints need a guy capable of stretching the defense and making plays. Callaway fits the billing.
Winston could be closing in on the starting quarterback job, thanks in part to Callaway's emergence as a legitimate receiving weapon.
Stats courtesy of Pro Football Reference and NFL.com.
RELATED: Sean Payton and the Saints Face an Impossible Decision