Jameis Winston Hasn't Started 1 Actual Game Since 2019 but Just Oddly Garnered Comparisons to Peyton Manning by a Former NFL Veteran
It's not official, but Jameis Winston recently made a strong case for the New Orleans Saints' starting quarterback job with a big performance in a preseason game against the Jacksonville Jaguars. If he wins the QB competition over Taysom Hill, it could be a step in the right direction for him to reignite his career.
However, although it was just a nice performance in the preseason, Winston recently garnered a comparison to the one and only Peyton Manning.
Yes, really.
As you can expect, it was probably a bit of a stretch.
Jameis Winston performed well in a preseason game for the Saints
Winston has had an up-and-down NFL career, to say the least.
He had an incredible college tenure, winning a national championship and a Heisman Trophy at Florida State. He then went to the Tampa Bay Buccaneers with the No. 1 overall pick in the 2015 NFL Draft.
With the Bucs, Winston proved he could air it out; it just came at a cost.
He threw for over 4,000 yards in each of his first two seasons but also tossed 15 interceptions as a rookie and 18 in 2016. He then missed eight total games between 2017 and 2018 before having quite the year with the Buccaneers in 2019. Winston led the NFL in passing yards with 5,109 and threw for a career-high 33 touchdowns, but he also threw for an NFL-leading 30 interceptions to become the first player in history to enter the 30 touchdown-30 interception club.
That next offseason, Tom Brady signed with the Buccaneers, and Winston joined the Saints to back up Drew Brees. He only threw 11 passes in all of 2020 and didn't start a single game for New Orleans, but with Brees now retired, he is currently in a QB battle with Taysom Hill.
In the Saints' preseason game on Aug. 23, Winston played well, throwing for 123 yards and two touchdowns on 9-of-10 passing. Hill, on the other hand, went 11-of-20 through the air for 138 yards and one touchdown. The Jags' defense also sacked Hill twice while not getting to Winston once.
The performance likely secured the starting spot for Winston and, apparently, put him on path to becoming the next Peyton Manning.
The Saints QB received a comparison to Peyton Manning
Following Winston's preseason performance, former 10-year wide receiver Harry Douglas, who gained 1,067 receiving yards for the Atlanta Falcons in 2013, appeared on ESPN's First Take.
He then made some interesting comments about Winston.
"You wanna know who else didn't start their career off very well? Peyton Manning," Douglas said on the Aug. 24 episode.
The former pass-catcher then compared the two quarterbacks' stats through their first five years (Manning had 20,618 yards, 138 touchdowns, 100 interceptions, and a 62.1% completion percentage, while Winston had 19,737 yards, 121 touchdowns, 88 interceptions, and a 61.3% completion percentage). But Douglas wasn't done.
"Sometimes you go through adversity. It's how you come back from it. Jameis Winston went through adversity; he sat behind Drew Brees," he said.
Douglas then added: "How do you know what Jameis Winston's going to be down the line? You didn't know Peyton Manning was going to be that after he started so terribly."
Well, OK, comparing Winston and Manning is quite the stretch. Many of you probably never thought we would have to do this, but it's now time to explain why Winston is not Manning.
Jameis Winston is far from Peyton Manning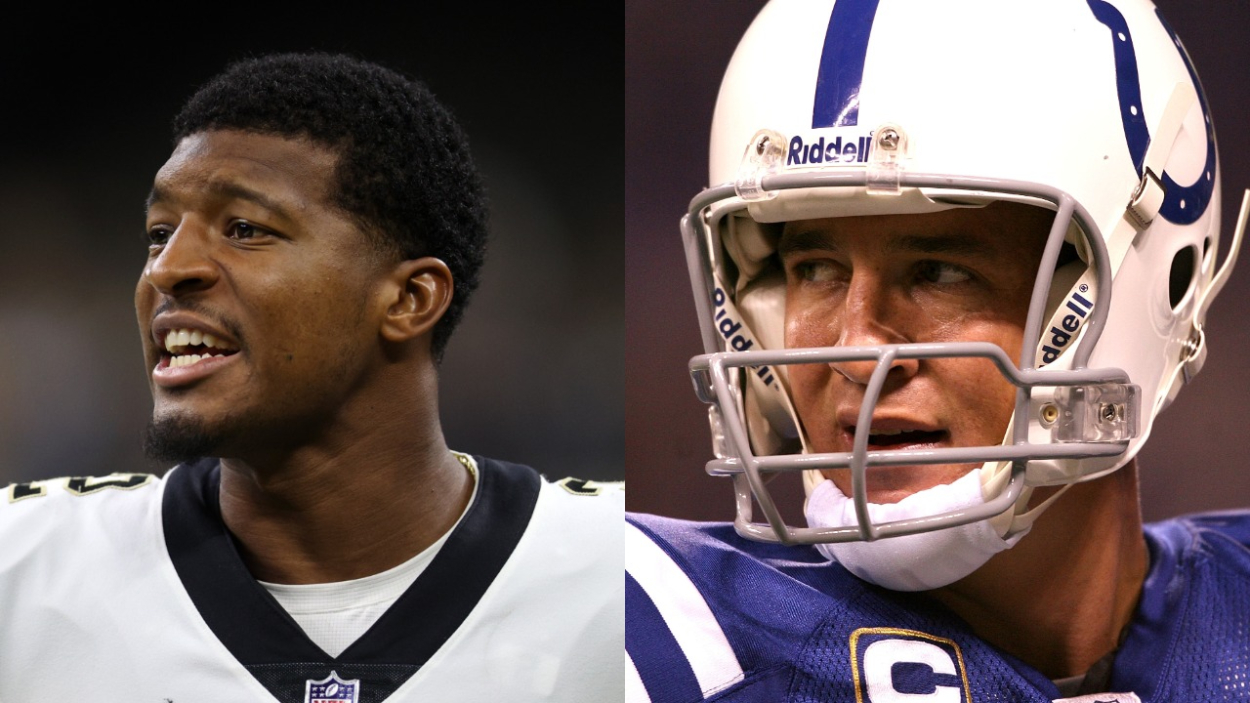 Sure, Douglas brought up those numbers to make a decent argument. But what he failed to bring up is that Manning and Winston played in two totally different eras.
Quarterbacks are set up to succeed more quickly now than they were at the beginning of Manning's career. Just look at what Dak Prescott, Kyler Murray, and Justin Herbert did as rookies and remember that none of the guys below were their team's starters in their first seasons.
Brett Favre
Tom Brady
Aaron Rodgers
Drew Brees
Joe Montana (started only one game)
Philip Rivers
Douglas also didn't look at how Manning's completion percentage was No. 4 in the league in his fifth season at 66.3%. The former Colts QB had also earned three Pro Bowl selections by that time and had led his team to the playoffs three times. Winston, on the other hand, had the most interceptions of his career in his fifth year, ranked 28th in completion percentage (60.7%), and hadn't made the playoffs once as a one-time Pro Bowler.
So, in other words, Manning was winning and improving while Winston was doing neither of those things.
It's also just pretty outrageous to compare Winston to a Hall of Fame QB and one of the greatest quarterbacks to ever live after just one preseason game — and against the Jaguars. Let's see how he performs in a regular-season contest against the Tampa Bay Buccaneers. That's when the pressure will really be on.
Sure, many of us would love to see Winston have a bounce-back year in 2021. But let's pump the brakes on comparing him to an NFL legend. He still needs to win his team's starting job first.
Stats courtesy of Pro Football Reference and ESPN
RELATED: Jameis Winston Gushes About Undrafted Receiver Who Is Making Saints Fans Forget About Michael Thomas