How Jameis Winston Being Named the Starting Quarterback for the New Orleans Saints Will Impact the Fantasy Outlooks of Alvin Kamara and Michael Thomas
Drew Brees' shoes will be tough to fill, but Jameis Winston will be the first to try them on.
The first overall pick in the 2015 NFL Draft has officially been named the New Orleans Saints' starting quarterback by head coach Sean Payton. Winston spent the entire 2020 season on the bench in New Orleans after starting his first five years with the Tampa Bay Buccaneers.
A strong performance in New Orleans' second preseason game helped Winston earn the job. Jameis completed nine of 10 passes for 123 yards and two touchdowns in the Saints' 23-21 win over the Jacksonville Jaguars.
While there are many real-life implications from Winston starting, there are also fantasy implications. Especially for two of the best skill position players in football, Alvin Kamara and Michael Thomas.
Jameis Winston helped turn Chris Godwin and Mike Evans into fantasy studs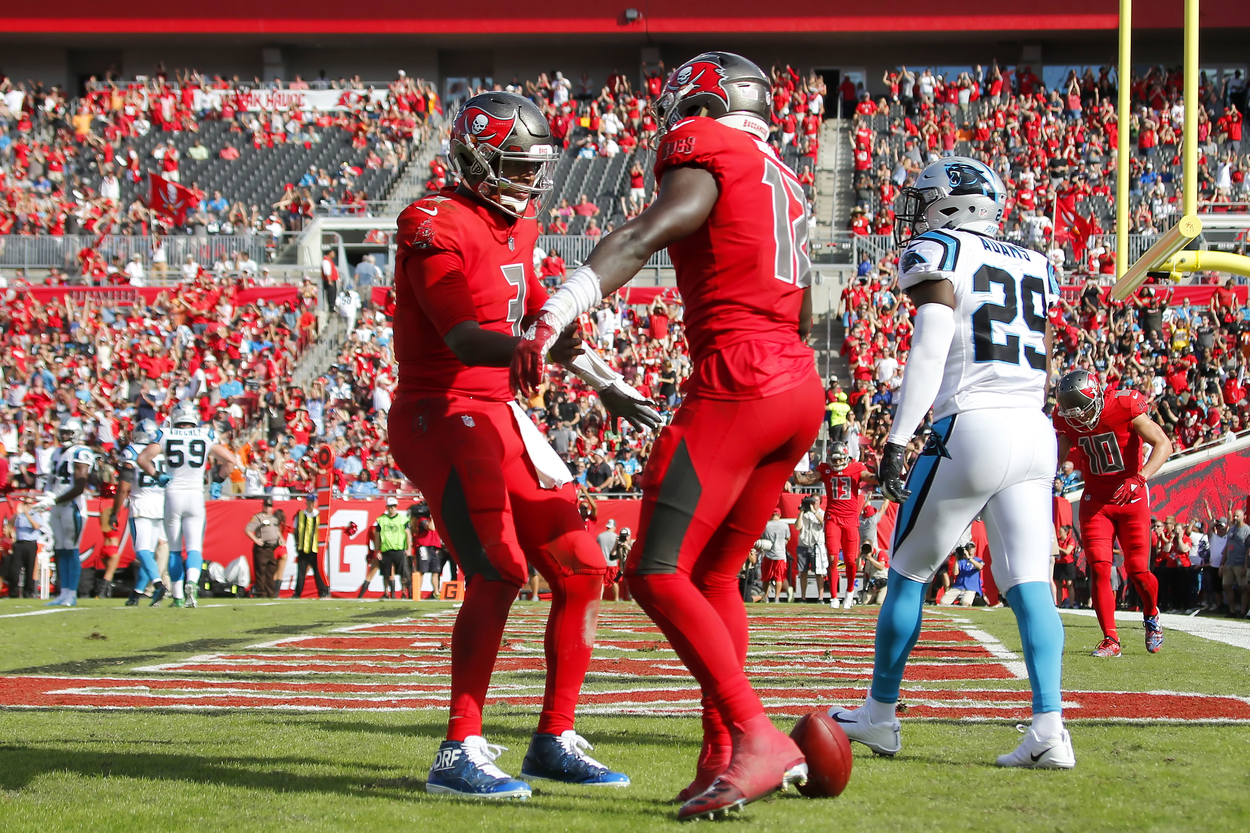 Winston's 2019 campaign — his last as a starter — was known for leading the league in several categories, both good and bad.
On the positive side, Jameis led the NFL with over 5,100 passing yards, close to 320 per game. He also threw for 33 touchdowns and led the league in attempts. But with the high volume of passes came lots of interceptions, a league-high 30 to be exact.
But while Jameis' turnovers hurt his overall fantasy value as well as Tampa Bay's record, both Evans and Godwin greatly benefited.
Godwin, in particular, was great; his 276.1 points in point-per-reception (PPR) leagues in 2019 were second among all wide receivers behind Michael Thomas. Evans wasn't as dominant as Godwin but still managed to reel in eight touchdowns and over 1,000 yards as Winston's primary red-zone target.
Alvin Kamara's value increases with Winston at QB, while Thomas is 'wait and see'
Payton starting Winston over Taysom Hill shows the Saints' commitment to passing the football.
With Brees and Hill starting all 16 games, New Orleans averaged just under 235 passing yards per game, 19th in the NFL. The biggest difference was in passes that traveled 20-plus yards, where the Saints' 29 were the fewest of any team since 2014, according to ESPN Stats & Information.
Now with Winston under center, New Orleans should enter 2021 with a more vertical passing attack, much to the delight of Kamara and Thomas.
Despite being a running back by trade, Kamara is the Saints' primary pass-catcher. With the combination of Brees, Hill, and Teddy Bridgewater at QB, the 26-year-old has averaged 81.5 receptions and 706 yards per season. Payton won't deviate from his game plan too much, as Winston now has a security blanket in Kamara to throw to if his downfield options are scarce.
Thomas' projection is a little trickier. The three-time Pro Bowler underwent surgery in June to repair ligaments in his ankle, which will sideline him several weeks into the regular season.
The 28-year-old wide receiver has led the league in receptions twice and receiving yards once, but production dipped last year due to his injuries and the struggles at quarterback. Winston starting should help Thomas put up greater receiving numbers again, but it's hard to know exactly when he will be back on the field.
Winston starting might open the door for a second-year player to break out
While Kamara and Thomas are the Saints' two biggest names in fantasy, look out for Marquez Callaway.
Callaway, an undrafted free agent in 2020 out of Tennessee, didn't make a ton of impact in his rookie year. The 23-year-old appeared in 11 games, starting three of them, reeling in 213 yards on 21 catches.
But if preseason performance is to be believed, Callaway and Winston are forming a strong connection. The second-year receiver snagged both of Winston's touchdown passes in the Saints' preseason win over the Jaguars, the first going for 43 yards and the second 29.
As New Orleans aims to make the passing attack more dynamic, Callaway could benefit the most from the new quarterback in charge. That also makes Callaway a legitimate target for the later rounds of fantasy drafts.
All statistics courtesy of Pro Football Reference.