Jameis Winston Suspended for First Half vs. Clemson: Will It Matter?
No. 1 Florida State has suspended Heisman Trophy-winning quarterback Jameis Winston for the first half of Saturday's nationally televised prime-time home game vs. No. 22 Clemson after Winston made lewd and vulgar comments in FSU's student union this week.
The school released a statement that read, in part:
"As the university's most visible ambassadors, student-athletes at Florida State are expected to uphold at all times high standards of integrity and behavior that reflect well upon themselves, their families, coaches, teammates, the Department of Athletics, and Florida State University. Student-athletes are expected to act in a way that reflects dignity and respect for others."
"You can't make statements that are derogatory or inflammatory to any person, race, or gender," Florida State coach Jimbo Fisher said on a teleconference Wednesday. "You have to be very intelligent about what you say — it matters."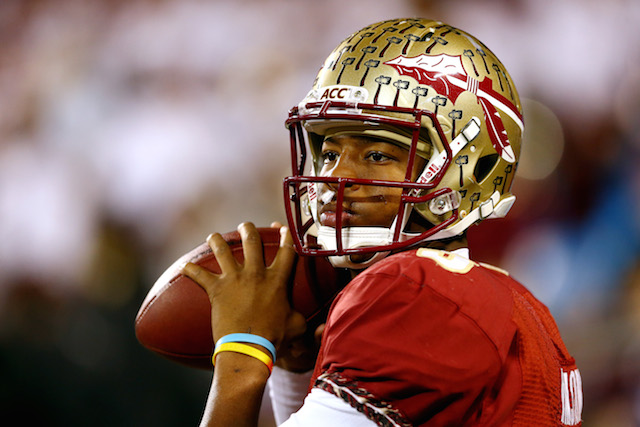 According to multiple tweets, Winston got up on a table Tuesday and yelled a crude and offensive phrase that has been made popular through a recent Internet meme. The suspension is the first in football for Winston, but just the latest in a string of off-field stories that have surrounded the sophomore quarterback. Winston was accused of an alleged sexual assault in 2012, although not charged, and the Seminoles star again drew unflattering headlines in April 2014 when he was cited for shoplifting crab legs at a local grocery store. The crab legs incident resulted in a baseball suspension for the two-sport standout.
As Orlando Sentinel columnist Mike Bianchi wrote recently, "How a quarterback can make such good decisions on the field and continue to make such bad decisions off the field is unfathomable."
"I messed up. I've got to accept the fact that I did that," Winston said in a press conference Wednesday. "What I did yesterday, that was a selfish act." Still, he expressed faith in his teammates to take care of business against the No. 22 Tigers. "One person can't change no game or no outcome."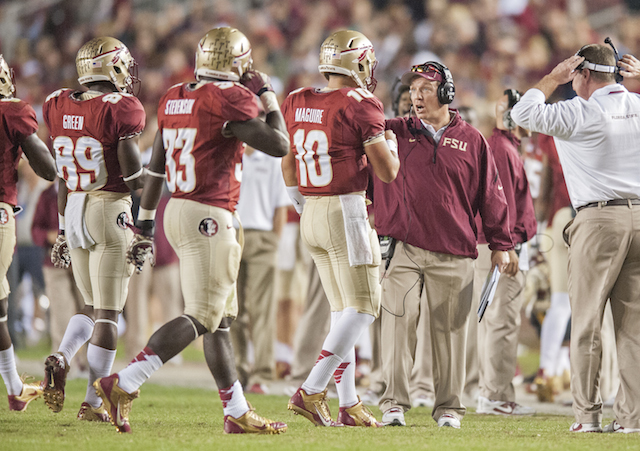 With Winston not eligible for the first half of Saturday's game vs. Clemson, Fisher's program will turn to backup quarterback Sean Maguire. Maguire has thrown a grand total of 26 passes in his college career, including two touchdowns a year ago. The big stage of a Top-25 battle is not the ideal time for the defending national champs to give an inexperienced quarterback his first career start, but Winston believes his backup will be fine under the lights Saturday night.
"He's been working his tail off," Winston said of Maguire. "I respect Sean, the team around him respects Sean, and Sean's going to do a great job … Sean is a great quarterback, and that's why Coach Fisher recruited him. I guarantee you, Sean is hungry … he's going to take advantage of his opportunity."
The Seminoles enter Saturday's game vs. Clemson as prohibitive favorites, as FSU hasn't lost a football game since November 2012 and dominated the Tigers 51-14 a year ago in Death Valley when both squads were ranked among the nation's top five teams. Still, Winston's two-quarter absence this weekend gives Clemson a fighting chance, and the way the first half unfolds will be critical to the outcome. If the 'Noles can control the ball and establish the run early, Maguire will be able to relax and hand off the baton at halftime in good shape. But if Winston takes the field after intermission to a deficit, perhaps even a large one, the defending national champions' College Football Playoff title hopes could ride on an all-important 30-minute span in September — and a quarterback who's made more news off the field than on it so far in 2014.