James Conner and the 5 Best Free-Agent Steals of the 2021 NFL Offseason
The NFL regular season is reaching the final stretch as the playoff picture begins to take shape slowly but surely. The Arizona Cardinals' loss against the Los Angeles Rams on Monday night could have some massive implications by the time the season ends, and James Conner's revelation has been quite the story all season long.
As the season draws closer to the playoffs, it is time to take a step back and examine five of the biggest free-agent steals from the 2021 offseason, with quite a few surprising names who ended up earning themselves a big payday when 2022 rolls around. These five players signed cheap deals and have been worth every penny in the 2021 season.
5) RB Mark Ingram, New Orleans Saints: one-year, $2.5 million
The Houston Texans signed Mark Ingram in the offseason to a cheap deal. The confusing part was that David Johnson, Phillip Lindsay, and Rex Burkhead completed the running back room.
But, Ingram jumped out and became one of the main options on offense in a rebuilding season. He played seven games for the Texans, totaling 294 yards and a score on the ground and is still the team's leading rusher. The fact that Ingram hasn't played for the Texans in over a month — yet still leads them in touches and rushing yards — is fascinating.
Houston traded him to the New Orleans Saints and he then started a game when Alvin Kamara missed time. In five games in his return to New Orleans, Ingram has rushed for 233 yards and a score while adding 130 yards on 18 catches.
The duo of Kamara-Ingram is back in the Bayou, and while the Texans only had him for a short stint, $2.5 million for Ingram is a steal, especially for a guy who gives the Saints a quality backup running back.
4) RB Leonard Fournette, Tampa Bay Buccaneers: one-year, $3.25 million
Remember when the Jacksonville Jaguars decided to move on from him? That certainly looks even worse now.
Fournette joined the Tampa Bay Buccaneers and has done wonders in Florida. Of course, it helps that the roster around him is loaded, but Fournette has bounced back in a big way.
Fournette has rushed for 778 yards and eight scores on the year, and he is well on pace to set a career-high in rushing touchdowns. He has also become a receiving threat, catching 62 balls for 421 yards and two scores.
At a small price of less than $4 million, Fournette has been everything the Buccaneers hoped for — and more.
3) OLB De'Vondre Campbell, Green Bay Packers: one-year, $2 million
Any time Aaron Rodgers sings your praise, you know things are going well. Campbell joined the Packers in the offseason and has been marvelous. He has a career-high in solo tackles with 77 and a pair of interceptions — tied for his career-best in that category.
Campbell is in the top 10 in the NFL in total tackles, and he is generating Pro Bowl buzz, which is quite the accomplishment. Can you believe this guy signed for just $2 million?
This is just another stat that bodes well for Campbell, and he is set to receive a massive pay bump in the 2022 offseason, whether from the Packers or another NFL team in need of a solid starting linebacker.
2) RB/WR Cordarrelle Patterson: one-year, $3 million
The Atlanta Falcons new gadget player has been one of the biggest marvels of the season. Patterson joined the Falcons in the offseason, making it his fifth team in six seasons.
Widely regarded as a glorified punt/kick returner, Patterson has become Arthur Smith's favorite toy. He has 46 catches for 519 yards and five scores while adding 547 yards on 122 carries and another five scores.
Patterson leads the team in rushing by nearly 200 yards and is second in receiving yards behind stud rookie Kyle Pitts. Seriously, who saw Patterson's breakout coming this season? Maybe the Falcons, and even then, Patterson has been impressive, and it will be interesting to see how much money he gets during the 2022 NFL offseason.
1) RB James Conner, Arizona Cardinals: one-year, $1.75 million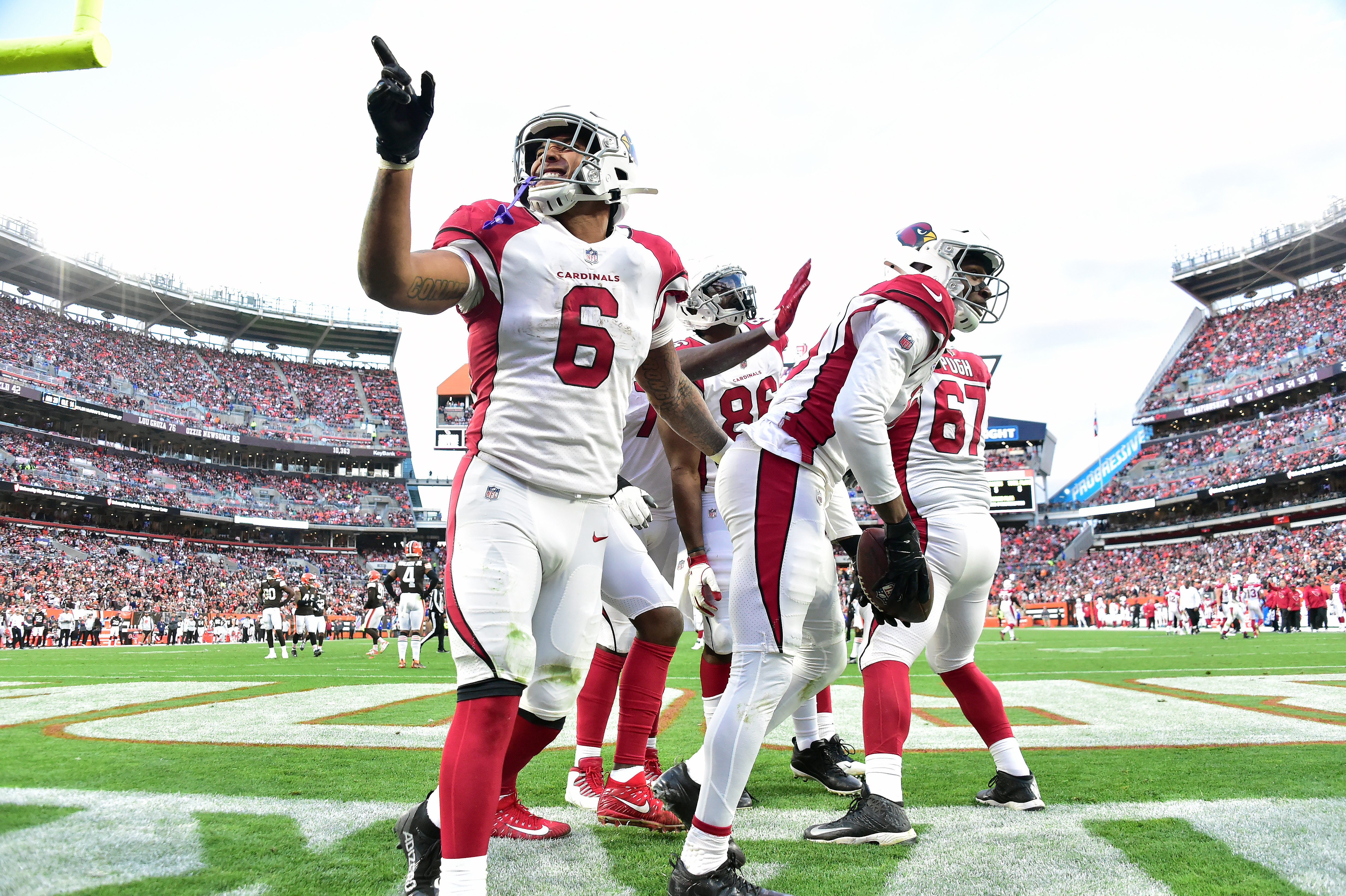 We knew this was coming.
Who else would it be? Conner bounced around for a long time before landing in Arizona on a prove-it deal — and prove it he has.
Conner has been the Cardinals' most consistent player, and that's saying something on an offense that includes Kyler Murray and DeAndre Hopkins. The former Pittsburgh Steelers running back is second in the NFL in rushing touchdowns, just two behind Jonathan Taylor's impressive mark of 16.
Conner has already surpassed his career-high for rushing scores (previously 14) and has nearly 1,000 all-purpose yards. He has five games with multiple rushing scores and is a massive reason why the Cardinals running game has worked so well.
Contract Info Courtesy of Spotrac