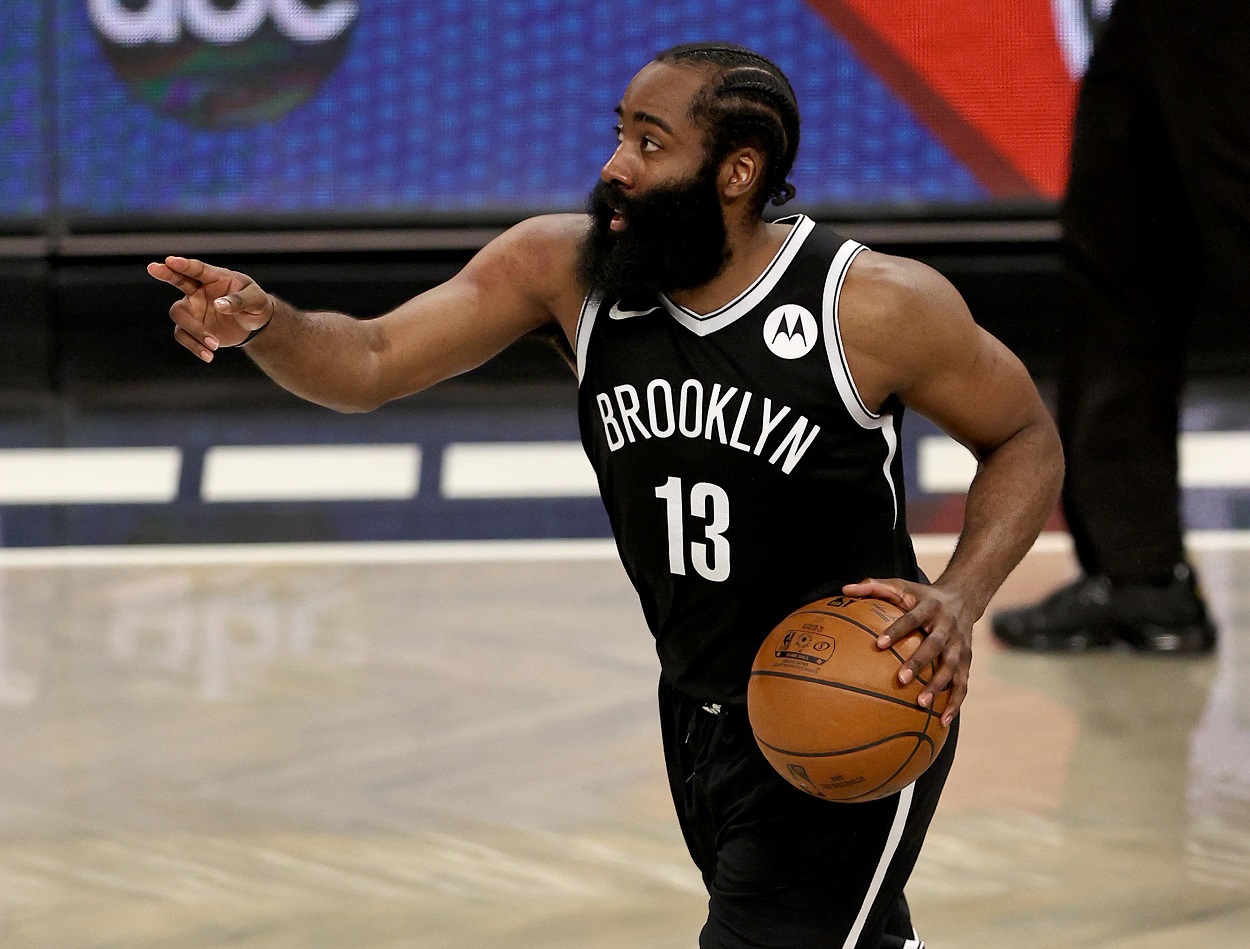 James Harden Broadens the Bullseye on the Brooklyn Nets' Back With a Bold Claim
James Harden says the Brooklyn Nets will be unbeatable if the team stays healthy.
To say the 2020-21 season was disappointing for the Brooklyn Nets might be a bit of an understatement. Easily one of the most talented teams on paper even before James Harden arrived, the Nets, who finally got Kevin Durant and Kyrie Irving on the floor together, were one of the clear favorites to win the 2021 NBA Finals. But injuries kept Brooklyn's "Big 3" from finding a true rhythm, and the Nets' season ended in the Eastern Conference semis, where they lost to Giannis Antetokounmpo and the eventual NBA champion Milwaukee Bucks.
With the 2021-22 campaign still a couple of months away, the Nets are already the favorites to win the 2022 NBA Finals as Durant, Irving, and Harden are all expected to be at full strength when they begin their first full year together. As it goes with elite teams, there will definitely be a bullseye on Brooklyn's back each and every time the team takes the floor. But that doesn't seem to bother Harden one bit, as he made that bullseye a little bigger in giving his opinion on how he views his team.
Kevin Durant, Kyrie Irving, and James Harden only played 13 games together in 2020-21
After Harden worked his way into a trade from the Rockets to the Nets in January, many believed it was a mere formality that Brooklyn would win the franchise's first NBA title. I mean, who could beat a trio of Durant, Irving, and Harden, right?
But when Harden played his first game in a Nets uniform, Irving wasn't even with the team as he was still on his leave of absence that cost him close to a million bucks. And less than a month after Kyrie came back, Durant missed close to two months after suffering a hamstring strain against the Golden State Warriors. And just as KD was set to return, Harden went down with a hamstring injury of his own and missed more than a month, returning to play two of the Nets' final three regular-season games.
So from January 16, Harden's first game with Brooklyn, to the end of the regular season on May 16, Durant, Irving, and Harden played just eight games together and went 6-2. The trio then went 4-1 in the first round of the NBA playoffs against the Boston Celtics. But Harden then played just 43 seconds in Game 1 of the Eastern Conference semifinals, where he reinjured his hamstring, and didn't return until Game 5. Irving left Game 4 with an ankle injury and missed the rest of the series.
So, in total (certainly not counting Game 1 against the Bucks), Durant, Irving, and Harden played 13 games together and went 10-3.
Harden says 'nobody can beat' the Nets at full strength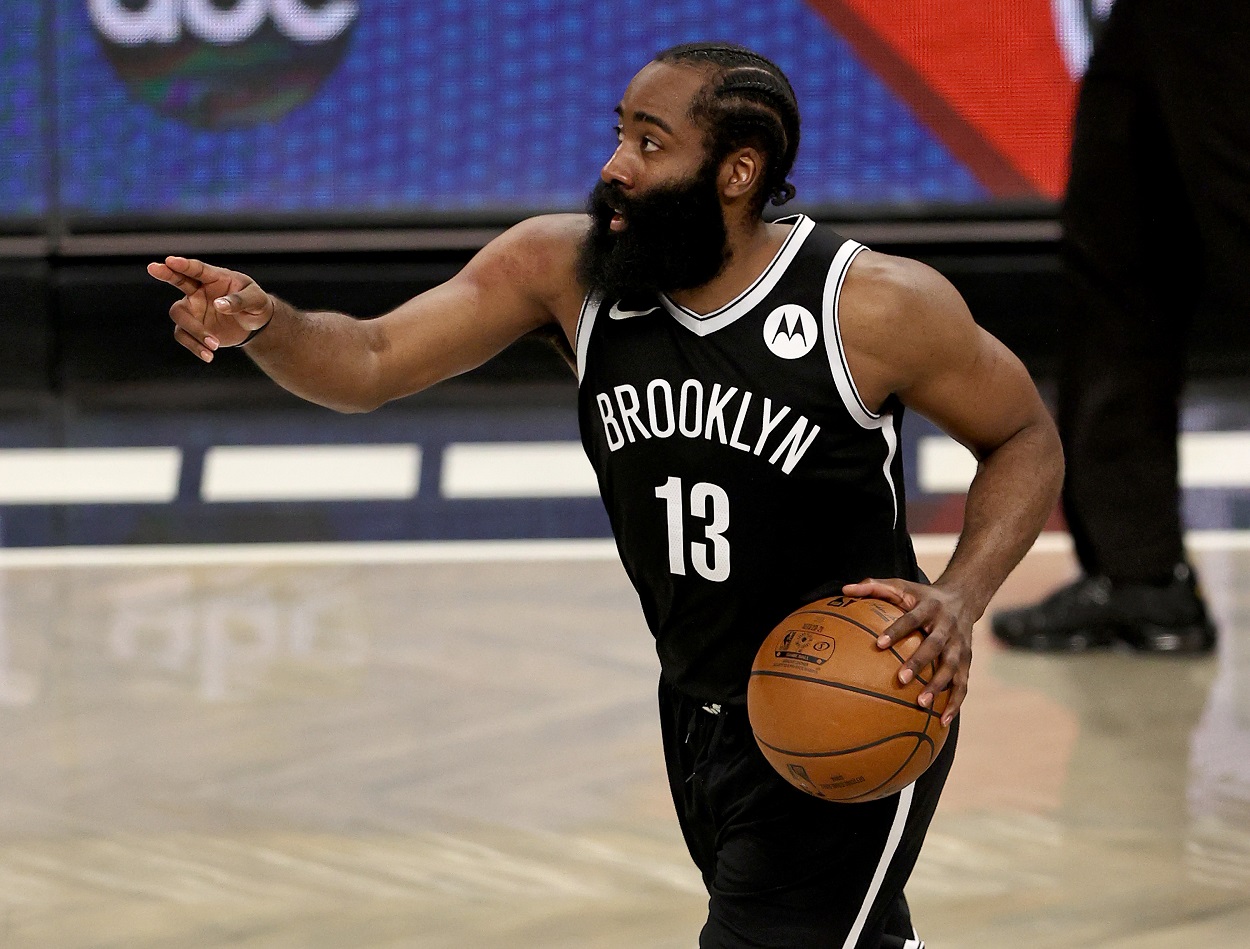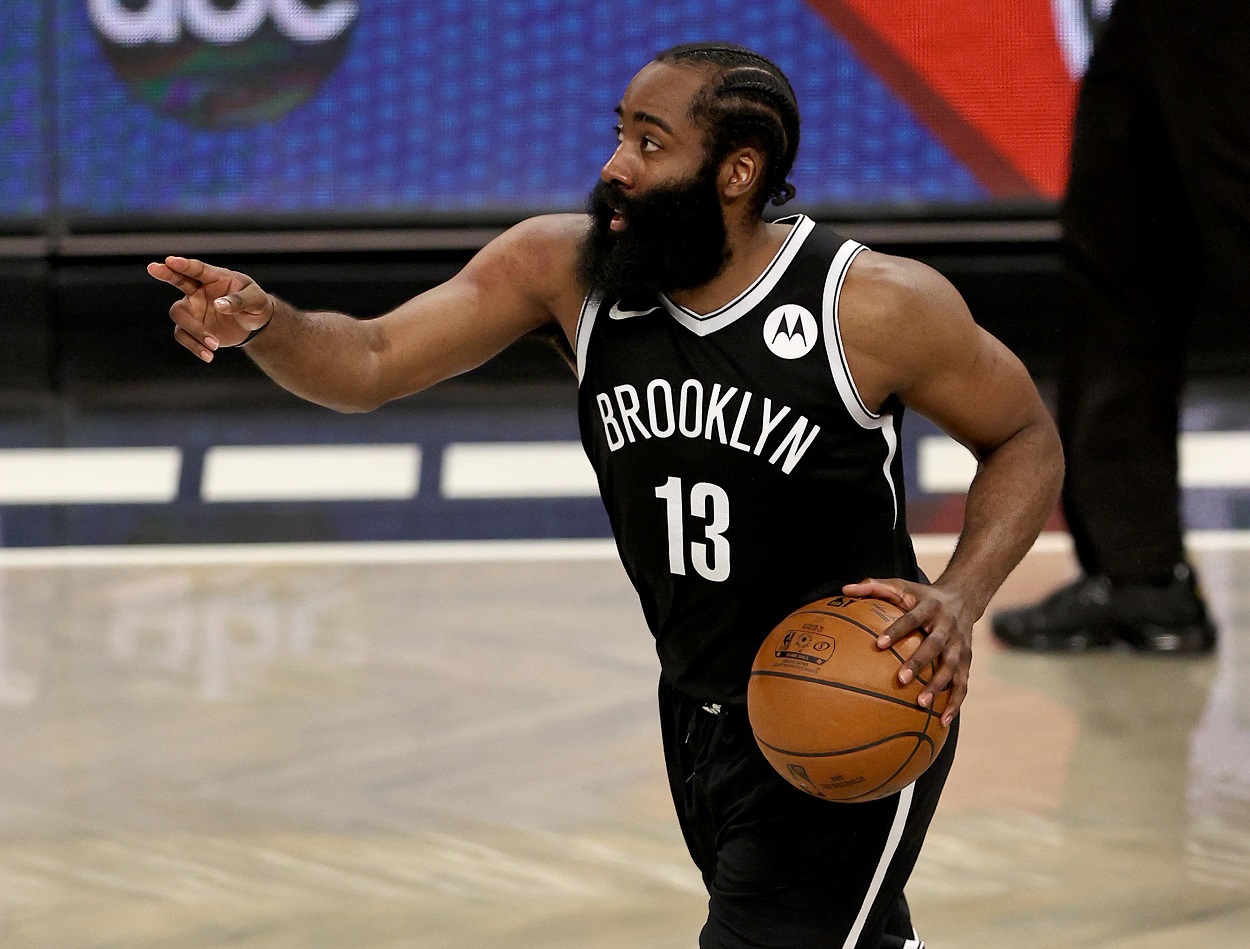 Harden recently participated in a lengthy interview with Sports Illustrated in which he spoke very highly of Durant, Irving, and Nets head coach Steve Nash, who he calls the "ultimate players' coach." He says Durant is "really good" and is "as humble as they come." It's a little funny how this interview dropped a day after KD publicly whined about not getting a 99 rating in NBA2K22, saying, "I pretty much do everything great," but we'll leave that alone.
As for Irving, Harden says he's "one of the most skilled players" he's ever seen and that playing alongside him makes his job "a lot easier." He's clearly looking forward to spending a full season with the Nets and made a bold statement to the rest of the NBA:
"At full strength, nobody can beat us. I'm just going to leave it at that."

James Harden on the Brooklyn Nets
Harden also said that there's no chip on the Nets' collective shoulder and that they simply "know what we have to do." He says his main focus this offseason has been his conditioning. When Brooklyn begins training camp in late September, he wants to be sure he's completely healed from the aforementioned hamstring injury.
The Nets will be very good but they're certainly beatable
Look, I completely understand why Harden is confident in what the Nets can do at full strength. I truly do. But "nobody can beat us" is a little much.
Yes, when healthy, Durant, Irving, and Harden are arguably the most dangerous trio in the NBA. That can't be disputed. And Brooklyn obviously has plenty of other solid players on their roster for the 2021-22 season. Adding veteran guard Patty Mills was a great move. Joe Harris is as underrated as underrated gets. Blake Griffin and DeAndre Jordan aren't the players they used to be, but both can still get the job done.
But it's not as if Durant, Irving, and Harden are the only dangerous "Big 3" in the league. Giannis Antetokounmpo, Khris Middleton, and Jrue Holiday just recently proved that. And the Bucks have some pretty solid role players themselves. What makes them even more dangerous now is they've now experienced winning an NBA title. So do you think they're just going to roll over and let the Nets run away with the East? Highly unlikely.
And what about the Miami Heat and their new "Big 3" of Jimmy Butler, Bam Adebayo, and Kyle Lowry? The Atlanta Hawks, who made a surprise run to the Eastern Conference Finals, are only going to be better. So let's not pretend the Nets will have it easy in the East.
And if they do stay healthy and make it to the NBA Finals, who will be waiting for them? Perhaps the Lakers' trio of LeBron James, Anthony Davis, and Russell Westbrook and their new supporting cast? Or a healthy Golden State Warriors team? Or Chris Paul, Devin Booker, Deandre Ayton, and the Phoenix Suns? I would say the Clippers next, but I think we all know they'll just Clipper themselves out of the running somehow.
Any of these teams just mentioned could beat Harden and the Nets, even if they're at full strength. Are the Nets talented? Absolutely. Unbeatable? Absolutely not. Now we just have to wait and see how all of this plays out.
Stats courtesy of Basketball Reference