James Harden Tells Brooklyn Nets Fans Exactly What They Wanted to Hear
Amid the Kyrie Irving drama at media day, Brooklyn Nets guard James Harden gave fans some potentially good news while speaking to the press. Harden talked about being fully recovered from last season's hamstring problems and discussed the ongoing extension talks with the club. The health news is welcome to Nets fans after Harden had the first extended injury absence of his career in 2021–22.
Harden is eligible for a supermax extension worth more than $161 million over three years. Such a contract would keep him in Brooklyn through 2025–26.
A healthy James Harden is 'scary hours' for opponents of the Brooklyn Nets
With James Harden in the lineup last season, the Brooklyn Nets were a sizzling 29–7. But a hamstring injury kept him out for 20 games after he came over from the Houston Rockets in January 2021. He aggravated the injury less than a minute into Game 1 of the Eastern Conference semifinals against the Milwaukee Bucks, and though he returned for the final three games, he was a shell of himself.
Over those final three games, Harden averaged only 14.3 points per game and shot 30.6% overall and 19.2% from 3-point range.
Per Michael Shapiro of Sports Illustrated, Harden says the hamstring trouble is in the past:
"I kind of blame myself because I'm usually prepared. Physically, mentally, last year was just draining. … I feel totally different."
After the trade, Harden put up 24.6 points, 10.9 assists, 8.5 rebounds, and 1.3 steals in 36.6 minutes per game. He shot 47.1% overall and hit 36.6% on 7.3 3-point tries a night. Playing with Irving and Kevin Durant (mostly at different times; the trio played together just eight times in the regular season), Harden's shot attempts fell to 16.6 a game, his fewest since 2013–14.
As for the financial situation, Harden feels comfortable.
Harden sees himself with the Brooklyn Nets for the long term
In July 2017, James Harden signed a four-year, $171.1 million supermax extension with the Rockets. He's entering the third year of that deal and will earn $44.3 million this year. Next season, he has a $47.4 million player option.
Opting in for the 2022–23 season of his current deal is a condition of landing a supermax extension. Because he declined a two-year max extension from the Rockets, a three-year contract is the longest he can get. A new deal would pay Harden $49.7 million in 2023–24, $53.7 million in 2024–25, and a whopping $57.7 million in the final season.
While the deal isn't done, per Billy Reinhardt of Nets Daily, Harden likes his situation:
"I've had multiple talks with (general manager Sean Marks) and (governor Joe Tsai). I don't see myself anywhere else, honestly. I want to bring a championship to the city. I'm here."
Harden has played in the NBA Finals just once, a forgettable five-game loss to the Miami Heat in 2012 when he was the sixth man for the Oklahoma City Thunder. He averaged 12.4 points per game and shot only 37.5% in the series, including a dismal 7-of-22 (31.8%) from deep.
While in Houston, he smacked into the Golden State Warriors' dynasty (both with and without Durant), and now Harden is hungry for a ring.
James Harden is rapidly climbing the leaderboards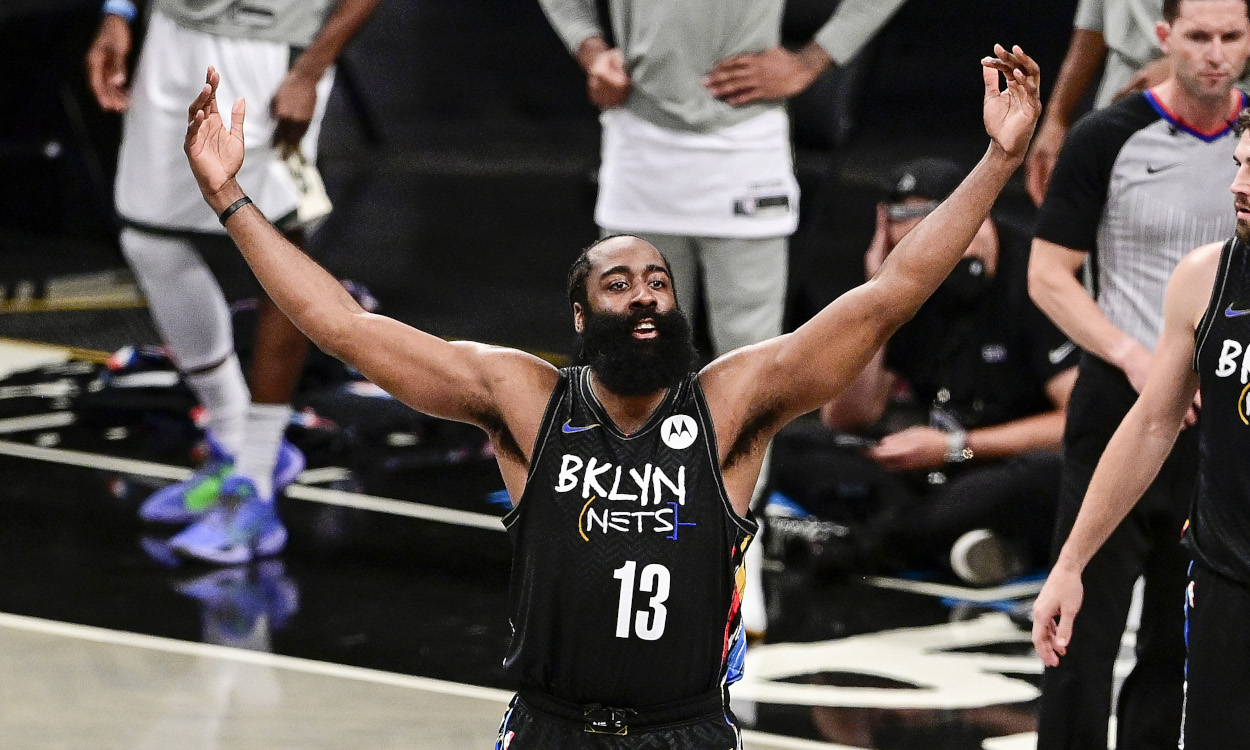 Entering his 13th NBA season, James Harden is starting to enter the high-rent district on several of the NBA's all-time lists. With 22,045 points, he's in the top 35, and he's approaching the top 40 with 5,730 career assists.
Harden is 13th all-time with 6,574 made free throws, although the NBA's crackdown on manipulated fouls could slow his pace from the line a bit. His 2,445 3-pointers put him at No. 5 in NBA history. He trails fourth-place Kyle Korver by just five bombs and is 115 behind third-place Reggie Miller.
With a Sixth Man of the Year Award in 2011–12 to go with his NBA MVP trophy from 2017–18, Harden is one of only two players to win both. Hall of Famer Bill Walton did it in the opposite order, collecting the MVP in 1977–78 and earning 6MOY honors in 1985–86.
Even with the officiating crackdown, James Harden is an exceptional scorer. Teaming him with Durant and Irving (although it may only be part-time) gives opposing defenses massive headaches. And it sounds like he plans on an extended run with the Brooklyn Nets, which must be music to the fans' ears.
Statistics courtesy of Basketball Reference. Contract information courtesy of Spotrac.
RELATED: Kendrick Perkins Wildly Suggests That the Allure of South Beach Got the Best of James Harden During 2012 NBA Finals: 'We Get to Miami and South Beach Get a Hold to Us, Right? James Harden Disappeared'