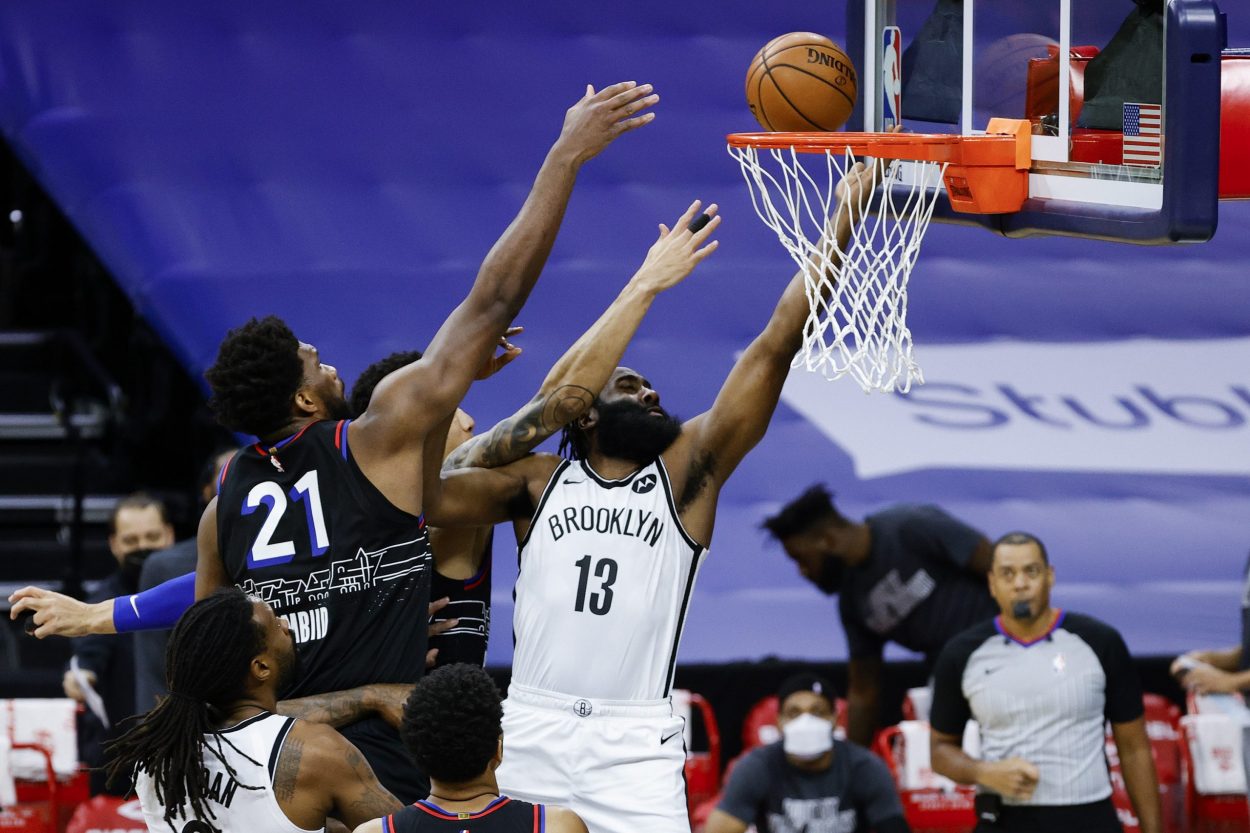 James Harden Erases Any Doubts of His Ability to Play Alongside Joel Embiid, but He'll Need to Play Second Fiddle
James Harden has no doubt he can thrive alongside Joel Embiid. Is he willing to take a more secondary role to make things work?
The James Harden era in Philadelphia began in earnest on Tuesday, as the 76ers introduced The Beard with a press conference at the team's practice facility. Much of the questions Harden fielded focused on his reasons for essentially demanding a trade from the Brooklyn Nets, and he mostly met those inquiries with a whole lot of nothing. However, the most telling moment of the presser came when Harden responded to a question about the 76ers' chances of winning a title with himself and Joel Embiid.
Harden professed supreme confidence in his ability to coexist with Embiid, whom he lauded throughout the press conference. The Beard emphatically stated that he and JoJo can lead the Sixers to a championship this season.
In order to do so, Harden needs to play a more secondary role. Is he comfortable with doing that?
"Hell yeah:" James Harden sounds excited about forming a new 76ers star tandem with Joel Embiid
Harden's breakup with the Brooklyn Nets might have eviscerated the feasibility of superstar trios. But he dumped an inconsistent Big Three to create a colossal duo with Embiid.
The Beard sounds quite excited about the possibilities of playing with the 76ers center.
When asked about whether he felt a Philly team led by himself and Embiid could win a championship this season, Harden curtly responded (h/t NBC Sports Philadelphia), "Hell yeah." The 32-year-old acknowledged that it will take some time to adjust to having new teammates and gel on the court. However, he indicated that Sixers players already bring a championship mindset to the table.
Harden's own championship mindset will be tested over the next few months. He must make adjustments to his game in order to maximize the potential of his partnership with Embiid.
Will Harden cater to Embiid?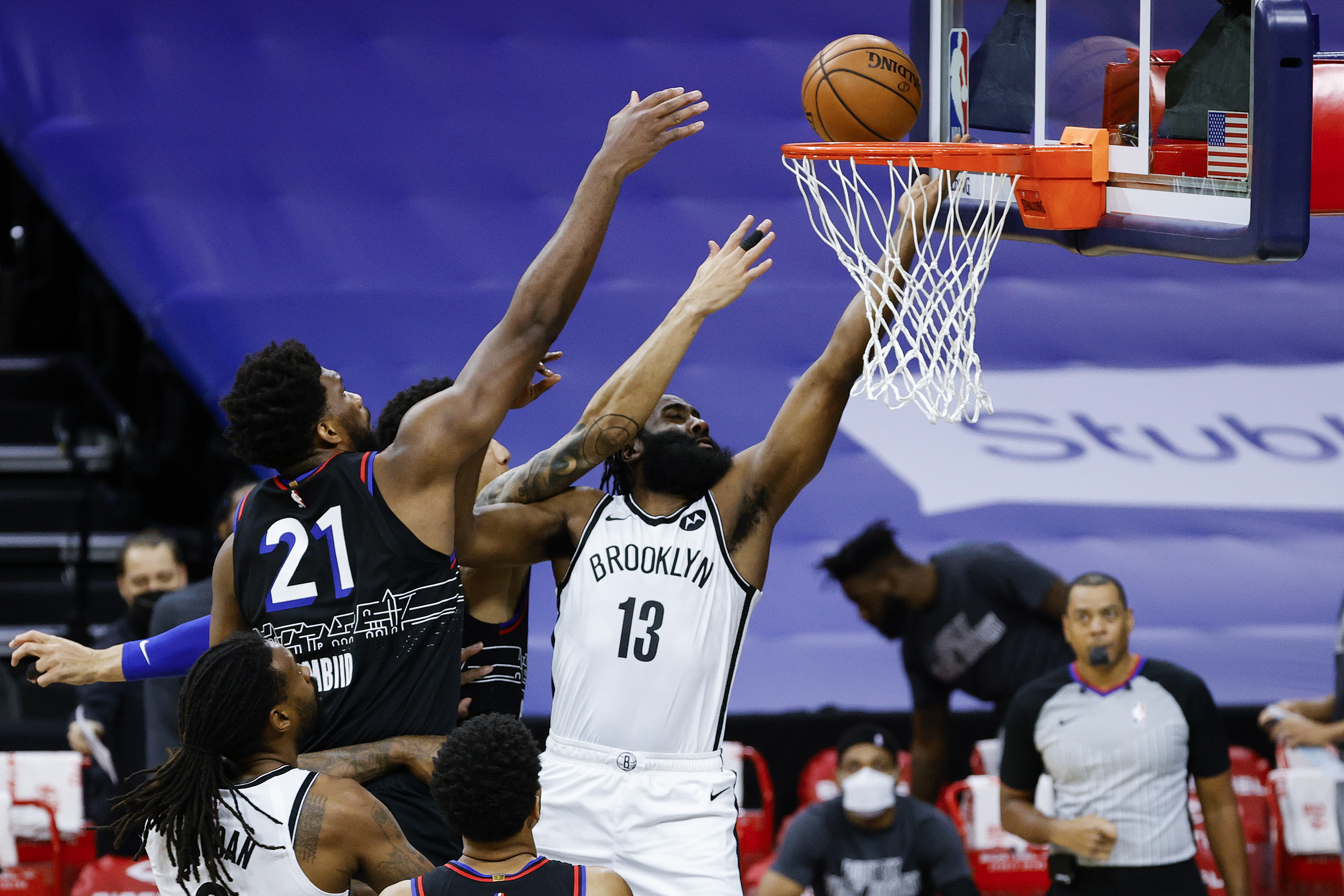 In theory, James Harden and Joel Embiid should terrorize opposing defenses.
Although Embiid is more comfortable executing short rolls as a screener, Harden generally excels at making slip passes that lead to easy buckets around the rim. Additionally, both players excel at getting to the line, making things challenging for defenders on multiple levels.
Embiid has become a steady shooter from the perimeter. Teams must respect his willingness to fire from beyond the arc, opening up the paint for Harden to attack via straight-line drives. Similarly, Embiid's success on short rolls and his ability to get to the cup off the bounce suck defenders into the lane. The extra attention JoJo attracts figures to give The Beard more opportunities to sit behind screens and show patience.
However, it's less about what Harden will do when he's on the ball and more about how he contributes when the rock isn't in his hands.
The 76ers thrive when they make Embiid post-ups a focal point of the offense. He scores 1.10 points per possession in the post, per NBA.com. That ties him with Denver Nuggets star and fellow NBA MVP candidate Nikola Jokic for the best mark among all players who post up with at least 20% frequency.
Harden offers little to zero value as an off-ball cutter. He can extend defenses with his shooting ability, but it won't mean much if he fails to negotiate the space created by Embiid post-ups. Will Philly's offense stagnate if The Beard cannot adjust his style?
For now, Harden's wish has been granted, and he's confident about the Sixers' chances. Still, the track record suggests that fans should feel wary about his fit.
The Beard has a hard time winning with other ball-dominant players
Remember this summer, when James Harden called it "scary hours" for the rest of the NBA? Yeah, that didn't pan out for the Brooklyn Nets.
Brooklyn can attribute many of its failures to injuries and Kyrie Irving's refusal to get vaccinated. Still, the latest reports about Harden's aggravations with the Nets roster should concern 76ers fans.
Bleacher Report's Jake Fischer reported that Harden wanted to play an isolation-based style in Brooklyn, whereas Kevin Durant and Nets head coach Steve Nash wanted a "free-flowing" offense. Sources also told Fischer that Nets assistants saw Harden "roll his eyes" when Nash drew up plays for KD out of timeouts.
Durant is one of the most gifted scorers in history, yet Harden showed annoyance at getting KD his touches. According to Fischer, Durant eventually signed off on making a trade.
Who's to say The Beard won't feel similar frustrations sharing possessions with Embiid?
Harden has never had a ton of success alongside other ball-dominant players. His cooperative with Russell Westbrook failed and, ultimately, so did his time with Durant. Part of this stems from being the epicenter of Mike D'Antoni's Houston Rockets offenses.
That's not exactly a heartwarming concept for Embiid. The 76ers star big man has an NBA-high 37.3% usage rate this season, and he's had an MVP season as a result. Embiid's comfort on the ball allows him to make plays in transition. He'll pick defenses apart with his passing and score on anyone when opponents refuse to double him in the post.
If Harden molds his game to fit Embiid's, then his bold proclamations about Philly's title hopes have a strong chance of coming true. However, nothing about The Beard's track record suggests he can do that to the fullest extent. Ultimately, that could doom the Sixers.